News and Events
20% Off Featured Skin Rejuvenation Products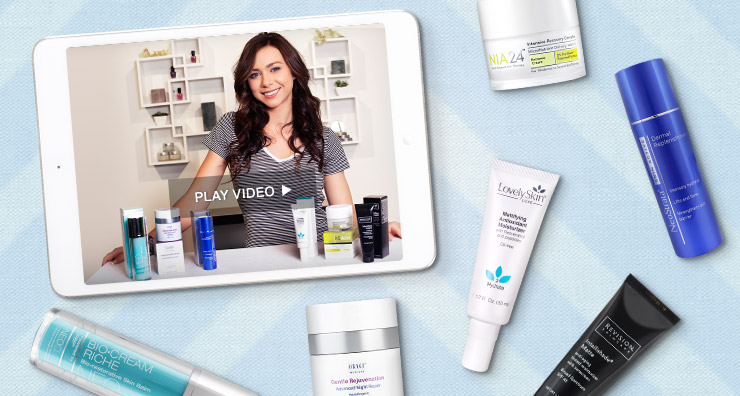 This sale has expired.
Achieve your best results with 20% off select rejuvenation products at LovelySkin! Choose from some of our best-selling treatments for day and night to enjoy a healthy, younger-looking complexion. In our video, LovelySkin Aesthetician Kristen shares some of her favorite formulas for smooth, healthy skin. Discover even more great products below, and don't forget to check out our essential day and night treatment guide for the full list of specially priced items.
Day Treatments
A good daytime product can help you keep skin hydrated throughout the day and protect against the environmental stressors that contribute to premature signs of aging. Try Obagi Hydrate Facial Moisturizer, a gentle, nourishing lotion that helps provide eight hours of continuous hydration. It contains shea butter, avocado oil, mango butter and glycerin to help ensure that skin stays balanced all day, never tight and dry.
With NIA24 Intensive Recovery Complex, you can address sun damage and other signs of aging. NIA24's exclusive ingredient, Pro-Niacin, helps to repair damaged cells and lighten dark spots while ceramides, liposomes and peptides help to promote firm, toned skin. The treatment is especially wonderful for dry skin types or those looking for a soothing cream for use after professional procedures.
LovelySkin LUXE Mattifying Antioxidant Moisturizer is part of the new LovelySkin LUXE line comprised of sulfate-free, paraben-free and gluten-free products that contain the highest quality anti-aging ingredients. This oil-free lotion helps to minimize oil and shine, leaving skin with a soft, matte finish that lasts all day. Resveratrol, a potent antioxidant derived from grapes, helps to defend against free radicals.
Night Treatments
The skin does most of its self-repair and regeneration while we sleep, and night treatments can help complement these processes for a radiant appearance upon waking. Neocutis Bio-Cream Riche (with PSP) is an intensely moisturizing treatment that helps to encourage repair and smooth the appearance of fine lines and wrinkles. A blend of growth factors and other anti-aging ingredients helps to soften a tough texture and restore vitality to tired skin.
Sagging skin can contribute to a dull complexion. Elemis Pro-Intense Lift Effect Night Cream contains plant stem cells and other botanical ingredients to help improve facial contour and reduce the appearance of sagging jowls, cheeks and chin. The formula works with the skin's nightly repair cycle to produce optimal results each evening, leaving you with a rejuvenated complexion in the morning.
Exuviance Evening Restorative Complex uses polyhydroxy acids to gently exfoliate skin and encourage cell turnover and repair. It also features a blend of vitamins A, C and E, clinically proven antioxidants that help strengthen skin and protect it from environmental stressors. Skin is left soothed and hydrated with every use.
Do you have a question about skin rejuvenation products? Let us know in the comments section.
Connect with Us!