News and Events
Thanksgiveaway: FixMySkin Healing Balms + LovelySkin Mug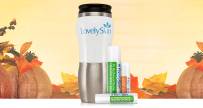 The winners of yesterday's La Roche-Posay Pigmentclar Eyes are Tina R. from Baraboo, WI, Sherry S. from Grotongroton, NY, Renee K. from Manhattan Beach, CA, Sue R. from Cleveland, OH, Irina A. from Sunny Isles Beach, FL, Margaret Q. from Little Rock AR, Mary D. from Greenville, NC, Penny P. from Valparaiso, NE, Jennifer G. from Lawrenceville, GA and Cindy L. from Saco, ME! Congratulations!
Today's Prize
Today's Thanksgiveaway products is the FixMySkin Healing Balm Trio + LovelySkin mug, a $60 value! Developed by Dr. Joel Schlessinger and his son, Daniel, FixMySkin Healing Balms help to minimize minor, everyday skin irritations with a blend of 1% hydrocortisone and soothing shea and cocoa butters. The mug is made from a durable, attractive stainless steel and features our LovelySkin logo. With its secure lid, it's perfect for taking your favorite beverage to go.
For best results, apply FixMySkin Healing Balm to affected areas on the face, lips and body up to four times daily.
The inspiration for FixMySkin Healing Balms came to then 12-year-old Daniel Schlessinger one winter day in Nebraska. His hands were dry and chapped and he put lip balm on them, noticing the salve lasted longer than hand lotion. From there, Daniel set out a mission to create a healing balm specifically for the skin, enlisting the help of his father, Dr. Joel Schlessinger, and his grandfather, Bernie Schlessinger, a PhD in physical chemistry. Years of research and development went into the final product, a unique medicated balm that's perfect for addressing dryness, chapped lips, psoriasis, eczema, insect bites and rashes anytime, anywhere.
For today only, we're also offering 20% off FixMySkin! Stop by www.LovelySkin.com/FixMySkin to shop now and use the code TGFMS at checkout.
To enter to win the FixMySkin Healing Balms and LovelySkin mug, visit the Thanksgiveaway page. After you have registered, share the giveaway with your friends and family to earn additional entries into the giveaway! Good Luck!
Tomorrow's Prize
Tomorrow, we'll share the details of our grand prize!
Don't forget to visit the Thanksgiveaway page every day to find out the winners of the previous day's prize and register for the next day's prize! You will need to register daily for each prize. Remember, every time you enter for a daily prize counts as an entry for the grand prize. The more daily prizes you enter, the better chance you have to win the grand prize.