News and Events
Thanksgiveaway: Glytone Step-Up Boost Mini Peel Gel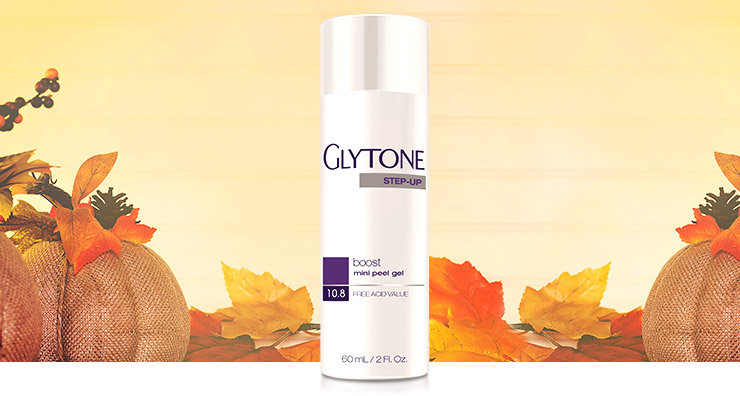 The winners of yesterday's Clinicians Complex Microdermabrasion Cream are Bryan M. from Marshall, N.C., Angela W. from Sparta, WI, Janette P. from Dickinson, TX, Gena L. from Charlotte, N.C., Terryl B. from Fairfield, CA, Lynette W. from Fernley, NV, Carole J. from Washington, UT, Kim F. from Canyon Country, CA, Kim S. from Ravenwood, MO and Dia D.! Congratulations!
Today's Prize
Today's Thanksgiveaway product is Glytone Step-Up Boost Mini Peel Gel! This gel peel uses 10.8% free glycolic acid to gently exfoliate and refine skin. With its highly concentrated formula, the professional-quality product allows you to achieve a smoother, brighter, younger-looking complexion instantly.
For best results, apply a thin layer to the face and neck, leave on for 10 minutes and then remove with warm water. Apply the peel two to three times a week or as directed by your physician.
Built upon the benefits of free glycolic acid, Glytone offers a range of products for common concerns, like acne, wrinkles and dark spots. The unique formulas include the highest percentages of free glycolic acid available anywhere to help smooth, refine and retexturize skin. With Glytone's customizable approach, it's easy to create a regimen that's perfect for your skin's specific needs.
For today only, we're also offering 20% off Glytone! Stop by www.LovelySkin.com/Glytone to shop now and use the code TGGLY at checkout.
To enter to win Glytone Step-Up Boost Mini Peel Gel, visit the Thanksgiveaway page. After you have registered, share the giveaway with your friends and family to earn additional entries into the giveaway! Good Luck!
Tomorrow's Prize
HINT: This Swiss body cream is lavish and rich, it smooths away lines and stops dryness and itch.
Don't forget to visit the Thanksgiveaway page every day to find out the winners of the previous day's prize and register for the next day's prize! You will need to register daily for each prize. Remember, every time you enter for a daily prize counts as an entry for the grand prize. The more daily prizes you enter, the better chance you have to win the grand prize.