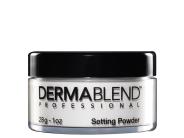 Write a Review - Receive 50 Rewards Points!
Tell us your thoughts about Dermablend Loose Setting Powder so we can help you find the right products. With your review, you'll also receive 50 Rewards Points. Please note that it may take up to 72 hours for a review to appear on site. All reviews are subject to moderator approval.
Write a Review
25 Results
Love this powder
I love that this is translucent instead of tinted. I cannot tell I have powder on except for the matte look. I love that this has a high SPF. I will use this all the time now. Love it.
Amazing!!!
Sets makeup perfect!!! I love this product... definitely will buy this again... Light, transparent, minimizes pores, great as backing also....
Dermablend setting power (original)
Dermablend loose set power is nothing less then amazing!!! Once applied over my makeup it simply transforms your face beautifully. Effortless locks makeup in place all day. I can't say enough about this product.I have it in all 3 shades but the original seems to be my favorite. I am brown skinned. I have tried them all but this is truly worth every penny and more, it's light and odorless. DERMABLEND products are awesome...Their cover crème is another amazzzzzing product. You will not be disappointed. Last forever also little goes far, If I had to choose one product only to take on long travel I am NEVER leaving my Dermablend behind lol Thank you LovelySkin for your great prices and fast shipping. Dermablend rocks! 20 stars
Powder
I rated this product a 4 because the only thing it really didn't help with was my oily skin/shine. It does for a little while when first applied in the morning but by noon my skin is oily. I don't have time to reapply powder through the day, nor do I want to carry my makeup with me. I really like that the powder is very light, and doesn't cake on my skin. I think that if my skin wasn't super oily this powder would be perfect. So it's me not the powder.
Great setting powder
This powder is effective at keeping foundation in place for the entire day! No smudging or transfer! Highly recommend.
Dermablend loose setting powder
This product goes perfect with dermablend's liquid camo foundation and concealer!!
Glow
It's a great powder for my oily skin.. and it really kept my makeup in place for over 8 hours.. awesome stuff!
Review of the Dermablend Loose Setting Powder
I have used the Original Setting Powder for years. It is just wonderful over the makeup creme. It last all day and you do not need a touchup. Try it you will love it.
Sets well
This is strong setting powder for body blemishes. I use it with body foundation.
Great product. great delivery
EXCELLENT... thank you..
Great Oil Control!!
I was hesitant to buy the original setting powder due to the white color but it was colorless and kept my oily skin in check. Much better than other competitor brands. I am glad I made the change.
OMG - new holy grail!
To start off, I had heard good reviews about this powder years ago, but I never purchased it because I had so many others setting powders I was testing out. Most of the products were high end and expensive and still didn't suit my skin type (oily & textured). After lots of trial and error, I finally decided I would try out Dermablend... AND WOW - I'm kicking myself for waiting this long!! It blurs all my flaws, like my bigger pores around my nose area and doesn't leave my skin looking crepey or dry. For the price and quantity, I will definitely be repurchasing this.
Original Is A Staple Especially for Summer
I have been using the original setting powder for many years now with a variety of different foundations. As I age, I find that I need a different more moisturizing powder in the winter and try to use less powder overall. So this product lasts me a long time. Another thing I like about the original is it doesnt alter the color of my makeup which I love.
smooth, non caking finish
love this keeps foundation exactly how it was applied all day. no caking. no dry look
Dermablend powder
This product is great! It provides coverage but not too much. Because I use skin medical products my complexion is awesome! Thank you lovely skin!
DERMABLEND LOOSE SETTING POWDER
This powder is awesome! It totally sets my foundation and provides a smooth overall look without looking heavy or cakey. It works especially well with the Dermablend Camo Cream.
Flawfless Finish
When I was getting my makeup done professionally for my wedding, the makeup artist actually used a loose setting poweder to finish my look. I was fresh ALL day, despite tears and the July heat. I finally decided to purchase some for myself. I normally prefer Glo Minerals, but DERMABLEND was almost double the product for a LOT LESS. Make sure to read the directions - the first time I applied it, I didnt brush off access so I felt like a pasty ghost. Once I got done the proper application it looked perfect. I now perfer this product over a setting spray. As usual I enjoy shopping at LovelySkin and appeciate their perks!
Good for oil control
Ive had this product for a little over a month. I have the powder in both original and warm saffron. I really like it because I have extremely oily skin and although some oil appears throughout the day, it isnt as bad as it usually is.
Amazing!
This product is AMAZING!! I don't know why I haven't tried this before. I have very oily skin, especially in the summer months and this is a life saver. My skin does not get oily during the day. It keeps it looking fresh, like I just applied my makeup, until I'm ready to wash it off.
AMAZING!
If you have oily skin this is a MUST HAVE! I purchase this product in translucent. I always have a back up in my makeup box because without this I get the shiny t-zone look from my foundation. To give you a better idea if Im not wearing this product it looks like I just went for a jog in 80 degree weather.... I also suggested this product to a girl that I work with, we dance (gogo 4 hours of dancing) so when we sweat it keeps are makeup in place and looking amazing!
Must Have
I use the powder daily, additional make up or not. Helps my complexion and my make up lasts longer! I love it
Comments from: A male user of dermabland for more than 10 years
I have been using Dermablend leg and body cover with all three loose setting powder colors (original, light and warm) for more than 10 years. I have a mild case of vitiligo that affects several visible areas of my body (arms and legs). In order to get the leg and body color to (1) dry quickly, (2) set well, (3) not smudge, (4) stay on for a long time, and (5) make it easy to blend the leg and body color with another loose colored powder that matches my skin tone, the Dermablend loose setting powder is an absolute "must-have." If you really want long-lasting wear from Dermablend leg and body cover, you also need the setting powder. I believe that it also helps strengthen to waterproofing ability of the leg and body cover.
Great Powder
I am light skined and I use a small amount of the Dermablend original powder( completely colorless powder, literally white colored) as just a setting powder over my foundation. I used to use a Chanel powder (that was completely white too) over my foundation and unfortunitly they stoped making that particular product so I decided I would try this. I am so glad I did this powder is just as good as the Chanel powder but half the price. I would recomend this to anyone.
I love this powder!
I have been using the Dermablend product line for about 3 years now and I absolutely love it. It might cost a little more than the makeup that you find in other stores, but it lasts a lot longer. I use the powder with the cover creme and it makes it look like I have a great complexion (when I don't)and it helps the makeup last all day! I love all of the Dermablend products!