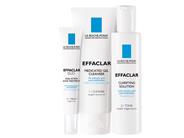 Write a Review - Receive 50 Rewards Points!
Tell us your thoughts about La Roche-Posay Effaclar 3-Step System so we can help you find the right products. With your review, you'll also receive 50 Rewards Points. Please note that it may take up to 72 hours for a review to appear on site. All reviews are subject to moderator approval.
Write a Review
23 Results
Helped my adult onset acne
I have cystic type acne that appeared in my mid twenties. I have tried many prescription and over the counter medications. Using all three of these cleared my skin! It was such a relief. I had sort of given up hope and only tried this because my Uncle sent it to me. I cannot recommend this enough. If you feel desperate and doomed for bad skin, try this!
The best
Perfect for problem skin
Best cleaning routine
I've been using these products for many years. I think it's the best cleaning kit for oily skin.
Excellent!
Love this system! I use twice daily and it is not too drying. It doesn't redden my face or cause any residual burning like some other products often have. Gentle but effective! I can go weeks without a blemish or breakout now. Helps my skin to stay on a regimen that isn't overpowering! Highly recommend!
La Roche posay
The cleanser works great 👍 takes off most the dirt off my face and I had less breakout using this kit
Great product
Bought this for my 16 yr old son after trying several other products. All I can say is AMAZING. His face has really cleared up after 2 weeks of solid use. Highly recommend this product. What a value and his skin isn't dried out either. Just great! Have acne? Buy this 3 step system!
Make my face feel refreshed
These products really do make your face feel so smooth and refreshed. I am a student so I know a thing or two about stress acne and once school was done and I was on break I felt like my face needed a refresher and this definitely did the trick.
Amazing!!!
I suffer from acne not really bad, but bad enough to wear I get uncomfortable being in my normal skin. I have tried literally every product I could try and stuff worked, but I guess my skin got use to the product that they stopped working. I've had acne sense 8th grade and now I'm 19 still dealing with acne. I saw a YouTuber rant about this product and how it really worked for her (with before and after pictures) so I decided to purchase it and give it a try and let me tell you I love this product so much!! When I first got it I had been dealing with a bad break out bumps and pimples everywhere I started using this and within a few days I had seen results. It stops my breakouts and stops new ones from forming. When I do get my monthly I break out really really really bad, but using this product I didn't break out at all during my period. It does dry out your face after awhile, but a good moisturizer will help it from overdrying. I loved it so much the first time I purchased the product again.
La Roche Posay way to clear french skin.
I decided to try this after my son told me about his results with this product line. Definitely is worth it. My old age acne definitely is much better and the product line is actually quite gentle on the skin after i chose a moisturizer to go with it.
Great product
This system works if you use it collectively on a daily basis. The peroxide is irritating at first so you have to slowly work your way to using it. I really love the toner though!
Seriously a Life Saver
I was in between face care regimens for about two weeks and the skin on my face went INSANE with open comedones and red bumps. Two weeks ago, the 3-step Effaclar system came in the mail and my skin is almost back to normal! I have close to no blemishes and blackheads, and the regimen is even fading the acne scars leftover from before. I am experiencing a little bit of dryness, especially where I apply the Effaclar duo but a small price to pay for such a miracle product!
Great so far
I just started trying it last night, and it already made my face start looking more bright and refreshed. So hopefully it completely clears it by the time I'm done with the bottle. Fingers crossed.
Very good!
I am very satisfied. I use this products 5 days, and my skin is very better!
Best product for acne
I've used neutrogena, kiehls, proactive and many other facial products to help with my acne problems, but none of them has been as effective at preventing breakouts and reducing blemishes as this product. The effects were visible within days. Effects aren't too strong, unlike other acne products which tend to make my skin severely dry or itchy. I couldn't praise this 3 step system enough. Don't hesitate to purchase this if you're experiencing acne issues especially due to oil buildup. Love this product too much to say anything otherwise get it!
The only non-prescription system that works for me!
I'm 26, and have been suffering from moderate to severe acne since I was about 12. My skin is oily/combo, and i tend to get dry skin in the winter months. When I was 22, I actually went to the dermatologist, Dr. S. Of course the treatment worked amazingly for the 2 years I went, but after I got off the oral medications, my clear skin only lasted for about 4 months. I have tried about every "system" in my life. ProActive, dermalogica, Murad, Neutrogena, Clearasil, Philosophy, etc, etc.... This system produced noticeable results after about 2 weeks. Now, after about 2 months, I have NO acne blemishes, my scars are reduced, my skin looks brighter, and my pores are refined. I would recommend this to anyone suffering any type of acne!
This System WORKS!
I am 24 years old and am currently struggling with adult acne. I always had skin issues when I was younger but they cleared up for a while and then came back a few years later. I tried everything over the counter- even went as far as purchasing a clairisonic and my breakouts WORSENED! I was so upset about my skin. A friend of mine recommended La Roche Posay. I started off using only the Effaclar Cleansing Gel. I saw a huge difference after just one time of using it, but then my breakouts came back. I decided to give it just a little longer and purchase the acne system. I am SO glad I did! It took about 2 weeks to fully clear my breakouts but I have clear skin now! I am so excited! This product is really drying under the eyes for me so I tend to stay away from that area. I also use the Effaclar MAT moisturizer and it seems to work really well with the entire system. I highly recommend these products!
AMAZING!
Im 23 and Ive suffered with acne since 12 years old. Ive tried everything under the sun including home remedies. After being diagnosed with PCOS I felt like I would be stuck with hormonal breakouts & embarrassing encounters. Ive used this product for less than a week and my face has transformed incredibly.
Sensitive
If you have sensitive skin this product aint good for you I had to give it to my cousin and it worked on her after a month
Good product
Purchased for teen daughter who gets irritated with acne products. No irritation and this 3 part system is an excellent price. Working well.
Works Wonders!
The Effaclar 3-Step System evened my skin tone while clearing blemishes and reducing oil.
perfect for adult acne!
A great line of products for adult acne. They work really well in combination to banish breakouts without over-drying my skin.
love the concept
Love the concept, but this three part system was a bit too aggressive on my skin. The toner was pretty aggressive. Its best for someone with active breakouts, probably not the occasional - hormonal acne I get.
Wonderful
Another wonderful product from La Roche-Posay. Gentle yet very effective. I bought this for my 29 year old daughter who struggles with acne at certain times of the month. She loves it!!