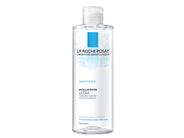 Write a Review - Receive 50 Rewards Points!
Tell us your thoughts about La Roche-Posay Micellar Water Ultra -13.52 fl oz so we can help you find the right products. With your review, you'll also receive 50 Rewards Points. Please note that it may take up to 72 hours for a review to appear on site. All reviews are subject to moderator approval.
Write a Review
24 Results
Love, love this product
One of the best toners I've used for a long time. It works great for my sensitive skin. Gentle to use 2x per day. I love how it makes my skin feel clean, refreshed and moisturized. I will continue to use it instead of toners.
Great product
I have super sensitive skin and this product is gentle, like water. But it is also strong enough to remove eye makeup that has been set with primer. I use it after I wash to remove every trace of makeup and other times just as a quick cleanser in the morning.
Great at removing makeup!
Just the product I needed to remove my makeup before gently cleansing. Doesn't irritate my sensitive skin!
Great Product!
This is an amazing product. This is my first time using any Micellar Water. I usually use cleansing cloths prior to washing my face. I am using this product as a makeup remover and it truly does a remarkable job removing all traces of skin residue. This has quickly become one of my must haves!
The best makeup remover, cleanser, and toner in one.
I have used this product for almost ten years and would not give it up. My teens use this to cleanse their face in between showers. It is so gentle and hydrating, it does not irritate my rosacea. I use it as a cleanser in the morning after washing my face in the shower to preserve the moisture mantle that water can remove. I use it to remove my cream cleanser at night instead of water. Takes every speck of makeup off! I would buy it at four times the price, it is a real value.
Excellent
Soft and cleans very well
Perfect
Leaves my skin very soft. Is perfect for taking makeup, especially on the eyes. Use as toner at night to calm my skin. I'm in love.
Love!
wonderful at removing makeup especially eye makeup. I hate the oil based ones and wipes are irritating. this is perfect.
Love Love Love!!!
For the first time in ten years I am not breaking out and I know that it's because this cleanser is so stinking gentle on my skin yet removes all the makeup!
Great product!
Ideal makeup remover. Cleans without being harsh on the skin. Been using this for years and can only recommend it.
Great product
Cleans my entire face very well. After use my face is not red. Good for people with rosacea.
Love it!
I'm using it to take my makeup off, it refreshes and cleanses my skin without sticky or greasy feeling.
Great product
I love all these French made skin care products. This one is so good to use in cleansing my face each evening. I use this liquid on a cleansing cloth & it really cleans off the makeup & eye makeup. I love having it to clean off my face when I am so sleepy I just want to go to bed. I use it to wipe everything off my face thoroughly & easily. This is my go to product in the evening but splashing some of this on a cotton ball in the morning works to get my face ready for the daytime also. Love this water as it is so gentle & my facial skin responds well to it. I can tell my skin benefits from this product. Will keep using it.
La Roche posay micellar water
Love this product. I'm on my third bottle and use it every morning and after cleansing at night it removes any trace of makeup. Great product!
good!
good for sensitive skin but not too strong to erase eye makeup.
Pretty good, still prefer washing face
First of all, I love Lovely skin! The size I ordered online had been discontinued so they called me right away and I ordered a larger size. I appreciate their great customer service. I have used the micellar water several times...both at night to remove make and clean my face, and in the am, when my face is already pretty clean. As far as removing makeup, it did a decent job, but I still prefer makeup remover for my mascara and eyeliner. I felt like I needed to use a ton of moistened cotton pads to get my whole face clean. When I have used it in the morning, i think the results are much better, since my face had been washed free of make up the night before. I do have to say it's a very gentle product and doesn't make my rosacea flare or cause break outs etc...So that is a big plus. I'm not sure if I would ever repurchase this product, I think I prefer using water and cleanser better, but I will use what I have left to clean my face in the am. I'm usually a huge fan of LRP products, just not this one
Awesome cleanser
This does not leave an oily film like some others (although I really don't mind that too much because my skin is rather dry). I prefer this though and it removes eye makeup better than some other similar cleansers. Since it's not as oily, I don't have to worry about using it around my eyes. I will probably get this one from now on. I just wish it had a pump dispenser because I usually end up oversoaking my cotton pad.
La Roche-Posay Micellar Water
I am not sure how La Roche-Posay Micellar Water actually works, but my mascara comes right off and the product does NOT bother my eyes at all. It leaves my face clean and soft and I don't feel that rough feel as I remove the makeup. My husband read about this product and asked me if I used it. How funny is that! I love it.
Great MakeUp Remover
I gave this product five stars because it took off all my makeup and it smells great. I love using especially when I am too lazy to wash my face.
The Best Micellar Water
La Roche-Posay Micellar Water is gentle cleaner which removes eye make-up easily. Leaves your skin feeling refreshed.
Fabulous
This product gently but effectively removes make-up, even waterproof mascara. It will take a couple of soaked cotton pads for the mascara, but it is so gentle it's worth the effort. It takes off layers of primer, sun screen, foundation and blush and doesn't leave a funky residue. If you wash your face and think it is clean, give it a swipe with the micellar water and chances are you will find you are wrong. You do not need to wash your face, just use the micellar water. I have tried many brands and am sticking with the La Roche Posay! Great buy at LovelySkin because the amount of product is twice what one can buy at the drug store for the same price.
Love love love this product!!!
Love it. I've been using for a couple years and i have sensitive skin. Doesn't dry out your skin but does leaves my skin feeling refreshed and not tight or dry.
Gentle Cleansing and Toning all in one product
This product is great for removing eye makeup, even stubborn mascaras. Just put a some on a cotton ball and let it rest on your eyes for a few moments...very soothing. Great price, too. Only reason that I gave it only 4 stars is because I did find that the Avene micellar lotion was far more effective/efficient because I didn't need as much product. But the Avene is twice the price, so you may be breaking even.
miracle
Absolutely a must have! In hot weather with sunscreen on your skin for 2 hours...is it time to reapply? 1. Use Micellar Water. 2. Apply a sunscreen. Refreshed in seconds! Toned! Even tuned! Yes, it is singing! Love it!