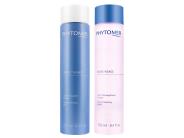 Write a Review - Receive 50 Rewards Points!
Tell us your thoughts about PHYTOMER Essential Duo Cleanser/Toner so we can help you find the right products. With your review, you'll also receive 50 Rewards Points. Please note that it may take up to 72 hours for a review to appear on site. All reviews are subject to moderator approval.
Write a Review
25 Results
Toner is wonderful
This is my favorite toner. A refreshing smell and wonderful feel on the skin. The cleanser is not my favorite, as I prefer a gel. Even though my skin is on the dry side, I like the super clean feeling that a gel offers.
Perfect for sensitive skin
I switched to using both of these products with my clarisonic after using LaRoche Posey Toleraine cleaner for years. My skin is far less angry, makeup is fully gone, but my skin is not stripped, tight or sticky. Was concerned about the fragrance but it has surprisingly not been a problem. Wish they would make the toner without parabens.
Phytomer toner/cleanser duo
I love these products. I bought two sets so that I could give one away as a gift.
I like both!
The bottles were huge! They were definitely soothing and gentle to my skin both when cleansing and toning. Would purchase another if available next time!
cleanser and toner
I really like these products, I was introduced to them after a facial I had. The cleaner its creamy and cleans well, but then when you use the toner it really cleans your face with out being too harsh. I would totally recommend these products.
Cleanser toner duo
This is such an awesome deal! I purchased because a friend recommended the phytomer line to me and I really like it. This is a great package for someone who wants to up their skin care routine without breaking the bank. I was really happy with both products, my face feels and looks so much better since ice started using it. I wanted to steer away from always using full face makeup and this has helped even out my skin tone and reduce irritation. Definitely worth trying!!
Phytomer
I love this line. My skin is more moist than ever and I live in the Sonoran Desert.
Love this cleanser and toner
I really like this toner and cleanser. It makes my skin feel so good. I have been using it for years and will continue to use it.
Phytomer
Best toner and cleanser and this site always offers the best price with free shipping and easy returns.
Great morning cleanser & "multi task'' toner
I completely agree with other reviewer i like foamy cleanser to take off makeup at night but love the gentle cleansing milk for morning routine. I use the toner AM & PM - I have found the best method for using this toner as follows at night with cotton ball after cleansing and in the morning applying toner in a misting bottle after Gentle Cleansing Milk.
Duo
Great price for both a cleanser and toner. I have sensitive and dry/oily face. This toner is awesome. Does not dry skin. It really cleans pores. These Bring back natural moisture as it says. I havent been wearing foundation since I started using this though so Im not sure how clean it gets your face if u wear foundation
gentle yet effective
I will definitely buy these again. The toner gets any left behind makeup, yet doesnt strip my skin of moisture or burn.
Just do not like!
We bought this and it was very harsh on my skin! My whole face broke out and it took weeks for the redness to go away. I would not recommend this if you have sensitive skin!
great gentle cleanser
I have been using these products for 20 years, and they have greatly contributed to why my skin looks so dewey for 50! The Rose Visage toner is an awesome eye makeup remover as well as a quick afternoon face cleanser. I like to use the milky cleanser on dry skin before I step into the shower every morning. It's like a mini facial to start my day.
Phytomer procuts
HAve been using the milk cleanser and visage rosee for several years. Did try different product. Returned to Phytomer after one month. I have issues in T area, the Phytomer reduces this problem almost overnight.
Great Product
I love this toner. It tones without making your skin tight. The cleanser I don't like for my face, but I had a rash and it helped it.
Great Product!!
Great product for a GREAT PRICE!!! This is such an elegant cleanser & toner combo pack.. a must have!! The rose water toner smells so fresh & really gets all that extra make-up & dirt you couldn't even see! This deal beats out ANY other on the internet!! Thanks for offering such a great product at such a great price!!
great value
This is my first time to try both of these products. I love the toner. Great scent and it leaves my skin feeling really clean without overdrying or irritating. The cleanser is very mild and, though I prefer my foaming cleanser at night to get all of my makeup off, I like to use it in the morning to wash my face.
Best value
I love Phytomer products. This cleanser/toner duo is an excellent value. Have been using Phytomerproducts for many years.
Very sensitive skin
I also have very sensitive skin and these products work very well for me - I wish the tops were flip-top as opposed to screw-on (cumbersome when you are washing your face) but this is a manufacturing issue, the products are wonderful.
Changed my face
I have very sensitive skin and have tried many cleansers. At first I was not sure if it was working, but it is the best cleanser I have ever used. It is gentle, but cleans amazingly. Following with the toner just makes your skin glow. I love this product and highly suggest it to anyone.
Great package
Best face wash and toner you'll ever purchase. I've been using this product for over a year now.
Great set superb cleanser
This is one of the best sets from Phytomer. The cleanser is light not greasy and the rose toner feels clean and hydrates so well.
Love it!
I have been using it for years and still love it. I have tried other products as a toner there is no comparison. This rose water toner is amazing and smells great. The cleanser is gentle and removes very well make up.
Love these products!
This cleanser is so gentle I can use it on my eyes, I love it!! And I just love the toner, I take my makeup off with it everynight!!