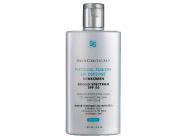 Write a Review - Receive 50 Rewards Points!
Tell us your thoughts about SkinCeuticals Super Size Physical Fusion UV Defense SPF 50 so we can help you find the right products. With your review, you'll also receive 50 Rewards Points. Please note that it may take up to 72 hours for a review to appear on site. All reviews are subject to moderator approval.
Write a Review
14 Results
Amazing!
I used to have the smaller version and was so glad to see the bigger size as I use it twice a day. So bummed I don't see t available on the website, please bring it back! It's the perfect sunscreen by the way, non greasy unifying and protects beautifully!
Tinted Sunscreen
Love the tinted color in the sunscreen. This evens out my skin tone, and its great to use in place of foundation or powder for a fresh look. Moisturizes my skin too. Lots of benefits along with sunscreen protection.
Lightest tinted physical sunscreen Ive tried
I love physical sunscreens. Ive been a diligent sunscreen user since high school both chemical and physical. If the sunscreen has a decent reputation, Ive tried it. So Im no novice when it comes to sunscreen comparisons. The best qualities of this sunscreen are its texture and consistency. It dries down quickly leaving no heavy residue. It looks natural on my fairish skin, I love that it doesnt have a white cast. It makes my skin look better than when Im not using it. It doesnt pill under my makeup. It also minimally interferes with makeup application. It does not clog my pores or cause irritation or breakouts. The only thing that would make this sunscreen, dare I say, perfect, is if it were to last longer than 2 hours. I dont know who applies sunscreen after 2 hours especially if youre wearing makeup, but sunscreen developers please take note, if the makeup industry can figure a way to make foundation last all day, please do the same for sunscreen.
Best spf 50 moisturizer ever
If you are looking for a high spf rating, this moisturizer cant be beat. It is thin, shear, and will not clog your pores or feel greasy. It also has a nice light tint to help even out your skin tone. I wish I had discovered it years ago. It may seem pricey, but its worth every penny and the bottle will last you a long time.
Favorite daily use sunscreen ever!
Im only giving this product 4 stars because while it is far and away the best facial sunscreen Ive ever used (besides a discontinued other Skinceuticals sunscreen product hmph), its not quite perfect. First the good: I have fair combination, slightly sensitive skin. While this products tint will not work for darker skin tones, it works beautifully on mine. It does this amazing thing Ive never encountered before - it mattifies and evens out my skin tone while giving it the subtlest glow. As someone who does not need to wear foundation and just has some light acne scarring and blackheads, it truly makes my skin look beautiful. I also enjoy the coverage - more liquidy than most sunscreens but it makes it easier to blend in as well. The only thing I would change about this product (it really should just be 1/2 a star off) is that if my skin is a little dry or flaky, its more noticeable that Im wearing a tinted lotion. But all in all, this product is amazing. Truly my favorite beauty product!
good product
I like this sunscreen because it is not super oily like most other sunscreens and it stays on all day. I work a job where I am out in the sun and on my feet all day. I sweat a lot and this doesnt drip off. I hardly ever re apply, like I should, and I rarely get a sunburn though. Other sunscreens, if you dont reapply you will definitely get a sunburn. This sunscreen comes out in a liquid like form, its not like a lotion like consistency like most sunscreens. I like that! It spreads easy and soaks in / dries quickly. I have found that if my skin is irritated or if I have exfoliated, this sunscreen can sting a lot. It happens rarely, but it happens, so I thought I should mention it. Its not enough to keep me from using it though. Lately I have been using it with a powdered sunscreen, just to set it more, and because I dont reapply throughout the day. By the way, my dermatologist recommended this product to me. She uses it herself and she has super fair skin.
Best Sunscreen
This is the best sunscreen I have ever used. Free shipping and quick delivery will keep me coming back to LovelySkin.
Great coverage
Really like the staying power. Doesnt get on my clothes. Good coverage I dont need to wear foundation when I have this on.
Flawless coverage
I really loved the way this product covered my skin and evened out my complexion Not only does it provide 50 SPF, which is great, but, it also looks very natural as the color must be a neutral. It blended nicely on my skin and once dry, the places it did crease I could easily smooth out and still looked good! I spend half my year and FL and half in MI and both states allow for good wearing. Humidity and dry places, didnt really affect the wearing of this sun block. I really like this product and never feel it is sticky or fades off with time. I am 62 years old. I am glad for such products that cover and do NOT fade with your day, or create coverage issues such as creases and bunching of product. I recommend this all day long. Your skin will thank you for it! Kathleen
SPF without looking chalky
What a terrific product! Good SPF (though there's some debate over whether anything above 30 SPF really makes a difference) and a nice sheer tint. (One caveat -- I'm very pale and this light tint works well for me but I think it might not work for women with darker skin tones. I don't know if it comes in a darker tint, or if the sheerness would make it work anyway.) It lasts forever. Evens out your skin without looking like a mask. I was also tickled to get this larger size. The lotion is light and works well in the summer, but I use it all year round. Also, you can mix it with a little illuminating lotion for that "glow."
wonderful sunscreen
I have avoided SPF products as all that I had tried migrated into my eyes causing discomfort; this Skinceutical product does not. It also has a light tint that provides all the color needed to even my complexion.
reliable sun protection
This product went on easily and protected very well on a recent trip to the Yucatan. I am glad to have a colloidal product that provides a physical barrier, but that doesn't have a chalky or zinc oxide appearance.
Best Sunscreen Ever
I am a 40 Year old Native Floridian. I use this sunscreen year round. I love the texture, the sheer tint, and the superior protection it provides! I'm on my 4th reorder. I love the new larger size!
Effective, Lightweight Broad Spectrum Sunscreen
Most effective sunscreens have unfortunate surface feel and dry down characteristics, but Physical Fusion dries to a nice matte finish. The product is a lightweight liquid with a subtle tint, eliminating the whitish cast of physical blocks, that has not noticeably rubbed off on clothing or anything else.