Sun Care
Play Safe in the Sun with My UV Patch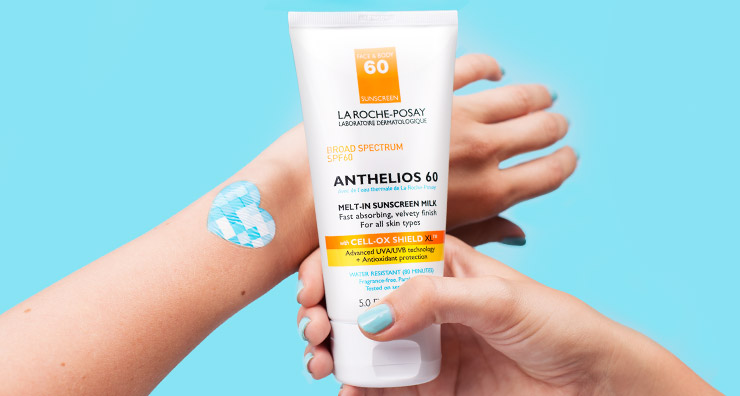 This promotion has ended.
Have you ever wondered how much UV exposure you're really getting throughout the day? As self-professed sunscreen devotees, it's a question that's crossed our minds more than once. Luckily, La Roche-Posay has rolled out a simple way to track your skin's vulnerability in the sun: My UV Patch. And LovelySkin.com has some of these super-scarce and exciting products that we're giving away to our loyal customers! When your purchase of any one La Roche-Posay Anthelios sunscreen, you'll automatically receive My UV Patch, a $30 value!
What is My UV Patch?
A heart-shaped patch with a high-tech secret.
My UV Patch is a small, transparent patch with half the thickness of an average strand of hair. It's designed to adhere like a second skin to an area that gets a lot of sun traffic, like the back of your hand or your forearm. The patch then connects to a free app you can download on your smartphone to track your personal UV exposure as you go about your regular activities, whether you're putting in a day at the office or relaxing by the pool. When you enter information in your profile, like skin tone and skin type, My UV Patch assigns a Phototype that's unique to you to create an algorithim for smart sun damage prevention. By scanning My UV Patch at regular intervals throughout the day, you can gain insight into how much sun exposure you're receiving, and just how often you should be reapplying sunscreen.
How to Get the Most from My UV Patch
Wear your patch for five days straight.
My UV Patch should be worn 24 hours a day for five consecutive days. This window of time allows you to recognize your exposure levels and personal habits so that you can learn how to best keep your skin safe. But not to worry—your patch is waterproof, stretchable and designed for maximum comfort. Remember, it's half the thickness of a strand of hair—completely weightless!
Apply sunscreen over your patch.
Applying sunscreen over your patch will give you the most accurate sun exposure readings. Sunscreen of any texture can be applied as directed on and around My UV Patch. La Roche-Posay offers a range of award-winning Anthelios sunscreens for every need and skin type. We love La Roche-Posay Anthelios 60 Ultra Light Sunscreen Lotion Spray for a day outside, while La Roche-Posay Anthelios AOX Daily Antioxidant Serum with Sunscreen SPF 50 is one of our favorite anti-aging picks.
Activate push notifications to remind you when to scan.
A friendly reminder never hurts! We recommend setting notifications for between every one and three hours. Keep in mind that to get the best reading, you'll need to step near a source of natural sunlight for each scan.
Most importantly, have fun!
My UV Patch is a revolutionary way to play safe in the sun, and you are a part of it. How cool is that? For more information, check out our video.
We're also giving away a Play Safe in the Sun Pack to five lucky winners! These packs include an Anthelios sunscreen for the face, one for the body, and a My UV Patch. Enter to win here!
Do you have a question about My UV Patch? Let us know in the comments below or tell us on Facebook, Twitter or Instagram using #LovelySkin.
Shop This Blog
Highlights
Protects with antioxidants
Addresses signs of aging
Ideal for use as a makeup primer
Quick Shop +
Highlights
Features 360 degree spray design
Provides antioxidant benefits
Suitable for sensitive skin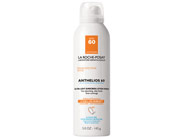 Quick Shop +
Connect with Us!