Ask the Experts
The 3 Newest Brickell Men's Products You Need in Your Routine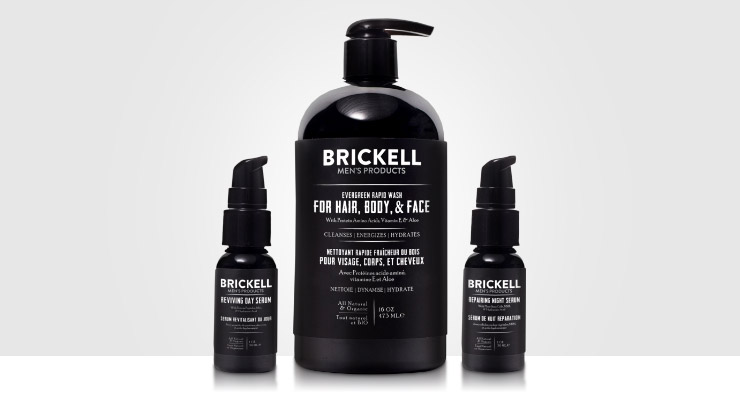 Here to tell us about their brand new products is Josh Meyer, the co-founder and CEO of Brickell Men's Products.
Our goal at Brickell Men's Products is to offer the best natural skin care products for men. We started with face wash and moisturizer but we're constantly working to offer our customers a wider range of grooming and anti-aging products. Here are some of our latest innovations.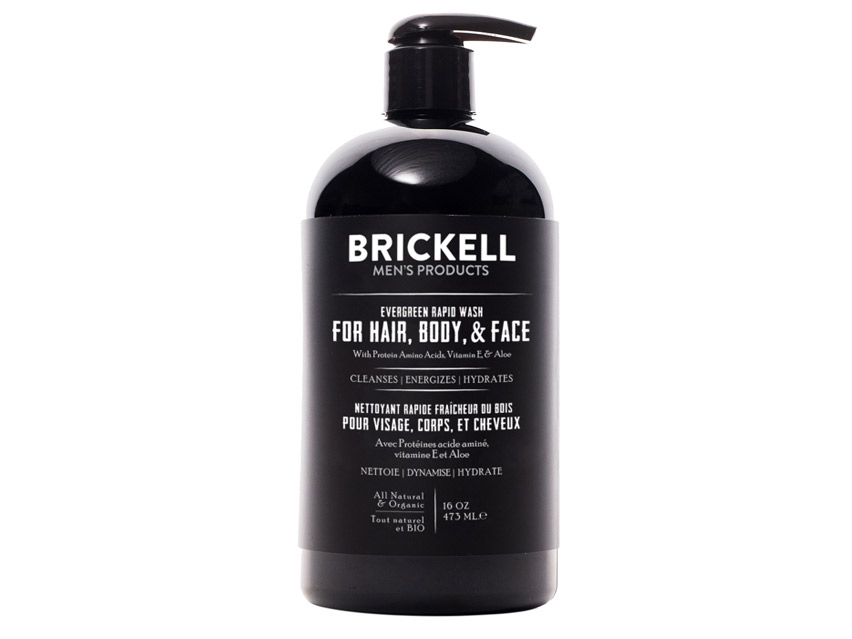 1. Brickell All-in-One Rapid Wash for Hair, Body & Face
Not everyone has a lot of time to take care of their skin. And for some guys, the idea of skin care is still rather novel. They want to improve their approach to skin care and grooming but they aren't entirely sure where to start.
We get it. That's why we've created a fast, easy solution for guys who either have no time or are new to skin care. It's our 3-in-1 Rapid Wash. It's the perfect solution for men who want a fast and easy way to wash their hair, face and body in the shower.
Our 3-in-1 Rapid Wash has been specifically formulated to be gentle on your hair, face and body. Most soap bars and all-in-one washes contain harsh chemicals that dry out your skin and leave your hair totally stripped of its natural oils. To avoid this and offer a superior skin care experience, we've included the best natural ingredients in our product.
Coconut-Based Cleansers: Gentle cleansers that remove oil and grime without stripping away essential moisture.
Protein Amino Acids: Renew skin and hair with essential nutrients so you always have a healthy, energized look.
Vitamin E: Destroys free radicals on the hair and skin that can cause hair thinning, dryness and common signs of aging.
Aloe Vera: Restores moisture and nutrients to skin and hair.
If you want a deep cleansing experience without the harmful chemicals, our 3-in-1 Rapid Wash is for you. Best of all, it comes in three amazing scents – Evergreen, Spicy Citrus and Fresh Mint.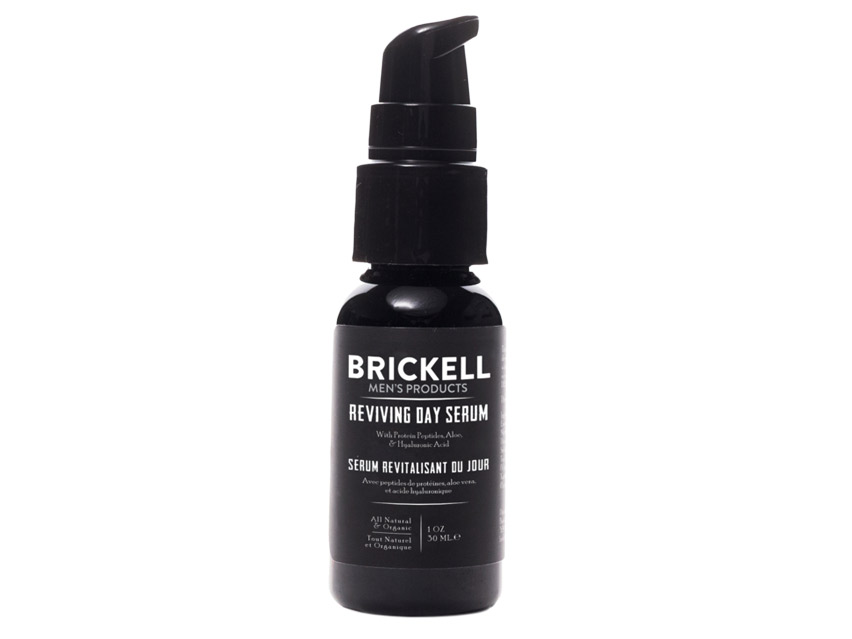 2. Brickell Reviving Day Serum
As guys get older, the inevitable signs of aging begin to appear. Maybe you've seen fine lines, wrinkles and age spots on your own face. What can you do about it?
Brickell has developed anti-aging products to help guys maintain youthful, healthy skin. Two of our latest products — our new men's face serums — are designed specifically to promote a powerful anti-aging approach. Use them to keep looking your best for many years to come.
Our new Reviving Day Serum uses an exclusive blend of natural ingredients to firm and restore skin. It also stimulates collagen production. This leads to a reduction in the appearance of fine lines and other signs of aging.
Protein Peptides: Stimulate collagen production to fight the aging process.
Hyaluronic Acid: A gel-like water-holding molecule that acts as the ultimate moisturizer. It retains more than 1,000 times its weight in water. This is important for anti-aging since one of the principle causes of skin aging is the loss of moisture. Flooding your skin cells with hyaluronic acid allows for maximum hydration and wrinkle reduction.
Concentrated Aloe Vera: Penetrates deep skin tissue to deliver vitamins, provide substantial moisture and keep your skin healthy.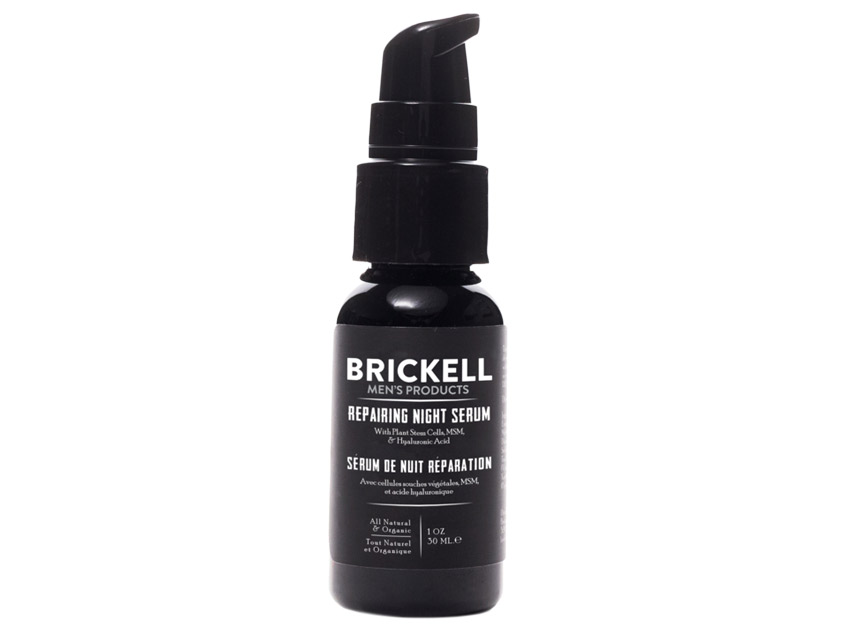 3. Brickell Repairing Night Serum Part of an effective anti-aging routine is repairing the damage already done to your skin. Years of lackluster skin care and sun damage take time and effort to reverse. Our new Repairing Night Serum is a powerful addition to our already substantial anti-aging lineup. Add it to your current routine — you'll soon see impressive results.
Why are we so confident in our Repairing Night Serum? Because of its potent combination of natural and organic ingredients.
Plant Stem Cells: Reduce skin inflammation, one of the leading causes of aging and skin maturation.
Vitamin C: Helps prevent future sun damage and reduce the visible effects of previous sun exposure.
MSM (Methylsulfonylmethane): This ingredient is common in superfoods like spinach and kale. It helps prevent problems with skin pigmentation, including the formation of age spots.
Hyaluronic Acid: As mentioned above, this hydrating molecule is the ultimate skin moisturizer.
Guys — don't let your skin care routine slip. Our latest products can help you look and feel your best but they're no good if you don't use them regularly. Use the best anti-aging products to create a smart approach to men's grooming and be confident that our products — made from natural and organic ingredients — offer all the benefits without the health concerns associated with harsh chemical products.
Shop This Blog
Highlights
A fast 3-in-1 (shampoo, face & body wash) product to cleanse, hydrate, and energize your hair, ...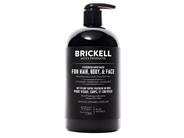 Quick Shop +
3 options
Highlights
Significantly boost skin elasticity, restore firmness, and stimulate collagen production with the b...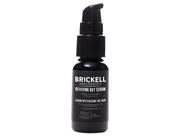 Quick Shop +
Highlights
Significantly diminish wrinkles, signs of aging, and restore skin cells with Brickell Repairing Nig...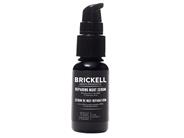 Quick Shop +