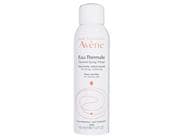 Reviews For
Avene Thermal Spring Water 150 ml
$14.00
Light and refreshing
Light and refreshing, this spray is a must have especially I'm the summer months. Versatile
I use this daily after cleansing my face and anytime I need to cool off. This size fits perfectly in my bathroom drawer so I have easy access. LovelySkin Customer
Verified Purchase
Love this!
Honestly, I flip flop between this and the La Roche-Posay thermal water. For me, they are equal. Helps to neutralize bad chemical residue on my skin from my city water, soothes my irritated eyes. LovelySkin Customer
Verified Purchase
soothing
Great for summer and when allergies strike in spring. Calms my skin. So refreshing!
I bought this in the advice of my derm NP for use after a procedure, and it is fantastic. So cooling and moisturizing to your skin. Now, I plan to use it all summer for travels and just everyday in the South! Best thermal spring water!
This is by far the best product on the market. I have used all other thermal spring water sprays, and Avene is by far the best! It reduces redness and irritation. I notice a huge difference in my skin while using this spray as my toner. I have fair, acne prone skin that is allergic to everything. This calms and soothes my skin after cleansing, and preps it for my moisturizer. I would highly recommend this product for anyone looking for a gentle, calming spray. I also love using the travel size in my travel bag or beach bag–it's very refreshing! Excellent Value
Great Value Set for a product that I use multiple times a day to keep my skin hydrated or to help bring down bouts of flushing. You can never have too much of this on hand. Great opportunity to stock up on extra of these for yourself or divide them up and add a cute lip gloss as a cute gift with the holidays just around the corner! :) LovelySkin Customer
Verified Purchase
Very nice
Really like how this comes out in a very fine mist. Feels very refreshing and soothing on dry irritated skin. My favorite of Thermal Water sprays. LovelySkin Customer
Verified Purchase
clogged spray after a few sprays
It worked nicely until the spray got clogged and it was impossible to use . I will not buy unless they change to a pump or fix the spray on the bottle Great product
Excellent water to help hydrate, apply skin products, and set my makeup! LovelySkin Customer
Verified Purchase
My skin loves this water!
I love to spray my skin with this wonderful, soothing thermal water and immediately apply moisturizer. I use it day and night and have small size bottles with me when I travel. great for everytime of day
i love this mist, not just for its soothing properties post laser treatment, but for every day, all the time. I keep one on my desk at work and mist myself every hour, to relieve my skin for the over air-conditioned office! I also keep one in my toilet room at home so i can mist my face every time i am in there. It keeps my skin nicely hydrated and fresh. I love this stuff. LovelySkin Customer
Verified Purchase
nice for the price
it hasn't worked any miracles, but it is nice and cool and feels good on my sensitive and irritated skin... LovelySkin Customer
Verified Purchase
Soothing and refreshing
I have just started using this line at the advice of my Esthetician and can say that I am a true believer in what it can do to the skin. I love this thermal water spray as it feels very refreshing and soothing. I spray it on after I have washed my face with the Avene extremely gently cleanser. I plan on buying the larger bottle when it is time to order again. I do not think I can do without it now as this spray and the cleanser make my skin look and feel smooth. LovelySkin Customer
Verified Purchase
great soothing water
I have been using the water for over 3 years. It is great. After u wash the face, you spray over your face and then begin the routine steps and you can set your make up using this too. LovelySkin Customer
Verified Purchase