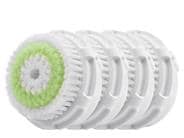 Reviews For
Clarisonic Brush Head Value 4-Pack
Value Pack is a Great Deal
Whenever I purchase brush head replacements, I always look for the value pack. I love my Clarisonic and use it daily so I want to get the best deal I can. The 4-Pack is the best deal I have found. Using Clarisonic has made a big difference in the way my skin looks.
I have used a Clarisonic for years. I use the deep pore cleansing heads and the difference in my skin is amazing. This product truly cleanses better than just using my hands or a face cloth. I will not be without one. Love it! lynndon
Verified Purchase
LOVE the deep pore heads
I usually use the normal skin brush heads but decided to try the deep pore heads and love them. So glad I took the chance on the 4-pack, as it is so economical. Though some reviews said the deep pore heads where too harsh, I find that letting the machine do the work and not applying pressure cleans my skin beautifully without being harsh. I'll be 64 and get so many compliments on my "lovely skin." Your face will thank you.
I have been using Clarisonic brush for the last 9 months. Started with radiance brush head for my sensitive skin. Switched to deep pore cleansing brush head after my skin got acclimated to daily usage of radiance brush head. Clarisonic brush and brush heads are great products for daily usage. Once you begin using it, you can tell the difference if you don''t use it for a day or two. They achieve great exfoliation without being abrasive even for sensitive skin. Definitely worth buying. Deep Pore brushes
I purchased the "deep pore" brushes and tried for couple weeks. I didn't like it as much due to the hardness of the brush. Maybe my skin is too sensitive or thinning by using Retinol, but it feels little hurts when I used the brush for once a week routine. Since I bought a pack of 4, I guess I will have to stick with them until they're all used up. Will buy radiance brush next. Clarisonic Brush Head - 4 Pack
It's great when you can purchase an entire year worth of Clarisonic Brush Heads and receive a discount. Glad I found LovelySkin website. LovelySkin Customer
Verified Purchase
Effective but a bit pricey
These brush heads are effective, yet gentle. Only downside is that they are a bit pricey. LovelySkin Customer
Verified Purchase
Clarisonic Brush Head
Clarisonic Brush Head deep pore is my favorite of all of the Clarisonic brush heads that I've tried (at least six different ones). It is very effective at exfoliating and keeping my skin smooth. Buying my brush heads for a year all at once via this four-pack is a great value. LovelySkin Customer
Verified Purchase
Great value pack!
I've been using my clarisonic for years, and I find it helpful to order the replacement heads in 4 packs. I feel like the radiance heads work best for my skin. Veronica
Verified Purchase
Clarisonic Brush heads
Love love love my Mia Clarisonic! I recently discovered LovelySkin.com had replacement brushes and was so happy to see I could purchase them in a bundle of 4. LovelySkin.com is a lifesaver. LovelySkin Customer
Verified Purchase
CLARISONIC BRUSH HEAD VALUE 4-PACK
I always buy the 4-pack. I know I will use the brushes and like to take advantage of the discount for a multiple purchase. I have never used anything other than the Sensitive brush but after reading the description for the Radiance brush I decided to try it. So far so good. I will have a better idea if it is the right brush for me after several months of use. LovelySkin Customer
Verified Purchase
Love These
I know everyone tries to order the cheaper version of theses brushes but I am sorry if you have a real Clarisonic you need the original brushes that go with it. They are made to last the three months and not break done before you have to change them. They are high quality and of course made for your Clarisonic. CLARISONIC BRUSH HEADS
AN EXCELLENT PRODUCT LovelySkin Customer
Verified Purchase
Can t live without
I have been using the Clarisonic for a few years and could not image not having it. It makes a huge difference. But the brush heads need to be replaced and this was a good value. Buying four at a time makes it convenient. Good Deal
The container is nice in that it will be easier to handle versus the boxes. I order brushes for my grand daughter and I every December. This year I am ahead of the game. LovelySkin Customer
Verified Purchase
4 pack of Clarisonic Brush heads
The 4 pack is available at a great price. Ive been using the Clarisonic for about 4 years. I love it! The brush heads work VERY well, and it nice to have a years worth in one pack. My 13 year old granddaughter is now using the smaller Mia. So, the 4 pack is great for her too. Neither of us would be without the facial cleaning power that the brushes afford. Great deal
I love my Clarisonic and recommend to every woman I know. But, the cost of replacing the brushes is a little steep, and has led to me putting it off way too long. I saw this pack of 4 and decided to go halfsies with my mom, plus with the added discount during LovelySkin's many sales, it was really a good deal. I had no more reasons to delay changing the brush head, which by the way, was quite dirty and so was the area under it. Awesome
Just purchased these-what a wonderful buy. Thanks LovelySkin!!