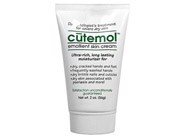 Reviews For
Cutemol Emollient Cream 2 oz Tube
16 Results
Amazing
I have always had very dry cuticles. I have also developed peeling of the skin near my cuticles. I was looking for a cuticle cream/oil to help with the problem. This got good reviews so I thought I'd try it. I was amazed by how much it helped the very first time I used it. After using it about a week by cuticles and nails looked better and the peeling near the cuticles was healed. It is very thick so I only use it at night. But it does absorb quickly and doesn't leave a greasy feeling. LovelySkin Customer
Verified Purchase
I love this skin cream!
I bought this skin cream to use with my DermaNail Nail Conditioner, and fell in love with it so much, I turned right around and bought it in the larger container, and bought another 2oz tube to give to my sister to try. It does feel a little sticky when you first put it on, but in a few minutes it is all absorbed. It feels like it really protects your skin! As I wash my hands frequently throughout the day, it seems like the water beads up and makes it easy to dry your hands. My hands and my feet are both softer and no longer dry. This product is a win/win for me! MissKat
Verified Purchase
Very thick but works for psoriasis and cracked skin
It is so thick, but for a rough patch skin, it works perfectly. It is not for typical normal skin though because it may be too thick. Great hand cream
This is a great hand cream and good for cuticles as well. Very rich and emollient. I have repurchased this product three times. LovelySkin Customer
Verified Purchase
Worth the expense
If you're looking at this skin creme, go ahead and buy! This is really effective. By far, the best I, and my mate, have used. LovelySkin Customer
Verified Purchase
Best ever
I am using this daily for psoriasis to keep my hands moist. What a difference and it helps my nails as well! I will definitely be ordering more. LovelySkin Customer
Verified Purchase
Thick and Rich Cream
I got a sample of Cutemol with my purchase of DermaNail nail conditioner. I primarily use it for my dry cuticles and it really softens them to help prevent hangnails. I apply it to my hands at night to allow it to penetrate overnight. It worked so well I decided to purchase the full size tube and use it on any rough dry skin (feet, elbows, heels). This cream is very thick and takes a little massaging to absorb, but it works well so I will continue to use it LovelySkin Customer
Verified Purchase
I''m in Love!
I recently purchased Cūtemol from Lovely skin. I'm in love with this product. I bought it to use on my fingernails because they are dry and brittle. I''m very impressed with the richness. I am also using it on my hands. I would highly recommend this product. LovelySkin Customer
Verified Purchase
Quite satisfied
Great product. Non-greasy and effective. I have to now buy double the quantity because my wife insists on using it too. LovelySkin Customer
Verified Purchase
Works Great/Great Price
The product really works and the handy small tube makes it convenient to have in many places & thus easier to put on even on the go. My dermatologist recommended Cutemol years ago & I found its the only product that soothes my bad winter dry hands. Wonderful cream. LovelySkin Customer
Verified Purchase
Cutemol
The cream is rich and non greasy. It works wonders on your nails, hands, elbows and feet. A must have for winter! LovelySkin Customer
Verified Purchase
Cutemol
My husband was having troubled with dry, cracked fingertips. His dermatologist recommended Cutemol. After using this product for a couple of weeks his fingertips are healing. I started using this on my feet.....what a difference LovelySkin Customer
Verified Purchase
I believe it works!
I have only been using the product for two months, I think if you use it as recommended, it will make the difference. I have a tendacy to forget, so it is taking longer, but I can tell the difference when I use it. LovelySkin Customer
Verified Purchase
first aid for nails
My nails and cuticles are dry and brittle. This product helps to keep my nails and cuticles more moist and stronger. It needs to be used at least twice a day, but it is effective. LovelySkin Customer
Verified Purchase
This is good.
I have had dry skin always. I have bought & tried so many products. My Derm suggested I try Dermanail at my last visit to strengthen my nails as I asked for something that might help them. This small tube of Cutemol was in the box when I purchased it. I used it several times sparingly as it was a small tube. It brought my hands to a smooth & sorta silky state immediately. They were not hurting from cuticle cracks. Fingers & nails/cuticles looked better. I ordered a tube & have been using the cream several times a day. At night I put it on & sleep with gloves on. I can now say I have found something that has truly helped my dry,cracked,painful hands. This product is great. LovelySkin Customer
Verified Purchase
Saving my hands
I'm constantly washing my hands and scrubbing patients for surgery as a veterinary technician. My hands take a beating and rarely get moisturized at work, because I can't afford to have slick, greasy hands. I have tried everything else out there and was prepared to be disappointed by this. I have to say, though, I am so far pleasantly surprised. I've applied it 3 times and this stuff has some serious staying power! It has protected my hands and smoothed out the frayed skin and cuticles. My hands were so dry and sore prior to starting to use this. The healing has definitely begun! This cream is not a pleasantly scented lotion. It has a strong lanolin smell, but if your hands are painful like mine then you won't care about that. The results are what really matters and this cream delivers! LovelySkin Customer
Verified Purchase