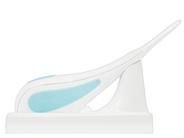 Write a Review - Receive 50 Rewards Points!
Tell us your thoughts about DERMAFLASH Facial Exfoliating Device so we can help you find the right products. With your review, you'll also receive 50 Rewards Points. Please note that it may take up to 72 hours for a review to appear on site. All reviews are subject to moderator approval.
Write a Review
15 Results
Not worth it
Stopped charging after 2 uses. Save your money.
DERMAFLASH Facial Exfoliating Device
Love this handy tool. Does as great as my technician. This tool will definitely save you money!!
One of my favorite tools
I couldn't figure out how to use it at first, but once I got the hang of it, I fell in love. Exfoliates and removes peach fuzz gently. A downside is that it was pricey. The refills are also expensive. And once in awhile, I accidentally mess up one of the blades, so there's some money wasted. I caution that you may screw up a blade while trying to figure out how to use it for the first time. It's not that tricky, but for some reason, I had trouble. However, I really like the results... so I keep buying the refills. I only wish I could buy the pack of blades without the products because I do not use them. This may make it slightly more affordable. So yes, I do love my Dermaflash and prefer it over a standard facial razor.
Crazy awesome
After months of contemplating other reviews and waffling on whether to make this investment, I finally took the plunge. I've used this for three weeks now, and I must say that the whole experience is crazy awesome. I follow an anti-aging regime with daily gentle micro scrub and use of growth factors, vitamins A, C and E, hyaluronic acid and of course sun screen. Now, in the 40-50 range, I get the occasional T-zone break out but the pores!!! They''re a non-stop battle -- like spoon-bailing water from a sinking boat. My first try with Dermaflash was interesting. So much fuzz and dead skin (which I thought would be minimal because of retinol and daily exfoliant) came off that I thought the tool would likely stop working. But it didn't. Now, after my third week, my skin is far more balanced and smooth. My products absorb better, and I'm seeing greater results from them now. The clogged pore issue has been alleviated beyond my imagination. I wish Dermaflash had been around when I was in my 20s and 30s. It's well worth the investment.
All I can say is Amazing!!
Holy Cow! I absolutely love this! I used it for the first time yesterday and after a minute or two figuring out how to insert the blade, it was easy peasy to use and the results are amazing! All my peach fuzz is gone along with some dead skin cells and I couldn''t be happier. My face is so smooth and makeup looked flawless without all those little hairs.
Glowing skin
I've been wanting the dermaflash for so long! Just one use I can tell my skin is absorbing products better, and leaves my skin soft and glowing! Love it!
A must have
I purchased this product last month and am so glad I did. I use glycolic pads so my skin is exfoliated on a routine basis however, this tool got rid of a lot of peach fuzz and dead skin and left me with a great glow.
Smooth skin
Honestly this device is amazing! It works just like the spa and has your skin feeling smooth and cleared up my complexion so much! Glad I bought this :)
Safe Way to Defuzz at Home
I've been paying to have my face dermaplaned once a month for years and was skeptical that this device would provide the same effect. I finally broke down and bought it since the dermaplaning is so expensive. I was delighted to find in the very first use that the results are every bit as good. The fine hair did seem to grow back in faster (I feel like I will need to do this every 2 weeks instead of monthly) but I still believe I'll come out ahead monetarily by doing this myself at home now.
Wow! Spa results at your fingertips!
Easy to use. "Keep the skin taut" Save yourself $95 a month (or more) on those dermaplaning facials and purchase the dermaFLASH! It helps eradicate hair from the skin and even removes layers of dead skin to reveal your most flawless skin: I almost want to go so far to say this replaces a facial (which it realllllly doesn't - serums please!) but regardless, great product. Highly efficient. Your sebaceous glands have enough stress already, do them this favor!
Smooth as a baby's bottom
YES YES, I have been using a well known EPL product to remove "Peach Fuzz" for years......frustrated constantly but little out there to try. Then came DERMAFLASH!!! This product is fabulous, amazing,and WORKS!! As a senior (not mentally) I am growing hair in places I shouldn't and now finally a device that does a great job! Only complaint? Please consider free shipping to Canada!
Not for me
I was excited to use this product as I have lots of fine "peach fuzz" on my face. I thought it would be easy and safe to use. My first attempt I used on my face but didn't get all the hair how ever it seems impossible to cut yourself. I'd prefer to use a razor for the fine hair as it's less expensive and works on the first try.
Dermaflash
This was the first time to use an item such as this, it was very easy to use and took 5-10 minutes. The results were amazing my face had no more fuzz and was extremely smooth. I'll look forward to the next time I use it.
Great!
This is a fantastic product. There was a bit of a learning curve with regard to how to properly angle the device, but I've got the hang of it now. The purchase was well worth the price tag in my opinion.
Love it!
I was so excited when I first ordered this but when it arrived I was a little afraid to use it! Finally gave it a try and it is so easy. I'm a big fan of dermaplaning so this will save me some money!