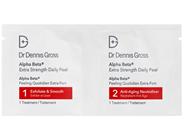 Reviews For


Dr. Dennis Gross Skincare Extra Strength Alpha Beta® Peel (60 Packettes) View Product Details
Write a Review - Receive 50 Rewards Points!
Tell us your thoughts about Dr. Dennis Gross Skincare Extra Strength Alpha Beta® Peel (60 Packettes) so we can help you find the right products. With your review, you'll also receive 50 Rewards Points. Please note that it may take up to 72 hours for a review to appear on site. All reviews are subject to moderator approval.
Write a Review
22 Results
good peel
It brightens my skin and lightens my dark spots
Love the product
great as always
Love Love Love
I have been using it for a few years now. Can't live without it.
Love!
I am very happy with these! First, I like that they are in individual packets. It's just more convenient for me, and I feel like they stay fresh longer than in a jar. I also like that they are two step. I don't like having to apply, then wash with water. I'd rather apply, then used the wipe to neutralize. I've been using these for a few weeks now, and will continue to purchase them. I've noticed my melasma and acne scars fading already.
Can't live without them
In my 40 years of using beauty products, this is the only product that has produced a noticeable improvement in my skin! If I am without them for 4 or 5 days my skin looks dull & I start looking older. I've used these for at least ten years. I am 60 & my daughter tells me all the time that I don't have wrinkles. (Have a few after all I am 60) Both of my children in their 20s have started using them for spotty acne & their skin has never looked better!
LOVE
I prefer the packets bc they don't dry out! Use regularly & ALWAYS use SPF. Keeps skin really clear & helps minimize wrinkles. Not needed daily. Start w original & gradually increase to max strength. May irritate skin, so use w caution.
I can't live without them!
These pads are one of the few things I have found over the years that really work. I can't say how many different lotions and creams I have tried that in the big picture did nothing. The pads really do work and I can see the difference.
Dr. Dennis Gross skincare extra strength alpha beta peel
Love the product. I have used the peels everyday for over a year and my skin is noticeably smoother, lines and wrinkles diminished.
Great way to clear complexions
I have been using this product in combination with the stronger weekly peel for about a month now and I am really impressed. My skin can be reactive with strong ingredients but that hasnt happened with these products. The really great news is that my skin is clear and glowing. Im in my mid 40s and have tried to find something to revive my youthful glow. These products are exactly what I was looking for!
Does wonders for my acne
I have okay skin but I tend to break out. This product has done wonders for me! I used to think I had to go tanning to keep my skin under control, but after using these I would never go tanning again. I barely need makeup if I keep up with my peel routine!
Go to peel for travel
I love Dr. Dennis Gross Skincare Extra Strength Alpha Beta Peel for its ability to maintain my skin texture and keeping dark spots in check . I travel quite a bit and I especially love that I can easily stick a few packets in my toiletry bag and my mini-spa on the go. Great product, easy to use and very nice results.
My skin looks radiant!
This my second box of 60 extra strength peel pads. I started with the 14-day try it kit and was hooked. I cannot live without these peel pads. They have made a tremendous difference in the way my skin looks and feels. Dark spots have been eliminated or lightened tremendously. I am 52 years young and it has even helped reduce my occasional acne breakout. I have received so many complements from people. They always ask what I use on my skin. I tell them, Dr. Dennis Gross. I use the brightening solution, anti-aging cream, dark spot defense sun block and the CC cream as well. I love the entire line and will not live without.
Such a great product
I love this product so much. However, you can get similar results for less money with the Topix gly-sal pads (also reviewed and sold by LovelySkin). Dr. Gross has many amazing products.
Never leave home without using this,
I use my pads in the morning. Im sure oilier skins can use them twice a day. Ive noticed less breakouts and improved skin texture. They travel well and are worth every dime!
Not the best Dr. Gross product
I like the product, but using the Dr. Gross weekly peel works much better for me. I probably wont buy any more of this one, but will continue to use the other. Im 71 and It really makes my skin look nice.
Awesome
I use this product nightly. Has really improved my ageing skin. Easy to use and does not sting. Another great product from this brand.
Gentle yet effective
I have been using this product nightly for over 2 weeks and notice major difference in the appearance of my skin. It is smoother, spots are less visible, and my skin is brighter. I also have very oily skin and this product helps minimized the oil production. Last week I ordered another 60 pack refill. Definitely cannot live without this. I will use this product forever. I love it. Use it nightly before applying night time serum.
Glowing Skin
I love to use this peel a couple of times a week to clear away the dullness and flakey skin. I use retin a at night a couple of times a week and this peel really helps with the flakiness. My skin feels brighter and glows. I receive a lot of compliments. My make up goes on so smooth after applying. I am a fan.
Excellent Product
Clears and brightens skin without excessive dryness and peeling.
Miraculous!
I have been using this product for about two years. My skin has never been better. Even though Im 40+, I would still get periodic breakouts. When I use this peel consistently, the breakouts stop. As esthetician recently said, "Wow. You keep your skin really clean. Dont you?" As a former acne sufferer, that was music to my ears!
Glowing skin!
I have used this product for over a year and I am 57 with fair, freckled skin. I apply after I use my Clarisonic Aria at least 4-5 times per week. At a doctors office recently, the nurse looked at me and checked my file...she thought she had the wrong person because she didnt think I was 57. I quit Botox in my forehead after a scary allergic reaction and I rely on good products and healthy habits. LovelySkin has great customer service too...thanks.
See a visible improvement in minutes!
I adore this peel. It's so fast and easy to use. Whenever I need a quick appearance pick-me-up, I use the peel and my skin instantly looks ten times better.