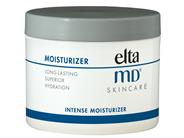 Reviews For
EltaMD Intense Moisturizer - Jar 3.8 oz (Melting Moisturizer)
$17.00
Great healing sealer
I use this for my hands and feet but would not use on my face. It is primarily petroleum based and paraffin. LovelySkin Customer
Verified Purchase
Very Hydrating!
I purchased this to add extra moisture after starting tretinoin. It locks moisture in until you wash it off! LovelySkin Customer
Verified Purchase
Over all satisfied
I bought this as a Christmas gift for a friend. She is happy with it. LovelySkin Customer
Verified Purchase
EltaMD
I have used the Elta moisturizing for many years but have noticed that it is a little harder to activate the moisturizer to apply. Also the quantity has been reduced from 4 oz............. Garfield
Verified Purchase
Greasy
I'm a little bit disappointed as this reminds me of a jar of petroleum jelly. Very greasy. Not what I was expecting. LovelySkin Customer
Verified Purchase
Moisturizing but very oily
This product definite adds moisture and seals in skin but it was very hard to have breakouts when using it. I used a small amount as directed and blotted off the excess but still had a fair number of breakouts. It's nice that it has no perfumes or dyes so it didn't irritate my sensitivities, but unfortunately my skin didn't work well with it. I have very dry skin but patches of oily areas near my chin and forehead so I might use this on my cheeks in the winter if they get very dry but otherwise will not be using it again. Very effective moisturizer
My hands usually get very dry in the winter. I used to buy hand creams and shea butter to treat the cracks in my hands, but ever since using this moisturizer, I exclusively use this product. I no longer develop cracks in my hands with daily use. This moisturizer is like petroleum jelly but very light and non-greasy. LovelySkin Customer
Verified Purchase
Hydrates, but is slimy.
This does moisturize well but unfortunately, I cannot stand the greasy look and feel. It like put petroleum jelly on your face Do not buy if you have sensitive skin
This burned my face and I only used it once. I can't even put any healing product on for 2 days now. This product said nothing about sensitive skin to not use it. LovelySkin Customer
Verified Purchase
Fabulous
I love this brand! LovelySkin Customer
Verified Purchase
Love it!
This is a great product as are all the other Elta MD products are! I use this on my very dry skin and it absorbs well without leaving a heady surface. I have just ordered my second jar! StrawBld
Verified Purchase
Glorified Vaseline
This is essentially Vaseline with a firmer texture. LovelySkin Customer
Verified Purchase
Really Does Melt
While there are a number of similar petroleum products out there, this product really does melt. In my experience, the melting was beneficial because it aided absorption to deeply moisturize. I highly recommend! Hydrating
Great for night time and you're experiencing from dry skin LovelySkin Customer
Verified Purchase
Little goes along way...
I have enjoyed this moisturizer, it's pretty thick so little goes a long way. I feel like this is for skin that's really dry, it doesn't adsorb right away. I love this during the winter since that's when my skin needs it the most. YesikaMagana
Verified Purchase
Wonderful
This moisturizer is perfect for the dry climate of Arizona. It lasts and a little goes a long ways. Love it!
I love this moisturizer. It's sticky but it really does the job. The winds are blowing in Southern Cal. and this helps with the dry air. Will be a consistent user. Good product
Good but will purchase in tube next time. Great product
I use this when I am extremely dry and flaky from using Retin A. It looks a bit like Vaseline and reminds me of it. But it doesn't have a smell like Vaseline. It's much lighter and rubs in right away. It adds the moisture I need. And it heals. Protects
I like this product, but was expecting it to be less greasy. I am still a fan of MD skincare, but not sure I would make this purchase again. LovelySkin Customer
Verified Purchase
Face treatment
Very good product. Had it recommended from a dermatologist. LovelySkin Customer
Verified Purchase
EltaMD Intense Moisturizer..
Love this melting moisturizer for chapped or dry skin. It spreads easily and any that sits on the skin can be blotted off. This works overnight and is great for winter skin for adults and children Not for me
I have dry skin but I found this to be too "greasy" for my skin. I used it for a week at night . I can see where it would beneficial after treatments, but for everyday use, it's too heavy for me. Vickick
Verified Purchase
Very good moisturizer
I know some reviews say this moisturizer has a texture like Vaseline but I mix it with another moisturizer to make it smother and it works great especially in The winter. During the summer I use this product after I have been swimming laps to rehydrate my skin. I like the way it makes my skin smooth and soft. LovelySkin Customer
Verified Purchase
Great intense moisturizer
I use this product nightly. It has kept my skin in great condition. This is the only product that has worked this well and it is reasonably priced.