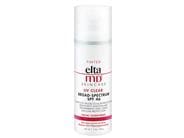 Reviews For
EltaMD UV Clear Broad-Spectrum SPF 46 Sunscreen - Tinted
$38.00
480 Results
Best tinted sunscreen ever!
I have used this sunscreen daily since I discovered it. It goes on smoothly and the tint is just enough! I have had no issue with sun exposure since I have been using it. LovelySkin Customer
Verified Purchase
Good lightweight moisturizer
Non irritating moisturizer that did calm my skin. Marie22
Verified Purchase
Love it!
Love this product! LovelySkin Customer
Verified Purchase
My favorite sunscreen!
This is my favorite sunscreen. I'm picky about what I put on my face. Some sunscreens leave you feeling "coated" and greasy. This does not. I give it time to absorb in before putting on my makeup and it works great. I'm a happy customer with the performance of this product. LovelySkin Customer
Verified Purchase
Good for oily skin
EltaMD is the only sunscreen I use on myself and family. Great for oily skin and doesn't clog pores, I use this one as a base for makeup as it has a little tint to it. LovelySkin Customer
Verified Purchase
My Favorite
This sunscreen is my favorite! I use it every day, rain or shine. I am tan skinned and the tint is a perfect light tan color. Dermatologist Recommended
My dermatologist recommended this to me. The slight tint evens out my skin tone and is not really obvious. It blends in well. And it is great for my sensitive skin. LovelySkin Customer
Verified Purchase
My favorite
I've been using Elta MD tinted sunscreen for 5 years and love it! It's perfect for sensitive skin and has minimal scent. I use it after my moisturizer and before makeup. I 100% recommend! Good but expensive
Great evening moisturizer but expensive for the amount you get CupcakeKitten
Verified Purchase
Good lightweight sunscreen
The sunscreen is lightweight and very easy to apply and get absorbed by the skin. The tint is very light, almost unseen. If you like to have a glow on your skin this is the sunscreen, otherwise go for the untinted version. SCastillo
Verified Purchase
Hooked !!
I absolutely love this product. I wear sunscreen now more than I ever have before. It feels so light and the tint makes me look and feel just beautiful. I have since bought the same cream for my mother with all of the anti-aging elements in it, and I have bought the anti-acne version of it for my 18-year-old niece. I think we are all hooked. I can't recommend this product highly enough. Smother me in it! :-))) Amazing
I'm using the untainted one of this brand and I'm loving it so much!! I decided to try the tinted one because usually I don't wear makeup during the day and wanted to try how the tinted one is looking on my skin because I do wear sunscreen every day... I usually hate tinted sunscreen because they look like a bad makeup so I just prefer to use a clear one... this one is very very mild covering it's just like their untainted sunscreen. But gives little bit of toning to the face so the skin looks as if you don't wear any makeup. But you do get some color improvement and more healthy looking skin l!!! The color is a little dark for my skin tone as in very very light so I mix it little bit with my untainted sunscreen from the same company and the results are amazing. Great product
I've been using this product for years. I am outside a lot and absolutely never burn. The coverage is also pretty good. LovelySkin Customer
Verified Purchase
Absolutely love this!!
Provides high quality sunscreen while the slight tint evens my skin tone. This is a must have. LovelySkin Customer
Verified Purchase
Great tinted sunscreen for breakout prone skin
I bought this for my teenage daughter to surf. It is waterproof for a about 1-2 hours. The ingredients are great for her breakout prone skin. The tint is best for light complexions so I wish there were different colors to choose from. LovelySkin Customer
Verified Purchase
I love this SPF!
I have tried many different kind of SPF. I love this SPF! It smooth and don't feel the texture of many sunscreen. I mostly purchased because of the high percentage of Zinc. I was a bit afraid of how my skin would react, but so far no problem! I will keep purchasing! LovelySkin Customer
Verified Purchase
Great protective sunscreen!
I really like this sunscreen for my sensitive skin. Goes on smooth and blends beautifully! I'll be ordering more! LovelySkin Customer
Verified Purchase
Fave
My favorite spf. Not greasy and absorbs quick and no white residue! LovelySkin Customer
Verified Purchase
Used this for years
I've used this for years, and originally got it from my dermatologist, but this site has a better price. Most of the time this is all I use as foundation, especially in the summer. The tint is enough for decent coverage, but it feels so much lighter in the heat and humidity than a regular foundation. I'm not into heavy foundation anyway, and even when I switch back to it when I need more coverage, I do so sparingly, which means this ends up being my foundation more often than not all year. It is reasonably moisturizing, non-greasy, and I've never had any issues with skin-sensitivity to it. I can even use it on my eyelids with no stinging, which I can't always do with sunscreen. Tengerbelle
Verified Purchase
Love it!
This is the first moisturizer plus sunscreen that hasn't made my face look like an oil slick within an hour after application. Stays matte all day. I do not notice the tint though, doesn't hide any discoloration. LovelySkin Customer
Verified Purchase
Small container.
Expensive. Would I buy it again? No. The Best
I love this sunscreen! I have a combination and acne prone skin type. This sunscreen is so light and I don't feel anything when I put it on. It doesn't irritate my skin and doesn't make me break out. I think this is the best sunscreen. Amanda123
Verified Purchase
WONDERFUL SUNSCREEN!
I use this tinted sunscreen daily. It is creamy and smooth with no white residue so it looks great alone. Then, it works well under my powder base helping give a smooth finish. What a delight that it doesn't irritate my small areas of eczema like other sunblocks for faces have. I have no problem reapplying it during the day since it feels so light like nothing is on my face. EltaMD UV Clear Broad-spectrum SPF 46 Sunscreen- Tinted is my all time favorite. LovelySkin Customer
Verified Purchase
Great Sunscreen
Love this sunscreen. It stings if you put it around the eyes. brightparadise
Verified Purchase
Elta Sunscreen
This sunscreen is wonderful. It is lightweight and has enough coverage to wear daily. JoannaP
Verified Purchase