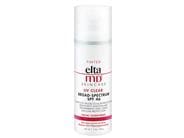 Reviews For
EltaMD UV Clear Broad-Spectrum SPF 46 Sunscreen - Tinted
$39.00
Disappointed
I have the untinted version of this sunscreen and loved it so much that I figured having a little bit of sheer coverage from the tint might also be a nice perk. For the first 2 weeks, I thought it was feeling nice, but I'm starting to break out in smaller CCs and also bigger cystic acne. This DOES NOT play well with other moisturizers or makeup. It also leaves this terrible sticky, chalky feeling on your face that gets worse throughout the day. Overall, pretty disappointed. LovelySkin Customer
Verified Purchase
Not for me!
This product is the only product I have ever had to return to my favorite LovelySkin The tint is way to brown for my skin tone and it makes me face shiny. LovelySkin Customer
Verified Purchase
Streaky
The lotion is too thin to cover your face evenly in the same shade. It streaks. The non tinted version is awesome but the tinted version is not worth your money LovelySkin Customer
Verified Purchase
Leaves my face very shiny >_<
I bought this product based on the great reviews I saw and that it's specifically for people with Rosacea. Unfortunately, I am returning it as it leaves my skin very very shiny. Plus the tint is too dark for my light complexion. Really wanted to love it but it just doesn't work on me =( LovelySkin Customer
Verified Purchase
Lovely but...
Loved the sample. Beautiful finish, best natural glow of any "makeup" I've ever used. Bought the full size. A week later - cysts. I loved it so much I tried to convince myself they were due to something else for 2 months, but in the end, this caused horrific breakouts.