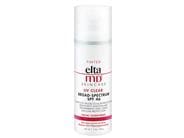 Reviews For
EltaMD UV Clear Broad-Spectrum SPF 46 Sunscreen - Tinted
$39.00
Not for highly reactive skin
My face started burning and broke out in hives as soon as this was applied. I do have highly reactive skin, but I'm able to use other EltaMD products. Giving two stars because I know EltaMD makes quality sunscreens and products. LovelySkin Customer
Verified Purchase
So disappointing!
I have sensitive skin, and was so excited to read about this moisturizer/sunscreen. It definitely did not live up to its promise, however. Two serious problems: as soon as I applied it to my cheeks they began to burn and itch. This sensation lasted for quite a while. Also, once it dried it left a white, chalky residue on my skin. I had to apply my old lotion over it, to get rid of the white streaks. This product did not work for me at all. For oily skin? I don't think so
I have been using exuviance and I was reading reviews about this sunscreen, I purchase the tinted version and what a disappointment. Even if you don't use much you end up with a greasy and shiny face. And always get a pimple after I use it. So I will probably use this only for the neck LovelySkin Customer
Verified Purchase
Elta MD 46 sunscreen
I so wanted to love this sunscreen. It has the most beautiful texture. Sinks right in and leaves the most beautiful sun kissed glow to my face. Didn't burn at all. Unfortunately, it made me break out terribly and had to leave if for my hands only. LovelySkin Customer
Verified Purchase
Elta tinted sunscreen
This product is very drying. I would have returned it as well as an unopened product if I could have. LovelySkin Customer
Verified Purchase
Not for my sensitive skin.
The other reviews for this EltaMD UV Clear Broad-Spectrum tinted sunscreen made it sound like it would be great for my sensitive skin. Unfortunately, it triggered an adult acne outbreak on my chin that took weeks to calm down. The sunscreen was the only new product in use. Maybe it's better for less sensitive skin? I wanted to like it. LovelySkin Customer
Verified Purchase
Unacceptably streaky
The tint doesnt dry evenly on your face. It looks okay at first but then a few minutes later its splotchy. I am Latina and have olive skin so I imagine the effect would be even worse on paler skin. Maybe I got a poorly mixed batch? LovelySkin Customer
Verified Purchase