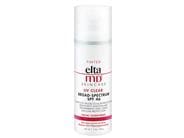 Reviews For
EltaMD UV Clear Broad-Spectrum SPF 46 Sunscreen - Tinted
$38.00
Smooth coverage that also helps with acne
This sunscreen does a great job of protecting sensitive skin from the elements while also delivering a double dose of silky, smooth ingredients that help with mild acne. The tint is ever-so slight and doesn't overpower coverage. I'm giving it four stars instead of five for the following reason: I use a exfoliating lotion and when I also use the Elta MD product, it tends to flake quite badly and that's even with allowing the exfoliator to dry completely. If I don't use the exfoliating lotion, this doesn't happen BUT I do have to make sure that I've let the Elta sunscreen dry completely before applying any other products or make up. All in all - I love the Elta MD brand for it's ability to protect, to help with mild acne, and to give smooth coverage. VFlores
Verified Purchase
Love hate relationship
I LOVE the ingredients in this sunscreen. It works really well for my sensitive, acne prone skin. The reason I rate it 4 instead of 5 stars is because sometimes this pills over other skincare, and it doesn't always wear well under make up. I prefer using this on no makeup days I like it
I like this sunscreen. This is my first time buying it and it has NOT made me break out! The tint doesn't really do much of anything but when applying the sunscreen goes on nicely. Reason for 4 stars and not 5 is that I wish it was more Moisturizing. It doesn't dry out our skin but it doesn't moisturize either. LovelySkin Customer
Verified Purchase
EltaMD
Love the tinted formula. It is very natural looking. Good sunscreen
I love this spf, but for me the tint was a bit too shiny. I prefer the non tinted version as it's is the same but without the tint. It's a good spf that dries matte therefore I wouldn't recommend if you have super dry skin. LovelySkin Customer
Verified Purchase
Good Product
One of the best sunscreens I've tried. Sometimes I have a problem with it pilling before I even get it rubbed in all the way, but still better than most sunscreens ive tried. LovelySkin Customer
Verified Purchase
Good
Came highly recommend and does a good job. I only wish it provided a bit more coverage but this works as a good base for my foundation and concealer. SkinReviewE
Verified Purchase
Great sunscreen
This is a great product to wear alone or under makeup. It is tinted, but the coverage is pretty light. Doesn't feel greasy or heavy, and for days that I'm not looking to wear a face full of makeup it's perfect to wear alone. I have combination/acne prone skin and it doesn't cause breakouts. LovelySkin Customer
Verified Purchase
Good stuff
I love this sunscreen not only for the protection but for the ingredients. My face needs the moisture and the niacinamide. I gave it 4 stars just because I would love just a bit more coverage. Regardless, it's the one product I use every day. LakeLou
Verified Purchase
Amazing
The best sunscreen I've used and I'm a Fitzpatrick VI. The tint is great and it leaves no cast. The only downside is I'm in Canada and this isn't shipped to Canada and I don't want to buy from Amazon and so I have LovelySkin ship to my friend in the US and he mails it to me. Long process but worth it! Lovely skin ship to Canada soon please!! :) 4 star because of the shipping hassle Good sunscreen but prefer the physical one
It's nice to put sometimes. Less heavy than the physical. LovelySkin Customer
Verified Purchase
Great for tan and sensitive skin
I have rosacea and medium brown skin and this has been a great sunscreen for me. The niacinamide in it calms my skin and the tint helps cover some of the redness without leaving a white cast. I would rate it 5 stars if it was completely mineral based and didn't pill up on the skin so easy. Good but expensive
Great evening moisturizer but expensive for the amount you get CupcakeKitten
Verified Purchase
Great tinted sunscreen for breakout prone skin
I bought this for my teenage daughter to surf. It is waterproof for a about 1-2 hours. The ingredients are great for her breakout prone skin. The tint is best for light complexions so I wish there were different colors to choose from. LovelySkin Customer
Verified Purchase
Great
This sunscreen is great. I accidentally ordered this thinking it was the un-tinted version. I knock off 1 star because I am pale and have to be diligent about blending it. It had an add smell, otherwise it works great for days I work from home and don't need any makeup. ballgood
Verified Purchase
Elta MD UV Clear SPF 46 tinted sunscreen
This is a nice product - very silky and smooth. It's a sheer tint, not heavy or pasty looking. My daughter had rosacea and uses this sunscreen too - she loves it! I wear tinted sunscreen daily as a moisturizer and foundation - while this one is a little more sheer it's perfect for summer. LovelySkin Customer
Verified Purchase
Doesn't burn on my face
I have trouble finding a 50 sunblock that doesn't burn on my face. This one felt good and goes on easily. Not greasy like many sunblocks. Gave it four stars instead of five because I ordered the tinted and it did not give my face any color. The 50 Block in Epionce adds more color and is also non-irritating. LovelySkin Customer
Verified Purchase
The good and not as good
All EltaMD products are effective at a reasonable cost. This tinted sunscreen complies on both accounts. However for me it has one drawback. It is a good sunscreen with a nice moisturizer. I find that the tinting component although a nice color does redden my skin. I have very sensitive skin and hoped this product would do all that it was supposed to do. It did but also caused red blotching. I recommend it if it agrees with your skin. Karenirene
Verified Purchase
Nice blend for many skin types
The sunscreen provides a well blended look. There is no cast with the sunscreen. Provides protection that helps against hyperpigmentation caused by uvb light. LovelySkin Customer
Verified Purchase
good protection
I apply this prior to getting out in the sun almost everyday for an hour, at around 10am. I have been using this for about 2 weeks now and I think it has provided good protection till now. I happy with its coverage. However the tint doesn't show any difference in my complexion, may be because I'm brown skinned. I wish more shades were available. Love the tinted aspect.
I've been using the clear and wanted a little more color. I really like this product and plan to wear it on days when no makeup is necessary. LovelySkin Customer
Verified Purchase
No white cast
Blends nicely but a bit tint a bit darker than I would ideally like. No white cast. Will keep but try another EltaMD untinted or more moisturizing sunscreen when this runs out. LovelySkin Customer
Verified Purchase
Mediocre tint
Although the product has a tint I feel like it doesn't cover as much as I expected. However, the ingredients are top notch and provide excellent protection from the sun. This product does not irritate my dry and sensitive skin. Drhawkins
Verified Purchase
Nice sunscreen
Not sure if it cause a reaction to be honest, it's not pure physical just notice LovelySkin Customer
Verified Purchase
Sensitivity between Elta MD's Suncreens
I have sensitive skin and many sunscreens. I've tried over the years break me out. I love EltaMD's UV Clear Broad-Spectrum SPF 46 non-tinted but feel my skin is more sensitive to the tinted. Will use the tinted off and on until it's gone and may change my mind, but will mainly use the non-tinted.