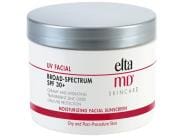 Reviews For
EltaMD UV Facial Broad-Spectrum SPF 30+ - Jar 4oz
$30.00
169 Results
Excellent Product!
Elta products were recommended to a friend by her dermatologist, and I was looking for a good facial sunscreen. I have tried many different brands and always read the reviews, but found I was still getting a chalky look and couldn't find one I loved. This is it. First off it's in a jar. No annoying tubes where you waste half of the product because you can't get it out. This sunscreen is easy to apply, goes on without any chalky residue or a lot of rubbing, no scent, (although that would have been okay if it was a pleasant one), and a reasonable price for a product that lasts a long time. After I found this I pitched all the others I had accumulated and this is the only one I use. Best daily sunscreen - normal life and for extreme adventures!
I love this and use it EVERY DAY. I am also a runner and love to go on long hikes and physically challenging adventures, and this sunscreen is by far the most protective. Love it! LovelySkin Customer
Verified Purchase
EltaMD UV Facial Broad-Spectrum SSPF30+
Love this product! It is very light and my face feels silky after I apply it. Perfect way to start the day before I run errands, etc. My skin is very sensitive and haven't experienced any problems. Highly recommend. CCSarasota
Verified Purchase
best for everyday use
EltaMD is my favorite sunscreen, and this particular packaging insures that I get all of the product (unlike squeeze tubes that make it difficult to get the last remains of sunscreen). I only wish they would offer more of their products in this container (spf 45, tinted, etc.). skinconcerned
Verified Purchase
Great product!
This is truly an invisible sunscreen lotion. I have dark complexion and it's not easy to find a product that won't leave a whitish residue, so I'm really pleased with EltaMD facial sunscreen. It's also light and doesn't leave a shiny finish on the skin. I'm glad to have found this product, plus it's a great value in the 4oz jar. LovelySkin Customer
Verified Purchase
Love this lotion
I love this lotion and have been using it for years. This lotion is a staple in my skin care for so many reasons. I love the way it makes my skin look and feel, very soft and supple. The bonus is the sunscreen built in so I know my skin is protected daily. I highly recommend this product such a great everyday moisturizer. Smilemore
Verified Purchase
5 star product
I have been using this product for years. I love it. Best moisturizer ever used
I have been using eltamd moisturizer with sunscreen for about 3 years now. I would not use anything else. It is the best there is out there in the market. I highly recommend this moisturizer for any time and any season of the year LovelySkin Customer
Verified Purchase
Love this jar of cream.
I have used this sun screen for more than 20 years and am always receiving compliments on my 66 year old skin. This feels like a moisturizer, it is creamy and melts on skin after a minute. I do have dry skin and this is a perfect match for me. LovelySkin Customer
Verified Purchase
Great Product
I gave it four stars because I have only used it when I go outside for my walks. I do like it so far. It protects my face and keeps it moist. I would say that it is definitely best for someone with combination skin up to mature skin. It is probably too heavy for oily skin and one that's prone to breakouts. I am 66 years old and my skin is combination to normal and on the sensitive side. I trust it and I am glad I purchased it. I would recommend this product. EltaMD UV Lotion Broad-Spectrum SPF 30+ - Jar
Order this and the tube together at the same time. Nothing wrong with the sunscreen, lovely texture and awesome product. Just prefer the tube better than the jar. I wonder if I'm suppose to get rid of the interior lid for easy access...or should I keep it to make sure the product doesn't dry out...? LovelySkin Customer
Verified Purchase
Great sunscreen
I have normal skin (not dry). Of all the sunscreen products I have used over the years, this is by far the best one. It moisturizes nicely, but not greasy. I use it followed by foundation stick makeup. LovelySkin Customer
Verified Purchase
Love it
I wanted a facial moisturizer with sunscreen that didnt FEEL like I was wearing a sunscreen for every day use. This hit the mark. Its lightweight, hydrating and protective. It's not sweat proof -which If you're outside and active or swimming you may need a different choice. Overall very satisfied. LovelySkin Customer
Verified Purchase
EltaMD UV Facial Broad-Spectrum SPF 30+ - Jar 4 oz
I've been using this product for several years. Like other Elta products, its easy to apply and has just the right amount of moisturizer . It makes my skin feel hydrated immediately upon application. I also use it for my hands. The only reason I gave 4 not 5 stars is that I wished it would be available in a higher SPF. LovelySkin Customer
Verified Purchase
Love This Sun Block
Awesome product. Doesn't leave your face all greasy. And gives me protection from the sun. LovelySkin Customer
Verified Purchase
Repeat purchase
EltaMD SPF 30+ works! I've worn it daily, summer and winter, for a couple of years now. I am very sensitive to smells, especially those around my nose (can't wear foundation), and this cream suits me. It goes on invisibly, and I often layer it, though don't need to. I highly recommend. Great everyday skin cream!
I have used this for 6 years after a dermatologist recommended it. It has SPF in it and is not too heavy. Great under makeup and lasts the whole day. Wonderful cream! LovelySkin Customer
Verified Purchase
Moisturizing Sunscreen!
This fragrance free sunscreen has a silky texture. My face feels soft and moisturized after application with no visible white cast from the zinc. I only wish it came in a tube instead of a jar. LovelySkin Customer
Verified Purchase
No visible residue
This is lightweight with no chalky residue. I need additional moisture so I use it after my normal serum and moisturizer and it still doesn't feel heavy on my skin. That makes it easy to replenish during the day with no discomfort. Moisture, moisture, moisture!
I need a sunscreen that does not dry out my face. I have finally found it! I give this an A+. If your skin gets dry this is for you! LovelySkin Customer
Verified Purchase
new sunscreen for me
Doesn't cause breakouts and works well with my foundation LovelySkin Customer
Verified Purchase
Fabulous!
I have been using this product for many years. It is the best sunscreen available. So light and creamy yet non -oily I never leave the house without it. Californian
Verified Purchase
None goes to waste
This is perfect for my dry skin, does not show when dry, and I can get all of it out of the jar, unlike what's always left in a tube. I am a big Elta MD fan. Wish it was still sold in drug stores like it used to be. LovelySkin Customer
Verified Purchase
Hydrating
I've been an EltaMD user for a few years and just recently decided to give this a try. My dry skin needed this. It makes my skin soft but not oily looking or feeling! LovelySkin Customer
Verified Purchase
Wow! I'm in love with this moisturizer!
My dermatologist recommended this moisturizing sunscreen, and it has been the best score for my skincare routine EVER! I only use it in the morning before I apply my makeup. I wish I had known about it long ago because I would've had many less painfully dry winter skin days. I highly recommend it to anyone needing a great moisturizer/sunscreen combo with hypersensitive and rosacea skin issues. I have already purchased my second jar. HomegrownTN
Verified Purchase