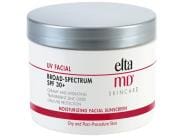 Reviews For
EltaMD UV Facial Broad-Spectrum SPF 30+ - Jar 4oz
$30.00
Love it!
I love the consistency of this cream. I use it every morning on my neck and chest. It sinks in, is not sticky at all, but feels very moisturizing all day, I'm not out in the sun until March, so I'm hoping the sunscreen in it does its job then. I also love that it's a large jar which makes it a huge value. This is definitely a re-order for me. LovelySkin Customer
Verified Purchase
Best Buy
I've been using the pump Broad spectrum SPF40 for years now. I don't love the pump because it feels wasteful. I decided to try this tub. I love it! It is a much better bargain even if the spf is lower. I will continue to buy this one and then just add additional sunscreen as needed. Great Sunscreen!
Great sunscreen and wonderful company to work with! Awesome Face Sunscreen!
My skin has been so dry lately, I needed a boost. It rubs in nicely, and does not leave any noticeable white cast. You'll love it! LovelySkin Customer
Verified Purchase
Soothing Sunscreen
Wearing a mask has been hard on my lower face. Exhaling warm air into the mask has inflamed my skin. This has caused my skin to turn red and flake. The Elta MD Sunscreen for the face in a jar is soothing and has helped with the flaking skin. I'm glad that I found this. LovelySkin Customer
Verified Purchase
Great moisturizer
I love EltaMD SPF30. It's a great moisturizer and it protects me from the sun at the same time. LovelySkin Customer
Verified Purchase
My new go-to sunscreen!
I was looking for a new facial sunscreen for a while before landing on this. I LOVE this product! It goes on smooth and doesn't leave a white sheen. LovelySkin Customer
Verified Purchase
Excellent product
I have used EltaMD moisturizing sunscreen for quite a few years now. I apply it everyday under my makeup. It is silky smooth and very moisturizing. I love that it is free of parabens and that it is noncomedogenic. I highly recommend it. Great product
My husband & I started using ELTAMD UV Facial Broad-Spectrum SPF 30 years ago after he had a Mohs procedure on his ear. His dermatologist recommended this product & we have been faithfully using it ever since. I was not a stranger to using an SPF product on a daily basis, (been using one for 42 years) but this product is far superior to many I had tried. Never greasy but gives my skin a nice glow. It works great under foundation. We always have an extra on hand as we don't want to be without. LovelySkin Customer
Verified Purchase
Love This Product!
This is sunscreen and moisturizer all in one, all I need on most days. It goes on quickly and is not greasy. Feels good on my skin. While it looks white in the jar, it is immediately transparent when applied. Great product! LovelySkin Customer
Verified Purchase
Excellent sun block/moisturizer
I have used Elta MD products for a long time, ever since reading brochure in my dermatologist's waiting room. I have a history of skin cancer plus very sensitive skin and this is the best product I have found. I am an avid gardener and use EltaMD on a daily basis. Annabelle
Verified Purchase
Love this!
This sunscreen is one of my favorites. The texture is so light and no white cast at all. I love the larger size so I can use on my body when I'm not needing something waterproof. LovelySkin Customer
Verified Purchase
Best Sunscreen
This sunscreen does not leave a white cast and is very moisturizing. EltaMD
I've used this product for years. It goes on great, never greasy. Wears well under makeup or alone. The only moisturizer I use. Not for me
I've been a fan of Elta sunscreen for many years. Decided to try this one for my now mature skin. However, I found it too greasy and heavy, so alas, had to return it and go back to my usual Elta UV Clear SPF 46, which is moisturizing and protective and not heavy. This product might be suitable for really dry skin. LovelySkin Customer
Verified Purchase LovelySkin Customer
Verified Purchase
Excellent Product!
Elta products were recommended to a friend by her dermatologist, and I was looking for a good facial sunscreen. I have tried many different brands and always read the reviews, but found I was still getting a chalky look and couldn't find one I loved. This is it. First off it's in a jar. No annoying tubes where you waste half of the product because you can't get it out. This sunscreen is easy to apply, goes on without any chalky residue or a lot of rubbing, no scent, (although that would have been okay if it was a pleasant one), and a reasonable price for a product that lasts a long time. After I found this I pitched all the others I had accumulated and this is the only one I use. Best daily sunscreen - normal life and for extreme adventures!
I love this and use it EVERY DAY. I am also a runner and love to go on long hikes and physically challenging adventures, and this sunscreen is by far the most protective. Love it! LovelySkin Customer
Verified Purchase
EltaMD UV Facial Broad-Spectrum SSPF30+
Love this product! It is very light and my face feels silky after I apply it. Perfect way to start the day before I run errands, etc. My skin is very sensitive and haven't experienced any problems. Highly recommend. CCSarasota
Verified Purchase
best for everyday use
EltaMD is my favorite sunscreen, and this particular packaging insures that I get all of the product (unlike squeeze tubes that make it difficult to get the last remains of sunscreen). I only wish they would offer more of their products in this container (spf 45, tinted, etc.). skinconcerned
Verified Purchase
Great product!
This is truly an invisible sunscreen lotion. I have dark complexion and it's not easy to find a product that won't leave a whitish residue, so I'm really pleased with EltaMD facial sunscreen. It's also light and doesn't leave a shiny finish on the skin. I'm glad to have found this product, plus it's a great value in the 4oz jar. LovelySkin Customer
Verified Purchase
Love this lotion
I love this lotion and have been using it for years. This lotion is a staple in my skin care for so many reasons. I love the way it makes my skin look and feel, very soft and supple. The bonus is the sunscreen built in so I know my skin is protected daily. I highly recommend this product such a great everyday moisturizer. Smilemore
Verified Purchase
5 star product
I have been using this product for years. I love it. Best moisturizer ever used
I have been using eltamd moisturizer with sunscreen for about 3 years now. I would not use anything else. It is the best there is out there in the market. I highly recommend this moisturizer for any time and any season of the year LovelySkin Customer
Verified Purchase
Love this jar of cream.
I have used this sun screen for more than 20 years and am always receiving compliments on my 66 year old skin. This feels like a moisturizer, it is creamy and melts on skin after a minute. I do have dry skin and this is a perfect match for me. LovelySkin Customer
Verified Purchase