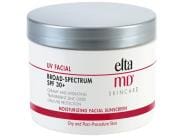 Reviews For
EltaMD UV Facial Broad-Spectrum SPF 30+ - Jar 4oz
$30.00
Great Product
I gave it four stars because I have only used it when I go outside for my walks. I do like it so far. It protects my face and keeps it moist. I would say that it is definitely best for someone with combination skin up to mature skin. It is probably too heavy for oily skin and one that's prone to breakouts. I am 66 years old and my skin is combination to normal and on the sensitive side. I trust it and I am glad I purchased it. I would recommend this product. EltaMD UV Lotion Broad-Spectrum SPF 30+ - Jar
Order this and the tube together at the same time. Nothing wrong with the sunscreen, lovely texture and awesome product. Just prefer the tube better than the jar. I wonder if I'm suppose to get rid of the interior lid for easy access...or should I keep it to make sure the product doesn't dry out...? LovelySkin Customer
Verified Purchase
Love it
I wanted a facial moisturizer with sunscreen that didnt FEEL like I was wearing a sunscreen for every day use. This hit the mark. Its lightweight, hydrating and protective. It's not sweat proof -which If you're outside and active or swimming you may need a different choice. Overall very satisfied. LovelySkin Customer
Verified Purchase
EltaMD UV Facial Broad-Spectrum SPF 30+ - Jar 4 oz
I've been using this product for several years. Like other Elta products, its easy to apply and has just the right amount of moisturizer . It makes my skin feel hydrated immediately upon application. I also use it for my hands. The only reason I gave 4 not 5 stars is that I wished it would be available in a higher SPF. LovelySkin Customer
Verified Purchase
Sunscreen review
It is good. I wear it every day. On the weekends, we spend our time at the lake. I put it on every 70 to 80 minutes because I have had skin cancer on my face and don't want that again! But, sometimes, I don't feel that I does all it should being that I put it on religiously all day long! EltaMD Facial broad-spectrum SPF 30
This product absorbs well into face and neck without looking thick, good sunscreen for hot summer months!! LovelySkin Customer
Verified Purchase
Mostly Great
I love this moisturizer in that it is light yet deep-acting. I like that it has safe sunscreen built right in. However, I have to be careful to use just a little dab or else it leaves a white-wash over my face, not very attractive. But my dermatologist recommends it in our dry Western environment where the sun shines over 300 days/year. WyCoBackpacker
Verified Purchase
goes on smooth
for people with dry skin. don't use if prone to acne. LovelySkin Customer
Verified Purchase
Great sunscreen but must add another if outside for long
I'm 52 with dry, sensitive skin living in a very sunny climate. Needed a solid sunscreen for under makeup and for this is works great! Not greasy, no white face, feels good going on face and neck. But when I use it before going out to work in the garden, I get sunburned. That's because I don't take the time to reapply when I get caught up in gardening or running. The solution is to put this on, then spray SFP 50 on my face. Works like a charm for a few hours coz I don't have that tight feeling skin that comes from drugstore sunscreen spray. I am looking for a better solution but works ok for now. LovelySkin Customer
Verified Purchase
Love this
Great for everyday, doesnt give a whitish cast and my skin looks fresh and dewy. Great Sunscreen Moisturizer
This was recommended by my dermatologist. I was a bit skeptical at first. I love it. It goes on smooth and very light. LovelySkin Customer
Verified Purchase
skin protection
needed another moisturizing cream under it. But it has a nice light feeling. LovelySkin Customer
Verified Purchase
Light and easy
A friend told me about this product soon after I had laser treatments for rosacea. I looked it up on the web, read about it and bought it. It is light and goes on easily. LovelySkin Customer
Verified Purchase