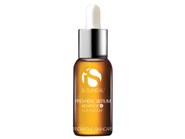 Reviews For
iS CLINICAL Pro-Heal Serum Advance+ 0.5 oz
$92.00
Works wonders with Active Serum!
I tend to be really sensitive to Vitamin C serums, as many of them will irritate my face and cause more breakouts. This one is my absolute favorite that I always come back to. I love to layer it with my Active serum during the day and follow it up with the Hydracool serum. So far, it's been wonderfully clearing! Great vitamin c oil
Such a great vitamin c serum. I can tell a difference in my skin when using it. LovelySkin Customer
Verified Purchase
iS CLINICAL Pro-Heal Serum Advance+
A very good formula containing a vital Vitamin C. A pleasant food for a compromised skin, does not leave an oily finish. I am very sensitive to aggressive smells, this product does not have any. It is effective. I am ordering it again. Great serum
I use this serum every other night in combination with the active serum and then the during the day I use the brightening serum and complex. I have redness in my skin and dark spots. I think this serum really helps. It's a bit strong for my sensitive skin so I use it every other night. I still love it. BunnyGirl
Verified Purchase
Good serum
I like this serum. It seems to help with clearing up acne for myself and my daughter which is especially helpful with mascne from having to wear the mask these days. Only con is it's pricey. LovelySkin Customer
Verified Purchase
Best Product Ever
I love iS Clinical skincare. I was recommended the product when I went to go get a facial and my skin has never looked better. I was hesitant at first b/c of the high price point, but I think their products are entirely worth the money you spend on them. They last for such a long time. I've had the serum since mid-September and barely any of the product has been used. I was told that iS Clinical uses barely any (if at all) of their money for marketing and it all goes straight into making their products the best they can possibly be... and I totally believe it. I'm so happy and will continue to be a loyal customer to this brand. Thank you iS Clinical for helping me clear my hormonal chin acne and making my skin texture overall better and more even toned. I'm so confident in my skin now and I've never felt this way before. LovelySkin Customer
Verified Purchase
Excellent!
I love isClinical Pro-Healing Serum, because it's made a huge difference in the texture and appearance of my skin. It made my pores smaller, skin smoother, and overall appearance looks younger and it feels great. I highly recommend this product. LovelySkin Customer
Verified Purchase
I'm Impressed
I received a sample, used it and noticed improvement in my skin the next day. I just wish it was not so pricey for such a small bottle. In my 40's, with stubborn acne and I definitely noticed a difference. I received compliments. Some good stuff! smooth skin
I have very sensitive skin with rosacea, and this product worked well with my skin LovelySkin Customer
Verified Purchase
Great product!
Great product for acne. LovelySkin Customer
Verified Purchase
Great product so happy I purchased this
This product has been amazing for me so far. I apply it in the morning after toning my skin and it's the perfect thing to give my skin everything it needs for the day. Sits very well under makeup and does not leave my skin oily. This in the morning with the active serum at night is really a game changer. Leannab
Verified Purchase
Works great!
This product is great for combatting my redness and goes on smoothly under my moisturizer. You only need 4 to 5 drops. Courtney
Verified Purchase
Good option
I think this serum is a good option for those who have mild rosacea. People who have moderate to severe I think prescription medications work better alone than in conjunction with this serum. It did give me a glow and subtly calmed my redness for a couple of hours, but for the price I would stick to my prescriptions. LovelySkin Customer
Verified Purchase
Best vitamin C I have ever tried
I will never use another - It's very concentrated so a little bit goes a long way, I purchased the small bottle to try and I love will. Will buy the full size again. LovelySkin Customer
Verified Purchase
Soothing
This vitamin C serum is both effective and soothing for my sensitive skin. I tried a free sample and fell in love with it. Worth the $. LovelySkin Customer
Verified Purchase
Excellent!
I've suffered from acne for most of my life and this product has done at great job at calming my breakouts. I use it both mornings and nights, and by the next day, my irritated spots are significantly smaller and less inflamed. Fights Hormal acne
This is an awesome product! Helps with my hormonal acne, redness and inflammation. Glad I found this product. AhhhMazing!!
This is one of the best products that I have ever used!! My face was so horrible, broken out, and a disaster from where I had picked it to death! This stuff seriously healed up all the acne issues/picking spots so quickly!! I swear by this product. LovelySkin Customer
Verified Purchase
Yes!
This and the Active Serum have been huge game changers for me skin. My redness and breakouts have calmed down so much! LovelySkin Customer
Verified Purchase
Great Product
I have tried many things to heal my hormonal acne but this stuff works! LovelySkin Customer
Verified Purchase
Goodbye acne
I love this product. The first day I used it I had a blemish coming in on the end of my nose (of course) and then next day gone! I have always had acne and this product works for me without drying my aging skin. LovelySkin Customer
Verified Purchase
Love
Love this stuff. Definitely will re-purchase LovelySkin Customer
Verified Purchase
Protecting
An esthetician I went to recommended Pro-Heal for protecting my skin, healing blemishes and for my hyperpigmentation. It feels good on my skin, and I like knowing my skin is being protected. ChrisLove
Verified Purchase
Rosacea
Amazing for repairing your skin and protecting it from the rosacea that comes with this cold weather!! LovelySkin Customer
Verified Purchase
Best serum
My skin looks calm and toned. I have acne-prone skin and works good. LovelySkin Customer
Verified Purchase