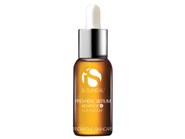 Reviews For
iS CLINICAL Pro-Heal Serum Advance+ 0.5 oz
$92.00
47 Results
Great for calming inflammation!
I found this serum a fantastic vitamin C choice for those suffering with problem skin. For me, this serum really helps calm inflammation from blemishes. I notice that the healing time is increased, leaving minimal damage from inflammation. I loved this serum so much that I purchased to full sized bottle!! It comes with a heavy price tag, although when products really deliver what they say, I believe it's worth it! LovelySkin Customer
Verified Purchase
Holy Grail Product
This was the first iS serum I tried. While the whole iS line is worthy, this is the one I do not want to be without. If I had to choose only one serum, this would be it. Once you find the right products for your skin, the iS regimen is simple. LovelySkin Customer
Verified Purchase
Great for Rosacea
I tried a different C serum and went back to the iS Pro-heal. It's much better for skin prone to redness and rosacea. bobsval
Verified Purchase
Good product
I think it's good for acne and rosacea. LovelySkin Customer
Verified Purchase
Is Clinicald Pro-Heal Advance
I love this serum!! It has vitamin C and retinol in it so it makes my skin look more brighter and helps w acne!! Just a great serum!!! Thank you LovelySkin for carrying this brand on your web site!!!! LovelySkin Customer
Verified Purchase
Great for Oily and Sensitive Skin
I have sensitive, acne prone skin. I recently came off Spironolactone and CANNOT control my hormonal acne. Breakouts on neck and chin and jaw line...BAD! This reduced redness and calmed down some breakouts - seeing good results for the under skin bumps as well. I don't think you should be afraid of advanced if you have tried peels or serums before! I will repurchase larger size! LovelySkin Customer
Verified Purchase
Powerful product
I like the ingredients and healing/anti-inflammatory properties. But be sure to use sparingly, as it is potent. I overdid it at first which causes some sensitivity but was much better in smaller doses. LovelySkin Customer
Verified Purchase
Amazing!!!
This serum has helped heal my hypersensitive skin, and now it finally feels and looks amazing! The serum soaks into your skin, and you feel like you're feeding your skin the nutrients it craves. I've tried many products for my sensitive, aging, oily, acne prone skin with no results. Pro Heal Serum delivers results, and I will never be without it. Thanks!!!! LovelySkin Customer
Verified Purchase
recommended by a doctor and it works
My doctor recommended this product to keep my pores under control and continue toning my skin (which is oily). I use this powerful serum every evening before I use my other products. I have used it for over three months. It has worked very well for me. In the morning I use pro-heal serum, also my doctor's recommendation. I think this product is a must for most people during summer months. For me, it is a routine. LovelySkin Customer
Verified Purchase
Controls dermatitis
I get occasional bouts of dermatitis and this product really helps relieve the itching and calms the redness. Certainly easier than running in for a red light treatment at my dermatologist. LovelySkin Customer
Verified Purchase
Reduced Redness Instantly
I have wanted to try this line for several years finally decided it might be better for my roscea than another line I have used. My skin tone immediately evened out. The cost was not much more than other "redness " reducing products. LovelySkin Customer
Verified Purchase
My must have product
I love this antioxidant serum. It leaves my skin radiant and even toned. It helps tone down redness, and is great for acne prone skin. I will continue to buy this! Skin85258
Verified Purchase
Nice!
I really like this serum. It comes with an eye dropper application cap... interesting. Its not a heavy serum, not oily at all but its also not watery--hard to describe. It absorbs quickly. Really nice product. LovelySkin Customer
Verified Purchase
Great Product but Not a Miracle Worker
I have cystic acne and this works awesome at cutting down the inflammation and life of the pimple. I find that I still get acne but it tends to stay small and not get as inflamed as it did prior to me using this item. I would definitely recommend it, just make sure you use a cleanser that takes care of bacteria that causes acne. LovelySkin Customer
Verified Purchase
wonderful product!
This product is great for breakouts. Helps keep my skin very smooth. I stopped using it a few months back and noticed a huge difference. So glad I started it using it again..makes my skin very clear. LovelySkin Customer
Verified Purchase
Fantastic product!
This is the best high-end product I have ever used! I am competing a series of Laser Genesis treatments for acne and scarring, and this serum has soothed my skin post-treatment and helped maintain my good results. This product seems to expedite healing, so I would recommend it to anyone with acne or inflammation. Thank you LovelySkin for carrying iS Clinical! LovelySkin Customer
Verified Purchase
Is Clinical Pro heal serum
It is great! I even put a drop on my hands which I use in a kitchen every day so they are looking better! Thanks LovelySkin.com for all the great products LovelySkin Customer
Verified Purchase
Pro heal serum
I love is clinical products . This one has a lot of vitamin c which is great for that natural glow and healing. It saves my skin when it's really stressed after travel, though my favorite serum still is the active. IS Pro Heal- Great For Cystic Acne
I've tried several different product lines and products and so far have been really impressed with the IS line of products. I was given samples after a peel and liked them so much I ordered the full size products. I use the Pro-Heal Plus at night- only takes a a few drops (1/4-1/5 of the dropper) on dry skin and it is absorbed very quickly. I've been through a cycle of Accutane a couple of years ago and this product has really helped with hormonal breakouts along the jawline. I've only used it a couple weeks consistantly and so far am really impressed! LovelySkin Customer
Verified Purchase
Nourishing and Soothing
The is clinical pro heal serum is nourishing and soothing to the skin. I use this product occasionally when my skin is stressed and/or irritated and it works really well to control inflammation, etc. I would highly recommend, despite the high price point. LovelySkin Customer
Verified Purchase
Great for Sensitive Skin
I have very sensitive skin that gets irritated by the slighted thing. This really aids in the healing process after flare-ups. LovelySkin Customer
Verified Purchase
pro-heal serum advance
I have used this product in the past, and alternate between this formulation and another one offered by IS Clinical, the Active Serum. After using the Active Serum for a longer period of time, and returning to the Pro-Heal, I believe the Active is a better formula for my particular skin type. IS Clinical makes a superb product line and I heartily endorse their products. I will return to the Active Serum when I use up my present supply. Their products always live up to their claims. LovelySkin Customer
Verified Purchase