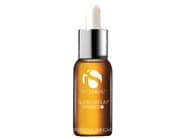 Reviews For
iS CLINICAL Super Serum Advance+ 0.5 oz
$92.00
23 Results
Absolutely The Best
Nothing works better for me inthbiz
Verified Purchase LovelySkin Customer
Verified Purchase
Will Buy Again
I loved this serum, I literally saw a difference in the reduction of redness and wrinkles in my face I prefer this over the Pr Heal one just because I personally noticed better results LovelySkin Customer
Verified Purchase
I like it
It doesn't cause breakouts or leave an orange residue on clothes. I don't know if it helps as much with hyperpigmentation but it absorbs completely without leaving a sticky feel. LovelySkin Customer
Verified Purchase
Wonder serum
I work outside for most of my job and I always wear sunscreen. I also live in the Rocky Mountains at around 9000' above sea level - a very dry climate. All of these factors have really taken a toll on my skin. I received a sample of this and noticed brightness, evenness, and just 'happier' looking skin. I was sold! I use it twice a day, every day, and would highly recommend it to anyone who works and lives in extreme conditions like I do. LovelySkin Customer
Verified Purchase
Must have in skincare routine
This has become such a staple in my skincare routine. Really helps lighten acne scars and overall helps even out skin tone. I have VERY sensitive skin and this does not cause it to break out or irritate. Great product!
Works well for acne and breakouts. LovelySkin Customer
Verified Purchase
IS Clinical Super Serum Advance
I received a sample of this when I placed a LovelySkin order. I applied it on some age spots and a small basal cell cancer scar on my face. The scar looked significantly better and the age spots got lighter after about a month. So I ordered a bottle. My scar is almost completely gone now. The age spots continue to lighten and I apply the product to other imperfections, which look better. This product really improves the look of my skin when I use it on a regular basis. Wonderful Serum!
I have noticed a better overall tone to my skin. Over time I have noticed that my brown spots are less noticeable & that my skin just looks healthier. LovelySkin Customer
Verified Purchase
I Like It
I do like this serum. I feel like my face looks great after using it every morning and every night. The only reason I didn't give it 5 stars is because I don't feel like my face feels moisturized after using it. I usually put on a moisturizer after anyway so it's not a big deal, but I don't love that feeling of dryness after. If your looking for a vit c serum that helps even out skin tones and brighten your skin for a fair price though, this is it. LovelySkin Customer
Verified Purchase
This product is worth your money
I added this to my morning regime after cleansing, and it really helped brighten my skin and smooth it out. I love it! LovelySkin Customer
Verified Purchase
In love with this product!
I love all of the products that I've purchased by iS Clinical!! I have very sensitive skin and some discoloration, and this is the first item I've ever purchased for discoloration that has actually made an improvement in it for me! Of course, this improvement hasn't come over night, but there is no product out there that can do that!! This product isn't too harsh on my skin, but it does cause some peeling. However, that would be expected since I want to get rid of the discoloration on my face, and peeling off those dead skin cells are the only way to achieve this!! Trock242424
Verified Purchase
Nice, Gentle Vitamin C Serum
I tend to get breakouts and irritation from most vitamin C serums, but this one really agrees with my skin. It plays well with any other product (no balling up), its moisturizing, it has a few soothing/healing ingredients that are good for my inflammation prone skin, and I believe it contains arbutin, which is good for my melasma. I've repurchased a couple times now, but the only thing that makes me hesitant to keep going is I'm not entirely sure if it's doing anything life-changing, and it's pretty expensive. But, overall, I'm happy with it and will continue to use daily. killerkate
Verified Purchase
My favorite serum
I like iS Clinical. This is one of my favorites. Looks younger skin. LovelySkin Customer
Verified Purchase
Lighter dark spots and bright skin
Left my skin feeling brighter and dark spots lighter. Nice to layer under my current skin regimen. Skin starting to feel firmer. LovelySkin Customer
Verified Purchase
The only vitamin C serum to not break me out
I have tried so many vitamin C serums, but they all broke me out. Fortunately, IS Clinical's did not. I have not yet seen any significant improvement in my skin, but this may be more of a preventative product, which is also helpful. The fact that this did not break me out means I will be repurchasing (it is expensive and does not last as long as I wish, but you get what you pay for). LovelySkin Customer
Verified Purchase
Excellent serum
Since I started using this serum two months ago, I have noticed firming of the skin around my eyes. Fine lines have softened. I use it every night. The serum combines Vit C and peptides and is brightening and firming. I apply it over moist skin so it spreads more easily and less serum is needed. Then I layer other serums, creams, and eye cream over it. It does not conflict with retinol (I use Skinmedica brand). A great clean easily absorbed serum. LovelySkin Customer
Verified Purchase
really good
it smells a little like plants or witch hazel and feels a litle oily. I prefer the is clinical active serum for acne and use this one mainly for scars. It works really well on scars and stretch marks but it is pricey and its a small bottle. Great Daytime Serum!
The iS super serum advance is a great vitamin C product! I use it daily during the daytime on clean skin applied before my moisturizer & sunscreen. I have combination skin with melasma and I really feel that this product has helped to brighten up my skin tone and make the brown spots less visible. It also has not clogged my pores which is a huge plus! Scars be gone
This is a great product and is really light and smoothing. Scars have faded (actually vanished) quickly, with no side effects or breakouts. I love all the is clinical products I have invested in thus far and would not be hesitant to try others. The only downfal is the price, but worth it. LovelySkin Customer
Verified Purchase
GREAT PRODUCT!
I had acne scars for years, and this serum really helped reduce the apperance of all the scars! Works great! LovelySkin Customer
Verified Purchase
This REALLY works!
Hands down, the BEST skin care product ever! Originally bought it to protect from UV and treat melasma and wrinkles. It is eliminating scars I've had since childhood (40+years)! Wouldn't believe it if I hadn't seen it. Evens out skin tone
This product has helped even out my skin tone from sun damage. Darker spots have lightened up! LovelySkin Customer
Verified Purchase