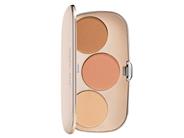 Reviews For
jane iredale GreatShape Contour Kit
$49.00
5 Results
good blush
I love the pink color, but bronze is a little dark for fair skin LovelySkin Customer
Verified Purchase
Recommend it!
I recommend this palette. I think is worth it. I know it's kinda expensive, but when it comes to my skin, I don't mind paying the price because it is made of ingredients that doesn't harm my skin. This palette has a highlight, blush and contour. The palette looks so fancy and is so thin and chic. It's perfect for traveling so you don't have to carry many products it's 3 in one. It has a mirror so it's even better. It's very pigmented so you get your moneys worth. I bought the Deep one and I am a BB7 color in Jane Iredale. I know is too dark for me I think this is more for darker skins, but I bought this because I don't like peach color blushes and the medium had a peach blush in it. I don't know if the pallet that has the cool pink blush meant for fair akin will even look good on my skin tone or even show through. So that's why I ordered the deep. I usually always buy mauve blushes for my skin tone it looks great but they didn't have this in the palette. I know they have some that are separate but I wanted to buy the palette cause it's 3 in 1. I still think that this deep palette looks good with my skin tone I just have to be care not to add to much or bled it well so I don't look like a clown lol. Cause it is deep for my skin tone. I still think it looks better than a peach color. Hopes this helps someone. LovelySkin Customer
Verified Purchase
Love the Colors!
I bought the warm palette and really like the peach blush color. I use a little of the contour color to add a bit more depth to my makeup. I don't use the highlighter though since I'm not into contouring. Like others mentioned, I like that the colors are flat and don't contain any sparkle. I wish the blush was available on it's own. Great color
This palette is so good! You can use all three colors for blush, highlighter and bronzer. But, even just a quick swipe of bronzer is perfect if you're in a hurry. I also love the fact that the colors are matte. I don't like shimmer for a daily look, and it all blends so well. LovelySkin Customer
Verified Purchase
A nice compact for travel
I'm finding this compact useful for more tasks than advertised. I use the "contour" shade as a bronzer along with the blush, for instance, and the highlighter as an eyeshadow. Good product for travel. LovelySkin Customer
Verified Purchase