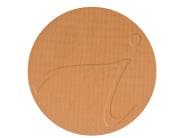 Reviews For
jane iredale PurePressed Base Mineral Foundation SPF 20
Beautiful Finish but Not for All Skin Types
I have had sensitive skin and acne issues my entire life. I also have combination skin with a little oil on my T-zone. The JI loose powder foundation didn't make me break out but I hated the constant mess. The PurePressed foundation got rid of the mess and I loved how smooth it felt gong on. It did settle in my little wrinkles and I did not like that two or three hours after wearing I needed to blot or powder because my chin and nose were so oily. The worst thing was that I broke out after using it. I tried only blotting and not using powder but it kept making me break out, so I had to stop using it. If you have normal skin and want something quick, this is great. If you're like me- not wanting to accentuate wrinkles or break out, maybe not. I used to love her...but its all over now.
I used to love this product and only used it because of the mineral based, clean formula. However, it went on thick and didnt look natural. I have more problem skin than most but I didnt feel like it was as even as the other powders Ive used in the past. Im now using Bobby Brown and it works better on me. This product is just too thick.