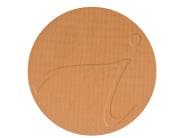 Reviews For
jane iredale PurePressed Base Mineral Foundation SPF 20
Good product
Ive been using the amazing base but purchase this for traveling , if you have oily skin, this is definitely better, I personally like amazing base, but both are great products. LovelySkin Customer
Verified Purchase
Looks natural
Set with Pom mist and it really helps. You will need to concealer first, as the coverage is not full, but its so gentle and looks so natural I hardly care about the star step. I do recommend a in person color match. Note the loose color spectrum is very different LovelySkin Customer
Verified Purchase
Non-irritating powder foundation
I wear this in ivory and in coffee (as a contour) on my oily, sensitive, acne-prone skin without issue. I like the spf, but wish this provided more coverage. I get light-medium coverage with the handy brush. If you are looking for lots of coverage this is probably not the product for you, but overall I will continue to use it since it doesn't break me out and at the moment I do not need too much coverage. LovelySkin Customer
Verified Purchase
Better than many others
I do like the light feel and moderate coverage that the pressed minerals powder provides. I love the fact that it is talc and toxin-free. LovelySkin Customer
Verified Purchase
Very pleased
I have used this product for several years - good price. LovelySkin Customer
Verified Purchase
Great product
I've been using this product for about 2 months now and am very pleased. It provides great coverage that lasts all day and it feels very light - unlike some other mineral foundations I've tried. I also like the pressed powder nature of the product - the loose powders are so messy! LovelySkin Customer
Verified Purchase
Jane Iredale Pressed Powder/Makeup
I love the actual product. It has good coverage, is easy to apply, and protects the skin with the SPF factor. My problem is with the latch on the compact. It fails to work after several uses, thus you have essentially an open compact in your purse. This has been a problem every Jane Iredale compact I have ever bought over the last 7 years. I would give it a top review if they would ever fix this little glitch. LovelySkin Customer
Verified Purchase
Great Coverage
This is the best power ever. It covers any imperfections without looking like you put power on your face. Blends great and stays all day. Nancy - Scottsdale, AZ LovelySkin Customer
Verified Purchase
Good for working moms
This product is life saver. I can put on sunscreen, concealer, foundation, and powder in one step. It makes my morning routine so much easier. LovelySkin Customer
Verified Purchase
A great mineral make up option
This is the best mineral make up I have tried. Because of it's cost, I have tried alternatives in the recent surge of less expensive drug store offerings in the mineral make up line (Neotrogena, Almay, L'Oreal). I find all of them inferior to Jane Iredale. I also like Jane Iredale better than Bare Escentuals. My only complaint is Jane Iredale's restrictive return policy. I'd like to try other shades or the loose minerals but it's too expensive to take a risk on not being satisfied. LovelySkin Customer
Verified Purchase