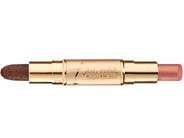 Reviews For
jane iredale Sugar & Butter Lip Exfoliator/Plumper
$25.00
Good product but too small.
Okay I love this product but it's way too small. That's why I gave it 4 stars. The exfoliating part smells and taste delicious lol and it works, it is not too grainy to where you have to keep wiping or wash your lips. I just massage with my own lips or finger than lick it off lol. The other end looks so pretty on the lips, the color would look great on any skin tone. It's like a natural pinkish color that has some sparkles to it. It looks very neutral to your lips. It has a slightly cool feeling in the lips, lips feel soft and kissable, perfect for dates lol. But the thing I don't like it doesn't last long so I have to keep reapplying it. I would buy again only because it's convenient on the go. Perfect for traveling. It feels amazing in lips and taste great. The packaging looks fancy. The product is chemical free and cruelty free. Which I love to support brands that are cruelty free and I live to buy products that don't have harsh chemicals. LovelySkin Customer
Verified Purchase
Not sure about this product
I ordered the sugar and butter lip exfoliator/plumper hoping that it would help my dry, flaky lips. It's ok. The sugar side does exfoliate, and I like the butter side. It's moisturizing, and the color would look good on any skin tone. The moisturizing doesn't last. The sugar side broke at the base even though I did not roll it up very far. I think for the cost the moisturizing should last longer. Not sure I would order this again because of the cost. LovelySkin Customer
Verified Purchase
Scrub n Tingle
The scrub is great, and the lipstick color and tingle are lovely. Took a star away because the lipstick slides back into the case while applying. The ingredients and the way they make my lips feel make up for it though. Happy wbmy purchase. 😊 LovelySkin Customer
Verified Purchase
Good winter addition
This had been a good addition to my winter routine. The sugar exfoliator is nice. I haven't noticed a big difference regarding the plumper but the product is soothing after the exfoliation. LovelySkin Customer
Verified Purchase
Sugar and Butter Lip Exfoliator and Plumper
This product has just enough granules to get rid of dead lip skin cell. It has a slight tingling feeling and is creamy with a low gloss. The tint is very faint, so lip color would be needed on my pale lips. I am not sure of how much it pumps my thin lips, but I like the feel and taste. Good Stuff!
I use this product daily. My lips are very soft and the lip color is a nice, neutral color that will look great on most women. The lip color has a slight tingling that plumps your lips.