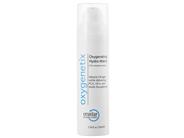 Write a Review - Receive 50 Rewards Points!
Tell us your thoughts about Oxygenetix Oxygenating Hydro-Matrix - 75 ml so we can help you find the right products. With your review, you'll also receive 50 Rewards Points. Please note that it may take up to 72 hours for a review to appear on site. All reviews are subject to moderator approval.
Write a Review
18 Results
Best Moisturizer
I had a laser procedure, and the doctor recommended this product for use ten days post-procedure. It's awesome! Skin feels moisturized, not greasy, calming!
Oxygenetix Moisturizer is the best!
Oxygenetix moisturizer is the best moisturizer that I have ever used! It is great for sensitive and post-procedure skin. I have used it many times after a peel to heal the skin. It also helps with redness and irritated skin.
Oxygenetix Hydro-Matrix (moisturizer)
I'm 56, and my daughter is 23. We've both been using the Oxygenetix moisturizer for several years and love it! Though we're in different stages of life with different skin concerns, it works exceptionally well for us both. What we do have in common is very sensitive skin with occasional breakouts, and this moisturizer is always soothing and makes a great base for foundation.
moisturizer
This is a wonderful moisturizer. Highly recommend.
Great moisturizer
I have been using this moisturizer for almost a year. I have sensitive skin and have had issues with finding a product that worked for me. No issues at all with this product. My skin feels fantastic. Not greasy or heavy on my skin. My makeup goes on smooth.
Oxygenetix Oxygenating Moisturizer - 75 ml
Great moisturizer. Was recommended so I started using it. Very hydrating, and I got a compliment that my skin looked smoother, and this was my only change. I gave it a 4 star rating, as it is quite expensive, but perhaps worth the extra price.
NOT GOOPY: VERY LIGHT AND IT WORKS!!
I was looking for a moisturizer that is not goopy, as I hate the greasiness and thick heavy residue feeling of most moisturizers on the market today. I particularly love this one since it goes on smoothly and does not leave a greasy residue. More importantly, it really works.
Need something richer.
Felt this product was not enough for my skin, Need something richer
The best!
This product is so gentle, yet extremely moisturizing. I use it twice daily. It's great for people who get a lot of sun exposure as its main ingredient is aloe.
moisturizer
This moisturizer and the Oxygenetix makeup are the best ever!
nice product
goes on smooth feels light on skin would recommend it
Great Moisturizer
I was looking for a moisturizer that would not sit on top of my skin and leave greasy marks on workout equipment. This one absorbs well and helps my skin breathe as described. It feels light and actually makes my skin bounce back when I "pinch" to see if my skin looks dehydrated.
Love it!
I have very sensitive skin and break out with every moisturizer that I try. This stuff is great and I have never had a breakout with it! This is a brand new experience for me. It may be pricey but it has solved my breakout issues, feels great and actually improves your skin!
Consistent use pays off with younger skin
After menopause, my skin became really dry without a healthy glow. The Oxygenetix Oxygenating Moisturizer proved to be a lifesaver or should I say, skin saver. After a week, my skin texture and appearance became smooth, supple and more youthful. I started to receive frequent complements about my complexion from my friends and family. During the day, I use it under my make up or without make up. When it is time for bed I wash my face and put Oxygenetix Oxygenating Moisturizer on my face to rehydrate my skin at night. So, the bottom line is Oxygenetix Oxygenating Moisturizer is "my all day and all night" moisturizer.
Great Moisturizer
Goes on lightweight and is one of my all time favorites
Excellent Moisturizer!
It goes on lightly and improved the appearance of my skin. The only thing that works for my extreme acne prone skin. Worth the money!
perfection
I am 26 and starting to age slightly, no one else notices, but my years of skin abuse in my early twenties is starting to show. I have searched far and wide for a perfect anti-aging moisturizer that wasnt too heavy or greasy like some of those made for mature skin, and also that did not have any parabens or toxic pertochemicals in it. I found it finally! After just a couple weeks I notice huge improvements in my skin. I wish I could hug the person who came up with this!
Just feels good!
I like the texture, and a small amount seems to go a long way. Although it may be my imagnation, I think I my face looks younger when I am wearing the product. At 55 years of age I need all the firming I can get.