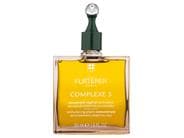 Reviews For
Rene Furterer COMPLEXE 5 Stimulating Plant Extract
$50.00
16 Results
Heavenly smell
I loved using this product! It's a bit time consuming, but it smells great, and you can use the down time to do a facial etc. It's a great treat for your scalp. My husband loved it too. Fenchie88
Verified Purchase
I love Furterer products I have used EXCEPT this one!!
I have purchased and used all the R.F. products for reactional thinning hair and have been very pleased. This was the only product I had not used. So, I ordered it. I am not really sure what it is supposed to do. It smells strongly like a medical compound. The instructions sound as if you are trying to go "zen" by rubbing it into your scalp, massaging and relaxing. (Maybe have an out of body experience.) I didn't have the "tingle" they predicted and even after shampooing and using all the other styling products, my hair still had a strong "medical" smell. In fact, my bathroom still smells like it 24 hours later!! I highly recommend all the other R.F. products -- but not this one!! charlestonlady
Verified Purchase
Clean healthy scalp
I use it every seven days on my scalp as a pre-wash. My hair would usually get itchy on day 4 however after using the oil in the last two weeks, my scalp hasn't been itchy even after six days of not washing. I have coarse dry damaged hair thus I don't wash it that often. I SEPRATE thé hair and put it on. Then I massage and comb all the way through back and forth. Leave it in for minutes before I apply the Klorane hair loss series shampoo and conditioner. However it seems like each application is one tab on the measuring ruler.... it seems like my bottle will be gone in just a few more week's... LoriloriNYC
Verified Purchase
Brilliant Product
Smell is amazing because it's all natural. Very concentrated and effective for smooth shiny hair. Interesting
This did tingle, and I was concerned but once I shampooed and rinsed my scalp felt squeaky clean, and it did make a difference! It works!
I use this once a month. It keeps my scalp healthy and clean. My hair is shinier and healthier since using this. Removes any buildup there may be. MrsSensitivity
Verified Purchase
Seems to Work
I have been using this for about a year along with oral hair growth supplements. It seems my hair has thickened somewhat, but it may be due to the combination of products, not this one alone. The scent is very strong, but pleasant. DixieDiva
Verified Purchase
IMPROVES SCALP HEALTH
Scalp definitely feels less itchy, hair regrowth has resumed. I did not notice any tingle using this product, and thus left it on longer than 5 minutes before washing. If you can apply it and find someone to give you the scalp massage offered by TRAINED Rene Furterer stylists, you will reap extra benefit. LovelySkin Customer
Verified Purchase
Helped my hair
This was helpful for my scalp. It is strong but does help. I have sensitive skin and was able to use it just fine. LovelySkin Customer
Verified Purchase
Complexe 5 Regenerating Plant Extract
The entire Renee Futerer hair thinning products are AMAZING! My hair loss has virtually stopped. When I stop using it, the hair loss begins again. LovelySkin Customer
Verified Purchase
Love
I got a nice-sized sample of this and gave it to my mom for her to try because she colors her hair a lot. She loved it so much she made me order one for her! She says while using this product she doesn't lose as much hair in the shower and throughout the day, and it's made her hair shinier and healthy. I'm happy she's happy! LovelySkin Customer
LovelySkin Employee
AMAZING
I've purchased 3 bottles over the course of a year. It really helps with scalp stimulation and growth. I like the feeling of the products. I have coarse, wavy-curly hair, thin but a lot of it. LovelySkin Customer
Verified Purchase
Simply divine
Once you discover this product you will not be able to go without it. I use it on my scalp overnight and wash out in the morning and this brings life and health back to my hair. As a bonus, it smells amazing! I cannot get enough! AniaMal
Verified Purchase
Hair & Scalp "Feel" Wonderful
My hair is thinning (menopausal?) using Rene Furterer Complex 5 makes my scalp feel "Fantastic". It makes your scalp tingle, in a good way and the smell is refreshing, my husband wanted to know where that "Nice smell is coming from". It also makes your hair shine. I just started using it so I will watch and see if it helps my thinning hair. If anything, I do see "less" hair in the drain AND it makes my hair look beautiful. LovelySkin Customer
Verified Purchase
Great Scalp Treatment
This product smells wonderful and works well. There is a tingling sensation as the oils work their way into your skin and invigorate hair follicles. good product
I apply this product to my scalp once a week, and it really works what it says. I like it so much. LovelySkin Customer
Verified Purchase