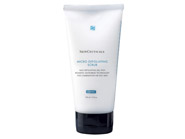 Write a Review - Receive 50 Rewards Points!
Tell us your thoughts about SkinCeuticals Micro-Exfoliating Scrub so we can help you find the right products. With your review, you'll also receive 50 Rewards Points. Please note that it may take up to 72 hours for a review to appear on site. All reviews are subject to moderator approval.
Write a Review
25 Results
Awesome Scrub
This is the best scrub I've ever used! I already purchased another so I won't run out. My skin feels soft and polished after using it. I use it every other day along with other Skinceuticals products.
thumbs down
I didn't like the scrub. The bottle doesn't easily close, therefore it drains out. Fix the cap, put in a thickening agent and voila, a micro exfoliant that isn't watery.
I love this Exfoliating Scrub!
I've used SkinCeuticals Micro-Exfoliating Scrub for years, and I love how is makes my skin feel. It takes off the dead/flaky skin without irritating my face. I use it a few times a week and love how it makes my skin feel renewed and smooth.
Addicted
I starting using this product 1-2 years ago and it is a game changer. I have combination oily and dry skin that needs frequent exfoliation. Using this daily in the shower has made a noticeable difference both in texture and decreased congestion. It's also gentle enough for every day use. I just use it once a day, but I'm sure you could do it twice a day and it still wouldn't be too harsh.
Nice
Great exfoliating scrub. Just needs a little bit to scrub the entire face. Love using it 3x a week.
SkinCeuticals Micro Exfoliating Scrub
If you are looking for a gentle exfoliating scrub Skinceuticals Micro Exfoliating Scrub is the product to use. Unfortunately over time my skin began to get flakey and dry, along with acne out breaks! I had tried different products to help my dilemma of having combination acne and dry skin on my face. Sometimes using more than one product at a time. After using Skinceuticals Micro Exfoliating Scrub not every day of course only 3 times a week, my face stopped flaking and the acne slowed down. This is a product I can trust believe me I would know!
Great Product!
My skin is very sensitive, especially in winter but this product helps with the dryness by gently exfoliating. My skin looks refreshed and make up glides on! Love this product!
Gentle Enough For Daily Use
This scrub is gentle and smells great! I use it in the morning and follow with the 2:4:2 Lipid cream. My skin feels soft and hydrated and my makeup goes on smoothly. I love this product!
Gentle and Effective
I've used this scrub for years, recommended by my dermatologist. I have sensitive acne-prone skin with pimples caused by rosacea, so I have a long list of products that I use every day to keep my skin clear and even-toned. They need to be gentle, but produce results, and this is one that does just that. I'd recommend this to anyone!
Love it!
This Micro Exfoliating Scrub is the best facial scrub I have come across. It is gentle with very fine grit. I don't use it every day, maybe two or three times a week, but it leaves my skin feeling very soft and clean without being overly drying.
gentle exfoliator
I've been using this once or twice a week as my morning face wash/exfoliator to get rid of dead dull skin. It really does aid in getting rid of those dry spots, especially where I had breakouts. It leaves the surface soft and prepped for skincare. No harsh smell or deep lather either. Just gentle beads to get the job done.
Love this exfoliator for dry skin
Amazing scrub that keeps my skin smooth and bright when used at least once a week. Very thorough but doesnt feel harsh. Has lasted almost a year with weekly use as you only need a small amount for face and neck.
Awesome
Love this scrub! A little goes a long way & its very fine, so it wont damage your skin as other scrubs will.
ALL-TIME FAVORITE SCRUB
I use this scrub morning and night, its that gentle. My face does not feel "damaged" after using it, like some scrubs. Love it!
Great product
I was referred to this product by my Esthetician and I really like it. I use it several times a week and it keeps my face smooth and looking refreshed. It is not harsh on my skin either. I keep it in the shower and now my husband uses it too!
Good Scrub
I used to use this product and had a good feeling about it. Then I tried some other products on and off. Now I am using it again. I find it good on my skin. I dont use it daily, but every other day. And depending on my skin mood, I sometimes use twice a week. All in all, it does a good job. I only rub it gently on my skin and neck and feeling fresh afterwards.
Not for dry skin!
This product does make my skin feel very smooth, but its also a little too drying. I didnt realize when I bought it that it was formulated for normal-to-oily skin. But, Im using it since I started using retin-A cream and my skin needs a little help to slough off dead/dry areas. Its working well for that, but next time Ill be sure to look for a product thats not for oily skin.
best exfolating scrub
I just bought this product and I love using it. I have purchased many others before but this product makes your face smooth I use it with my Clarisonic Mia for best results
Love This Product
I have used SkinCeuticals Micro-Exfoliating Scrub for several years, and love the way it keeps my face clear. It doesnt dry it out, and isnt harsh. Its just right for keeping a glow to my face.
The Best Exfoliator!
I have been using this product for years. I love the very fine exfoliating beads-its not gritty or chunky. You only need to use a tiny amount to cover face & neck. It also doesnt dry or irratate my skin-and leaves me wth a nice glow!
Perfect scrub
this is exactly what I needed. I was suffering from awful breakouts recently and I had a feeling it was due to dry skin from my retinol. I basically wanted a scrub that could get rid of the flakiness from my retinol and it has absolutely done that. All the other scrubs had other features that would aggravate my skin. I wanted to stop with my clarisonic because it wasnt helping with my flakiness and I felt like it was breaking me out more by really drying out my skin. Its a gentle yet very effective scrub!
Great Polisher
Ive tried many different micro-scrubs and some tend to dry out my face. I use many of the skinceuticals products and this is one of my favorites. Just a little on the fingertips is all that is needed. The scrub has a nice, fresh scent.
skinceutical micro exfoliating scrub
S
I love it
the best product I've ever used
Great Exfoliating Scrub
The microbeads works as a good exfoliator, cleansing the skin without overdrying it.