Treatment for Acne
Dr. Joel Schlessinger, a board-certified dermatologist at Skin Specialists in Omaha, can assess your skin concerns and provide treatment options for acne. He has the medical background to look at all aspects of this condition and work for solutions that will result in improvement.
He evaluates the severity of acne in teens and in adults and determines what type it is. Not all acne is the same, which is why some home products don't always work. Sometimes what a patient thinks is acne turns out to be another treatable skin condition.
Get optimal treatment for acne today.
What is acne?
Acne - the most common skin condition - refers to all skin blemishes such as blackheads, whiteheads and other unsightly pustules and nodules. Acne appears on the face, which is the most obvious place, but acne can also show up on other parts of the body such as the back, chest and arms.
What causes acne?
Simply put, acne forms when a pore in your skin becomes clogged. What clogs those pores? Dead skin cells that should normally be shed but don't. Your skin also makes oil, and when the oil and dead skin cells clump together, the pore becomes clogged and red (inflamed).
Bacteria normally live on our skin. If bacteria get inside a clogged pore, acne can become even more inflamed. This inflammation may go deeper into the skin. That's when an acne cyst is created.
The aim of treatment is to clear the inflamed pores that are causing acne, kill the harmful bacteria and keep the pores from becoming clogged again.
Sounds simple, but for some people, it can be a long struggle.
How is acne treated?
The good news is that effective treatments are available to help you control your acne, and Dr. Schlessinger at Skin Specialists has many options.
Acne should be treated before scarring takes place. You must see a dermatologist if you have any concerns that your acne is not clearing and starts to form scars where cysts and nodules appear.
If you use over-the-counter medications such as benzoyl peroxide or salicylic acid and if your acne is not going away or starts to form scars, you need to be evaluated for stronger medications. Many medications can cause side effects, and Dr. Schlessinger is sensitive to these concerns. He will work with you to find a good solution for your condition.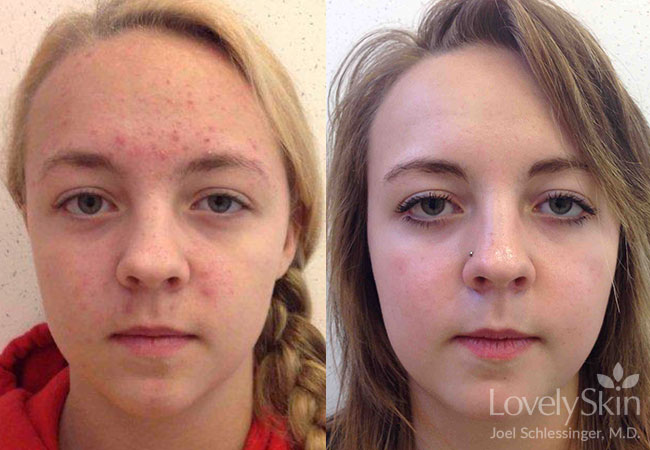 It's important to treat acne for another reason. Acne can make you feel bad about yourself and your appearance. Teens often develop low self-esteem if they are trying to hide the blemishes on their face at this vulnerable time in their lives. Adults feel embarrassment fighting the "pimples" they thought they'd outgrown.
Some people have just a few pimples and can use acne products available on this website without a prescription. If breakouts continue over a few weeks, it may be time to make an appointment.
At your appointment, Dr. Schlessinger may discuss topical treatments—prescription medications that you put on your skin to kill bacteria or reduce oil production. Some of these topical prescription-strength medications contain ingredients called retinoids.
Sometimes you may be prescribed a medication such as an antibiotic that works throughout your body, in pill form, to kill bacteria or address inflammation. Other prescription medications such as birth control pills may address hormonal imbalances that may be the cause of your acne.
Accutane is a powerful medication often selected by a skin specialist when others don't work to clear acne outbreaks. This drug must be used and monitored under the skilled care of a dermatologist.
Certain surgical procedures might be helpful, or lasers and drainage are options, but only a dermatologist can determine which treatment will help you.
Although acne is a common condition, it can be troublesome to both teens and adults. Dr. Joel Schlessinger of Skin Specialists has the unique advantage in Omaha of having performed numerous clinical trials on acne treatments. He is on the forefront of medical discovery regarding treatment for this challenging condition.
When you come to Skin Specialists to see Dr. Schlessinger, you can rest assured that he has the expertise to help improve and treat your condition and help you avoid potential scarring. Clearing up acne isn't always as simple as using an over-the-counter product or a cream promoted on late-night TV infomercials.
Before and After Acne Treatment Photos
Dr. Schlessinger Recommends
There are a number products Dr. Schlessinger recommends for his patients with acne—available here on the website without a prescription. If your acne is not helped with these products, see Dr. Schlessinger for prescription treatments and procedures available at Skin Specialists.
Shop All Acne Products
Are you eligible to participate in a clinical trial to test a new treatment for acne?
At the Advanced Skin Research Center located with Skin Specialists in Omaha, Nebraska, Dr. Schlessinger and his clinical staff conduct research studies to test new medications for skin conditions.
He has conducted clinical research involving medications and treatments for acne, and clinical studies are ongoing in the clinic on acne. These innovative treatments are only available in a select group of clinics in the U.S. and available at no cost to study participants.
If you are eligible to participate in a clinical trial of new medications, Dr. Schlessinger can advise you when he sees you during an appointment. Contact us today to learn more!
Questions and answers about acne
Dr. Schlessinger will answer your questions about acne. If you have a question, he invites you to email him at .
Will my acne get worse before it gets better once I am on medication?
Usually, it just gets better, which is great. In some people, however, the acne does come to the surface first, especially if you are using Retin A or a product like that. At Skin Specialists, we will usually try to get your acne better without having to go through a worsening first.
Is Accutane safe?
So many people have benefited from Accutane and would otherwise have suffered with intense scarring. This is a very important question to answer. The answer is that no drug, including Accutane, is completely safe. Accutane is a strong drug that we use only after trying just about everything else. If we need to use it, then we may try it because nothing else has worked.
The risks of Accutane are typically dryness, headache, joint pains and occasionally more serious side effects such as depression, poor mood and gastrointestinal issues. Many of these side effects aren't fully understood, and they may not occur.
Scarring, however, is a definite side effect of severe acne and will form in nearly 100% of severe acne patients if they don't use medications such as Accutane.
Is acne related to milk?
We believe that it is. If you drink a lot of milk and are now experiencing acne, consider slowing down or stopping milk and cheese intake completely. You can still get the vital calcium to build bones because calcium is easily found in other foods such as fortified almond milk (soy milk actually contains some hormones, so I don't recommend it), orange juice, and bread.
If you wish, you can take a multivitamin with calcium and vitamin D as well. In general, the benefits of the calcium in milk don't outweigh the problems that the hormones in milk cause when it comes to acne.
What should I do about acne scarring? When is the best time to treat it?
The most important time to get acne under control is as soon as it develops. If scarring has already occurred, it is still important to do what you can to improve the acne first. Then we can suggest options, whether they are laser, IPL or simple procedures such as microdermabrasion to smooth your skin.
Although many dermatologists and plastic surgeons prefer the invasive lasers, I personally feel that non-invasive lasers give nearly the same result, if not better—and they have no down time at all. Additionally, I find that a well-placed injection of fillers can make a huge difference as well in diminishing certain acne scars.
What else causes acne?
The biggest cause of acne is hormones. This is especially noted in women, but men have hormonal issues as well. Products that are put on the face, such as cleansers or creams, can also cause acne. But let me stress the importance of washing your face twice daily—that's huge! And Skin Specialists can advise you of the best products to use to cleanse your face.
Does acne occur only in teenage years?
Acne is not just a problem for teens. Adults, especially women, can be bothered by acne into their fifties. Many adults and young adults continue to be dealing with acne after their teen years. Some of these patients are actually infected with various bacteria (that may not be acne at all), but can be confused with acne.
The take-home message is that acne is common in men and women of all ages. Skin Specialists can help you clear things up.
Make an appointment today
Contact Skin Specialists in Omaha, Nebraska for an evaluation for treatment of your skin condition.