Joel Schlessinger, Board-Certified Dermatologist and Cosmetic Surgeon
Voted one of America's Top Docs and the Best Doctors in America, Dr. Schlessinger has also been consistently voted as the best Omaha dermatologist and cosmetic surgeon for more than 20 years.
Dedicated to Excellence
Dr. Joel Schlessinger has devoted his life to dermatology and skin health. As a board certified dermatologist and cosmetic surgeon in Omaha, Nebraska, Dr. Schlessinger has more than 30 years of experience treating a wide variety of skin conditions.
Along with his dermatology and cosmetic surgery practice, Dr. Schlessinger is also the founder of the Advanced Skin Research Center, a clinical research facility that investigates new medications and treatments for a wide range of skin conditions and cosmetic procedures. He continues to research, write and contribute to a number of scholarly articles, books and research studies in the field of dermatology which can be found here
Dr. Schlessinger is also the past president of the Nebraska Dermatology Society, the President Emeritus of the American Society of Cosmetic Dermatology and Aesthetic Surgery, and the founder of the Cosmetic Surgery Forum.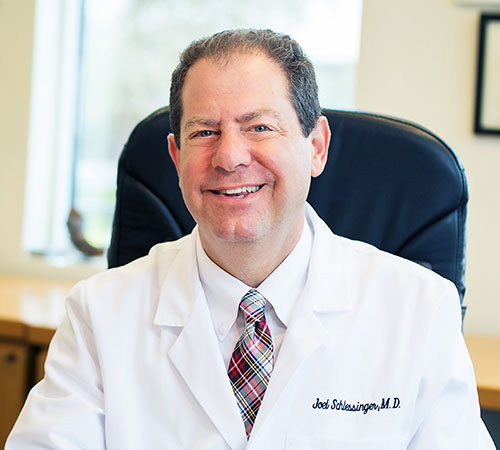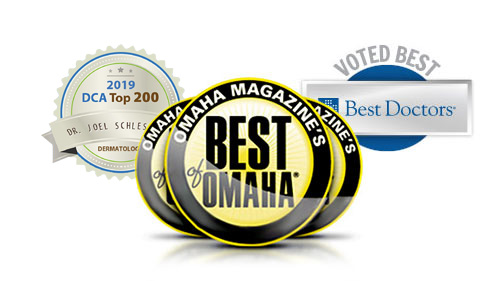 Awards and Recognition
Best in Omaha in Cosmetic Surgery, Omaha Magazine, 2002 – Present
Best in Omaha in Dermatology, Omaha Magazine, 2010 – Present
Best Dermatologist in Omaha, Readers Choice Awards, 2001 – Present
Best Doctors in America, Dermatology & Pediatric Dermatology, 2011 – Present
Marquis Who's Who in America, 2011 – Present
Selected one of American's Top Physicians in Dermatology, US News & World Report
RealSelf Verified Doctor, Top Doctor & Contributor, 2008-Present
Winner of Doctors' Choice Awards Top 200 Doctors' 2019
Winner of Doctors' Choice Award, Omaha 2014 & 2015
Elle Genius Selection, Dermatology 2011
Top Beauty Doctor New Beauty 2019
NewBeauty Brain Trust Member, 2020
Education
UNDERGRADUATE & MEDICAL SCHOOL
Undergraduate: BA in Biology, University of Rhode Island, 1981
Medical: Basic Sciences, Brown University, Providence, RI
MD, Clinical Sciences, Baylor College of Medicine, Houston, TX, 1985
POST-MEDICAL SCHOOL TRAINING
Residencies:
Dermatology, Washington University of St. Louis
Pediatrics, University of Alabama, Birmingham
Board Certified
Dr. Schlessinger is board-certified by the American Board of Dermatology and formerly board-certified by the American Board of Pediatrics.
Why does it matter?
To practice medicine in the United States, a doctor must be licensed by their state. This license does not indicate what qualifications the doctor has. To be board certified, a doctor must complete additional standards beyond basic licensing and actively keep pace with the latest advances in their specialty to maintain their board certification. The latest advances mean the best options for you and your health!