Eczema/Atopic Dermatitis Causes
Needing to know how to get rid of eczema? Consult with our eczema specialist.
Your itchy, dry skin rash just might be a condition called eczema. Sometimes it's also called atopic dermatitis. Dermatitis just means inflammation of the skin (atopic meaning sensitivity).
Eczema is so common that at least half of children develop some form of dry skin rashes, yet eventually outgrow them. More than 1% of adults have eczema outbreaks.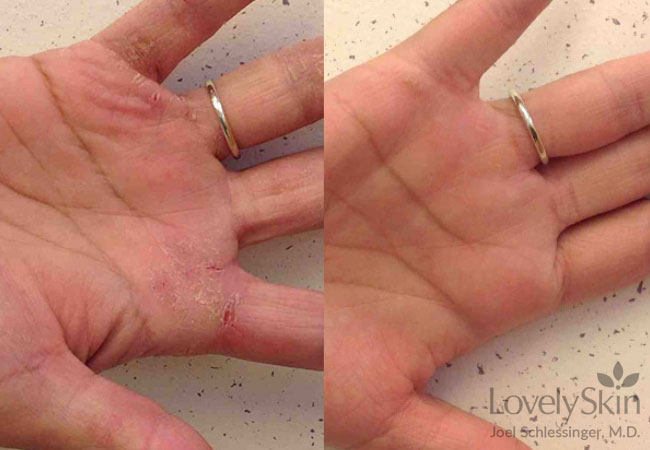 Dr. Joel Schlessinger, a board-certified dermatologist at Skin Specialists in Omaha, Nebraska can assess your skin care concerns and provide treatment for eczema and other rashes or skin conditions. He has the medical background to look at all aspects of this condition and will work with you to find solutions that will result in improvement.
Dr. Schlessinger is a former board-certified pediatrician, having completed a residency in pediatrics, so he is particularly skilled when this condition appears in babies and young children.
Treatment can help you control and stabilize your eczema, and Skin Specialists has many treatment options and skin care products to help.
Dr. Schlessinger even does clinical research on this condition, so he frequently has medications available to his patients that aren't available anywhere else in Omaha via these clinical trials.
In addition, Dr. Schlessinger and his son, Daniel, have invented a patent-pending formula for treatment of eczema and other dry skin rashes called FixMySkin 1% Hydrocortisone Healing Balm. This pocket-sized stick-applied product can treat stubborn areas of dermatitis or eczema and result in quick improvements.
You can purchase Fix MySkin in the LovelySkin store or on Dr. Schlessinger's website, www.LovelySkin.com/FixMySkin.
What is eczema?
Eczema can occur at any age but is most common in infants and young adults. Symptoms appear as dry skin and red, itchy and scaly patches on the face, creases of the elbows or back of the knees. The rash can be limited to a few areas of the body or become widespread.
If severe or untreated, eczema may become bumpy, scaly and red. The skin may also become thickened due to continual scratching. About half of patients are affected to some degree (although usually much less) throughout life while some patients outgrow the condition.
Are you eligible to participate in a clinical trial to test new treatments for eczema?
At the Advanced Skin Research Center located with Skin Specialists in Omaha, Nebraska, Dr. Schlessinger and his clinical staff conduct research studies to test new medications for skin conditions.
He has conducted clinical research involving medications and treatments for eczema, and clinical studies are ongoing in the clinic on rosacea. These innovative treatments are only available in a select group of clinics in the U.S. and available at no cost to study participants.
If you are eligible to participate in a clinical trial of new medications, Dr. Schlessinger can advise you when he sees you during an appointment. Contact us today to learn more!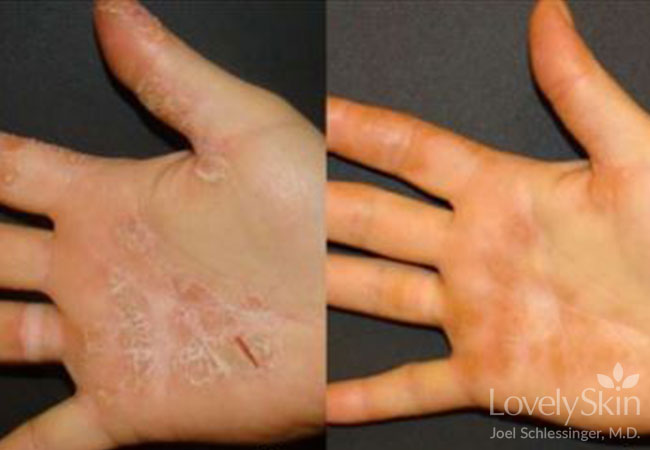 What are some atopic dermatitis causes?
The exact cause of eczema is unknown, but research shows that eczema tends to run in families, particularly in those with allergies, asthma or hay fever. Many patients with eczema also tend to have skin allergies to various products. That's where Dr. Schlessinger's expertise in finding regimens and over-the-counter treatments can really help.
What is the treatment for eczema?
Dr. Schlessinger at Skin Specialists, voted Omaha's best dermatologist year after year, is well versed in the most current and effective medications and products for the treatment of eczema. He can advise you on the best approach or combination of treatments for you when you make an appointment for him to see you at his clinic.
The first step in the treatment for eczema is identifying the cause of the skin sensitivity. Dr. Schlessinger is aware of the major irritants and can help narrow the search for the cause. In addition to examining your skin and rash, he is equipped to perform skin testing for allergies and contact dermatitis and has the ability to test for many common triggers to determine the best treatment for you, if necessary.
If and when the item you are sensitive to is identified, you will be advised on how to avoid the problem in the future. It may be as simple as covering up during cold seasons or adding humidity to dry indoor air or changing skin care products.
There is no certain cure for eczema. Although most patients outgrow their eczema, some do not. But with Dr. Schlessinger's guidance, you can learn to control your condition. Dr. Schlessinger will recommend the best moisturizers and other products to help you soothe the dry, itchy condition of eczema if it flares up.
Various products on LovelySkin.com for treatment of this condition can be used in conjunction with the medications Dr. Schlessinger may prescribe at the time of your visit.
Shop All Eczema Products
Eczema Treatment Before and After Pictures
The images shown below are of real patients who were diagnosed and treated by Dr. Joel Schlessinger.
Questions & Answers About Eczema
Dr. Schlessinger will answer your questions on eczema. If you have a question, he invites you to email him.
Will daily showering or bathing dry my skin out?
Yes and no. It is better to take a bath than to shower, but it is also important to moisturize immediately after you bathe. If you do choose to shower, make sure you use lukewarm (not hot!) water and immediately towel dry by patting rather than rubbing yourself dry.
In young children, the use of closed pajamas over slightly moist skin can be effective in "sealing in" the moisturizers. Additionally, in young children it isn't necessary to bathe daily, so it is best to bathe every two to three days or when exposed to dirty situations.
Can I use soap?
Yes, but make sure it is gentle and non-fragranced. Soap isn't EVER going to help your eczema, but it can definitely hurt your eczema. For this reason, it is important to choose soap wisely. The worst soap to use is one that smells great and looks fantastic. Generally, the more boring and dull a soap, the better job it will do on your skin.
In addition, don't use a washcloth to clean and NEVER use a loofah sponge. This is a very irritating and traumatic thing to do to already challenged skin.
Tip: Dr. Schlessinger recommends Vanicream Cleansing Bar to his patients if they have very dry skin.
Are there any medications that will help the itching?
Yes, antihistamines taken orally, such as Benadryl or Claritin, can sometimes help control itching. If you are itching severely, consider taking one of these medications or using a cream such as FixMySkin Healing Body Balm. Although Benadryl by mouth in pill form is fine, don't use Benadryl or Caladryl creams as they often cause sensitivity rashes.
Are lotions or creams better to use?
Actually, ointments are the best. In dermatology, it is noted that lotions work the least effectively of all topical medications (because they contain more alcohol and can be more irritating), while creams are a little better and ointments are best.
Unfortunately, most patients gravitate to the easiest treatments, which usually end up being lotions. That's one reason that Dr. Schlessinger and his son, Daniel, invented the FixMySkin 1% Hydrocortisone Healing Balms. These make quick treatment easy to use when you carry this portable stick formulation.
Tips: Dr. Schlessinger recommends EltaMD Intense Moisturizer (which seals in the moisture effectively and helps to heal the skin) or FixMySkin 1% Hydrocortisone Healing Balm in his clinic to patients with the most severe cases of eczema. Use of both allow medications to work better.
For individuals who have to wash their hands frequently, Dr. Schlessinger recommends Epionce Restorative Hand Cream. This is particularly helpful for healthcare workers such as nurses, hairdressers and moms who wash their hands frequently.
What sunscreen is best to use for my dry skin?
EltaMD UV Pure SPF 47 is a new sunscreen that is free of all dyes, parabens, glutens, hormones, oils and fragrances, and it's also sensitivity-free and noncomedogenic, which means it won't clog pores. This product works great for patients with dry skin rashes such as eczema. It goes on white, so there is a residue on the skin, but it acts to heal the skin at the same time it is protecting the skin.
Tip: Another one of Dr. Schlessinger's favorites for sensitive skin individuals is Vanicream Sunscreen.
Is there a certain shampoo that is best to use?
Yes, Free & Clear Shampoo and Conditioner are made especially for anyone with eczema. These products are free of many of the preservatives and fragrances that wreak havoc on sensitive skin. Both products are formulated without dyes, fragrance, parabens, lanolin, formaldehyde and irritating preservatives.
How do I know if allergies are causing my dry skin?
There isn't any way to know for sure if you don't allergy test the skin. These tests, although expensive, can be extremely helpful. They are done over a period of about four days and involve putting patches on the skin that help to determine whether you are allergic to an item. Typically, 36 to 72 items are tested at one time. While not all items have a "test patch," most of the more common irritants/allergens have a test patch.
My baby has a dry rash on her body. Could this be eczema?
This is always possible, but it is best to avoid harsh soaps initially and see how the rash does. Using a laundry detergent such as All Free and Clear is a wise choice. You may consider changing to a lactose-free formula such as soy or other elemental formulas.
If this doesn't work to clear up baby's rash, I can assist in diagnosing and treating these sorts of conditions.
What if I don't have eczema? What other conditions could this be?
Many conditions can look like eczema but not be, such as scabies, allergic reactions, psoriasis and other skin rashes and diseases. Even fungus can sometimes be confused with eczema, so it is best to let me see the rash especially if it doesn't seem to be improving.
Make an appointment today
Contact Skin Specialists in Omaha, Nebraska for an evaluation for treatment of your skin condition.