Endymed Intensif Microneedling
Intensif Microneedling for skin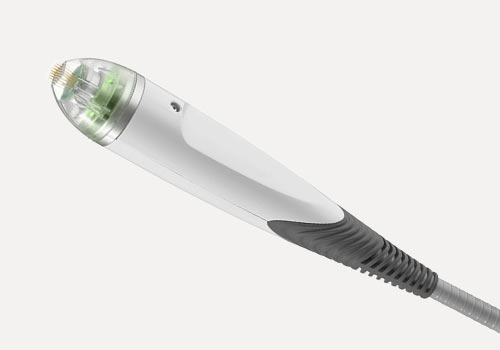 Dr. Joel Schlessinger is the first physician in Omaha to offer the Intensif by EndyMed radiofrequency (RF) Microneedling Treatment. This advanced treatment stands apart from other microneedling treatments due to its laser-like radiofrequency, which is combined with the microneedling. Its smooth, fast operating mode and its ability to reach deeper in the dermis than other treatments is best for improving the appearance of sun damaged skin, acne scarring, texture issues and stretch marks. Intensif by EndyMed combines traditional microneedling techniques with laser-like radiofrequency and specialized, super-thin gold-plated needles to generate heat safely into the skin and encourage collagen remodeling. Skin is left feeling smoother, more radiant and even-toned. Schedule an appointment for a consultation with Dr. Schlessinger to find out if Intensif by EndyMed RF Microneedling is right for you.
Smooth texture concerns with EndyMed Intensif RF Microneedling.
What is EndyMed Intensif RF Microneedling?
Intensif by EndyMed is the first FDA-cleared, motorized microneedle radiofrequency technology on the market. This advanced treatment is significantly different than other microneedling technologies, especially in Omaha, as it combines traditional microneedling techniques with laser-like radiofrequency. This innovative microneedling treatment pairs EndyMed's proprietary 3DEEP Fractional RF Technology with very thin gold-plated needles that target the skin deep in the dermis to provide maximum results.
Exclusive to EndyMed, 3DEEP RF Technology is a powerful, focused technology that delivers controlled energy into the dermis with minimal heat. The fast operating mode helps it stand apart from other microneedling treatments and gives it the opportunity to provide controlled, effective treatment to a specific area. A treatment series is recommended with a minimum of three treatments. Dr. Schlessinger will help you determine a treatment plan that's right for you.
What results can I expect?
Intensif RF Microneedling stands apart from other microneedling treatments due to the combination of laser-like energy and its ability to treat deeper areas of the skin. Since Intensif's thin, gold-plated needles require fewer passes per treatment, shorter treatment times and greater patient comfort is achieved. Generally, patients will experience about seven days of peeling, redness, possible bruising and minimal bleeding. During this time, avoid cosmetic procedures as they may lead to unwanted side effects.
An EndyMed Intensif RF Microneedling Procedure
A patient coordinator will show you around the office to acquaint you with the facility and where you will have your treatment.
You will have a consultation in the comfortable, high-tech office of the patient coordinator and meet with Dr. Schlessinger to answer any questions you may have.
The patient coordinators will take photographs of your skin to show you where you began and to document any improvement over time. These photos will also be used to compare results when your EndyMed Intensif RF Treatment cycle is complete.
Your facial area and planned site for treatment will be cleaned and a topical numbing solution will be applied to the area.
One of Dr. Schlessinger's physician assistants will perform the treatment. To learn more about the team performing your procedure, read more here or contact our patient coordinators at 402-334-7546
Due to the precision of the unit, needles are able to penetrate deeper into the skin and less pain is experienced. ProNox is also available for sedation during the procedure.
Generally, patients will have up to seven days of peeling and redness. During this time, they should avoid any procedures. A mild cleanser and moisturizer, plus a daily application of at least SPF 30 is necessary to protect your skin.
Before and After Endymed Microneedling Photos
Before & After Photo Courtesy of Dr. Mark Taylor

Before & After Photo Courtesy of Dr. Daniel Barolet

Before & After Photo Courtesy of Dr. David Pudukadan

Before & After Photo Courtesy of Dr. Gregory Keller
What other cosmetic treatments are similar?
AQUAGOLD Fine Touch Microneedling is also an excellent option for those wishing to treat visible signs of aging. AQUAGOLD Fine Touch does not utilize radiofrequency, but instead allows for the introduction hyaluronic acid and Botox into the skin which have other positive effects. In addition to Botox and hyaluronic acid, AQUAGOLD microneedling downtime is typically minimal, if even a day. Read about AQUAGOLD Fine Touch Microneedling treatments, or contact our patient coordinators at 402-334-7546 for more information.
Where can I have this procedure performed?
If you live in or near the Omaha, Nebraska area, we welcome your call at 402-334-7546. Call this number to discuss treatment options and schedule an appointment. If you live elsewhere, consult with a dermatologist who specializes in cosmetic dermatology.
Congratulations on taking the first step to receiving a microneedling treatment!
When you visit Dr. Schlessinger at Skin Specialists, P.C., you're in good hands. Our knowledgeable and friendly staff will ensure you feel welcome and comfortable and can even help you craft a regimen of products safe for your skin after receiving treatment. We look forward to meeting you!
Make an appointment today
Contact Skin Specialists in Omaha, Nebraska for an evaluation for treatment of your skin condition.