IPL Treatment in Omaha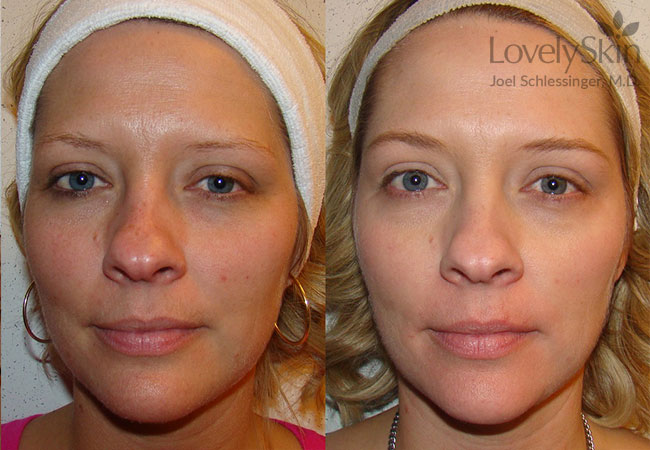 Fine lines and wrinkles aren't the only signs of skin aging. As we mature, our skin also begins to show damage through hyperpigmentation or dark spots. These small areas of discoloration can be unsightly but luckily, they can be easily treated with intense pulsed light therapy with or without additional skin care products to retain and improve overall results.
Treat areas of discoloration with intense pulsed light therapy.
What is IPL?
Intense Pulsed Light, or IPL, is an innovative technology that helps remove age spots, discoloration, freckles and uneven skin pigment.
IPL is a gentle, non-ablative treatment that uses broad spectrum light to treat sun damage. Ideal for patients with active lifestyles, this procedure involves no downtime and has a very low risk of side effects.
Does IPL really work?
Yes! As you can see from the video, Malorie Maddox from NBC News WOWT in Omaha put IPL to the test. With the IPL treatment and a regimen of Retin-A and Obagi products, Malorie saw a major decrease in the number of dark spots and an increase in overall skin health.
How can I prolong my results from IPL?
Sunscreen is imperative and here is our staff favorite. After you receive an IPL treatment, it is very important to begin a skin care regimen that will help keep your skin free from dark spots and skin damage. We recommend using Retin-A (Refissa or Tretinoin are the same) or an over the counter retinol product along with an advanced skin care system, such as Obagi Nu-Derm, to keep your complexion protected and your skin tone even.
IPL Before and After Photos
Before and after IPL treatment.

Before and after IPL treatment.

Before and after IPL treatment.

Before and after IPL treatment.
View Full Gallery
Monthly Special Offers
Check out our cosmetic specials for instant savings on your next treatment!
Know you are in the best hands with a world-renowned, board certified dermatologist and cosmetic surgeon - and at an affordable price! Save on wrinkle reduction treatments like Botox, Dysport and Juvederm as well as laser hair removal, dark spot treatments, fat reduction and more by visiting our Special Offers page today.
Make an appointment today
Contact Skin Specialists in Omaha, Nebraska for an evaluation for treatment of your skin condition.