Restylane® Silk
Enhance lip fullness and improve wrinkles around the mouth
Fine lines and wrinkles are a natural part of the aging process. Repeated facial expressions like squinting, frowning and smiling can also speed up this process over time. This happens because collagen and elastin fibers in the skin begin to break down. Wrinkles can be addressed with natural products known as fillers. Restylane® Silk is one of the newest fillers on the market. Other fillers include Restylane®, Belotero, JUVEDERM® and Perlane®.
Fillers are introduced underneath the skin's surface using a tiny injection that lasts only seconds. These treatments can be used in a variety of places such as the lips, mouth, and circles under the eyes, and for acne scarring and cheek depressions. Hyaluronic acid fillers can also be used in the lines that run from the nose to the corners of the lips and down to the chin as well (the "jowls"). As a board-certified dermatologist and cosmetic surgeon, Dr. Schlessinger is a national expert on fillers and wrinkle relaxers, and he often lectures widely on the subject.
Address unwanted wrinkles on the lips and mouth with fillers.
In his practice, Dr. Schlessinger does all of his own injections. He performs more injectable fillers and wrinkle relaxers than any other physician in Omaha. His Midwest clinic also is one of few select sites in the nation to conduct FDA-approval trials for Restylane® and Perlane®, and he has also done research work for JUVEDERM® as well as for BOTOX® and Dysport™.
Dr. Schlessinger uses different kinds of numbing techniques in the area of the injection to make the procedure much more comfortable for his patients, allowing this to be done over a lunch hour if necessary.
Having more experience with wrinkle hyaluronic acid fillers such as Restylane® Silk and wrinkle relaxers such as BOTOX® and Dysport™ than most cosmetic surgeons in the nation, Dr. Schlessinger is the natural choice to go to for this procedure.
What is Restylane® Silk?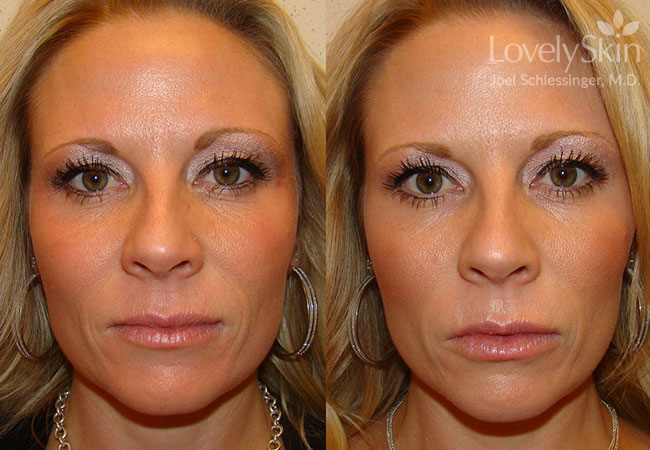 Restylane® Silk is a crystal clear injectable gel composed of hyaluronic acid, a natural substance that already exists in the body. The FDA-approved filler is injected into the skin to enhance lip fullness and to improve the wrinkles around the lips.
Once in your skin, the hyaluronic acid gel creates volume, resulting in a more healthy and vital appearance. When injected into the lip, it can restore a fuller and more natural look. In contrast to other biodegradable implants, Restylane® Silk is not extracted from animals. This means there is no risk of allergic reaction. Therefore, it is perfectly safe to use instantly without pre-testing.
Hyaluronic acid occurs naturally in the body and therefore it also dissolves naturally with time and is integrated into your body's tissues. The effects of wrinkle fillers such as Restylane® Silk can last months.
What is Restylane® Silk used for?
This hyaluronic acid filler can be used to improve the appearance of thin lips and wrinkles around the mouth. The gel temporarily adds volume to the lips and plumps skin to minimize the appearance of fine lines and wrinkles.
How does Restylane® Silk work?
The treatment is performed by injecting Restylane® Silk under your skin. Since no pre-test is needed, your procedure can usually be done in less than an hour. Many patients like the added comfort provided with an anesthetic cream, while others prefer an anesthetic block. This makes the treatment relatively painless.
Dr. Schlessinger recommends that patients stop taking any aspirin or aspirin-like products about a week or so before the procedure to decrease the likelihood of bruising. This would include Motrin and Aleve, but Tylenol would be okay to continue. Some patients may experience slight bruising at the injection site, which can be covered with a little makeup.
What results can I expect from Restylane® Silk?
Prior to your procedure, talk with Dr. Schlessinger about your goals for Restylane® Silk or other fillers. During this time, feel free to ask any other questions regarding cosmetic procedures. Dr. Schlessinger and his patient coordinator are very willing to answer any questions you may have.
You results will depend on your overall goal and suitability. Dr. Schlessinger is very good about letting patients know if they are good candidates for treatments, as well as helping them choose which treatment and products may work best.
Depending on the area treated, most folds and wrinkles require one treatment. The repeat maintenance treatment is not usually required for approximately six months or longer. By experience, these products last almost twice as long as regular collagen injections. The great thing about Restylane® Silk treatment is that you can replenish your natural beauty whenever you feel the need.
Restylane® Silk is a patient-friendly procedure. One thing to remember is that this filler is like an ice cube in your body. It dissolves slowly, much like an ice cube dissolves in water. So it doesn't go from there to not there in one moment, but over months and months.
You may have hyaluronic acid fillers injected during the same office visit along with BOTOX® or Dysport™. If you are taking antibiotics, there should be no problem continuing them if you have this procedure. But talk with the doctor about all medications you are taking.
There is no set timeline on how long fillers last. It all depends on how much is injected and the areas that are injected. If you put a very small (or too small) amount in, you won't get a good result, and it will last a very short time.
Patients who say their results don't last may be asking an injector to do too many areas. Or the injector is unskilled and injects fillers in the wrong place, which results in a very short length of activity. It is important to go to a dermatologist or plastic surgeon who actually does his or her own injections and has the skills to perform the procedures with the right amount of product in the correct areas.
The gel temporarily adds volume to the lips and plumps skin to minimize the appearance of fine lines and wrinkles.
Make an appointment today
Contact Skin Specialists in Omaha, Nebraska for an evaluation for treatment of your skin condition.
A Restylane Procedure
The patient coordinator will show you around the office in Omaha, Nebraska to acquaint you with the facility and where you will have your treatment.
You will have a consultation in the comfortable and high-tech office of the patient coordinator, meeting with Dr. Schlessinger to answer any questions you might have.
The doctor's office staff will take photographs to show you where your wrinkles may be improved and relate options to you. These will be used to compare with the results two weeks later at your no-charge follow-up appointment.
Your facial area and planned site for the Restylane® Silk injections will be cleaned and a topical numbing solution will be applied.
Dr. Schlessinger will perform the Restylane® Silk injections. In Dr. Schlessinger's office, the only individual who works on you is the doctor - no nurses or other staff members administer fillers or other products such as wrinkle relaxers as is the practice in many other offices. Dr. Schlessinger is very proud of the results he obtains, and this is one of the reasons he has consistently been voted Best Cosmetic Surgeon in Omaha, Nebraska.
Dr. Schlessinger adds a super potent topical numbing medicine with the filler, and a topical numbing cream is applied as well. The actual injections are quick and nearly painless, and Dr. Schlessinger uses a slow and steady technique refined over the thousands of procedures he has performed. A very small amount of Restylane® Silk is injected with an ultra-thin needle very precisely into several areas. Most patients compare the sensation to a little sting.
You can resume normal activities immediately.
Discomfort is minimal. The Restylane® Silk treatment site may have a little swelling, which may last a few hours. Slight bruising, if it appears at all, can be covered with makeup. Depending on the area treated, Restylane® Silk can last up to six months or longer. If the lips are treated, initial swelling and tenderness may occur within the first few days, but subsides after two or three days.
Who can have Restylane® Silk injections? Who cannot?
Talk with Dr. Schlessinger or your doctor during your consultation about whether this procedure is right for you.
Where can I have this procedure done?
If you live in the Omaha, Nebraska area, Dr. Schlessinger would welcome your call at 402-334-7546 for an appointment to discuss treatment with fillers and wrinkle relaxers. If you live elsewhere, consult with a dermatologist who specializes in cosmetic dermatology and does his or her own treatments rather than handing them off to a less skilled practitioner.
It takes skill and technique to get the really good results from wrinkle relaxers and hyaluronic acid fillers. Typically that means that you have to have a doctor, usually a skilled dermatologist or cosmetic surgeon, do the procedure.
Dr. Schlessinger sees the poor results when patients go to fly-by-night clinics for their procedures. Solutions are diluted significantly. They aren't as potent and the technique is poorly done. The results in these cases often make patients look worse rather than better.
As a board certified dermatologist, Dr. Schlessinger performs all of the treatments on his patients. If you go to a clinic that is run by a reputable dermatologist and/or cosmetic surgeon, these professionals should be the ones doing the treatments.
Congratulations on considering this exciting procedure!
You are in good hands when you come to Dr. Schlessinger's Midwest office and you will feel welcomed and comfortable. We look forward to meeting you!
Make an appointment today
Contact Skin Specialists in Omaha, Nebraska for an evaluation for treatment of your skin condition.