Omaha Scar Removal and Treatment
What causes scarring?
Scarring can be the result of a burn, injury, surgery or even acne. Scar formation is a natural part of the healing process and, although a scar may never completely disappear, there are treatment options that can help minimize its size and appearance.
Get optimal treatment for scars today.
How can scarring be treated?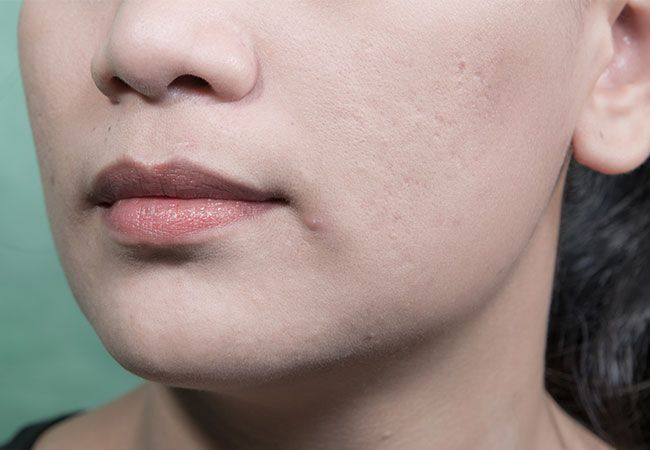 Scars can be treated in a number of different ways, including surgery, Accutane (for acne scarring), Intense Pulsed Light (IPL), botulinum (Botox or Dysport) treatments in the course of a healing incision, microdermabrasion, Fraxel laser resurfacing, fillers, Retin-A and over-the-counter treatments. As a board-certified dermatologist and cosmetic surgeon, Dr. Joel Schlessinger has the knowledge and experience to determine the best course of scar treatment for your unique needs.
How does scar removal work?
Scar treatment surgery can be performed using a variety of techniques. The aim is to manipulate the skin so as to replace the large, depressed scar with a smaller, less noticeable one. Depending on the extent of your surgery, there may be a period of recovery, perhaps lasting two weeks or more.
During your consultation, Dr. Schlessinger can discuss methods and care instructions for your unique treatment plan. While many options exist, none are perfect and there is no one single answer for the best method as it all depends on the situation, the cause of the scar and how long it has been present. Generally, it is best to treat scars early on in the process so it is better to be seen earlier rather than later. In many cases, early treatment will save thousands of dollars in costs and sometimes be the difference between success and failure in the course of the patient.
What results can you expect with scar removal?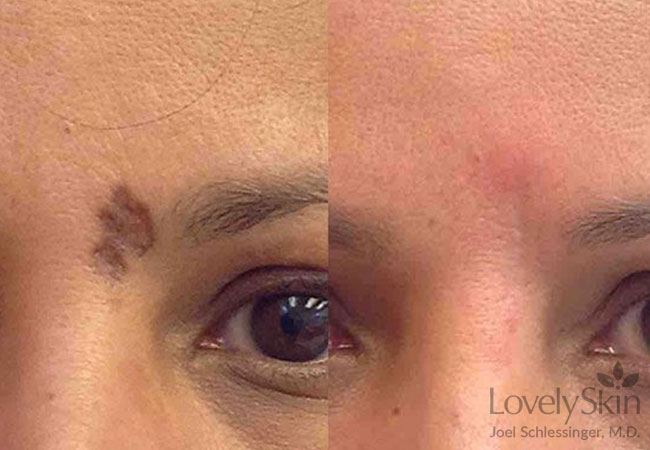 Dr. Schlessinger can discuss scar removal expectations at your initial consultation in his Omaha, Nebraska office.
It is best to consider scar treatment a long-term process and approach it with cautious and realistic expectations as results may vary and scars don't usually respond well to treatments after they have healed.
What you need to know before a scar removal procedure.
Scar removal is unlikely to occur in most cases, but treatment and improvement is clearly possible. Some scars are easier to improve than others. During your consultation, it is important to discuss your goals for treatment, as well as your ideal amount of downtime. This is also a good time to discuss the preparation and after care regimens that different treatments entail. Dr. Schlessinger will use this information to help determine the best treatment option for your specific needs. While Dr. Schlessinger is very solution-oriented, he is also ethical and will always try to give an idea of the likelihood of success and whether treatments are worthwhile pursuing. He believes it is also important to evaluate any elective removals prior to the procedure and make sure that the possibilities of a poor scar are reviewed with the patient or their family.
Scar removal procedure options
Surgery
For deep scarring, scar surgery remains an excellent option for scar treatment/removal. The aim is to manipulate the skin in order to replace the large, depressed scar with a smaller, less noticeable one. Depending on the extent of your surgery, there may be a period of recovery required, perhaps lasting two weeks or more.
Intense Pulsed Light (IPL)
An IPL treatment can help to diminish the appearance of discoloration or redness from scarring and improve the look of dark spots from post-inflammatory hyperpigmentation. The gentle, non-ablative treatment uses broad-spectrum light to treat skin. IPL and lasers are not used on darker skin or tanned skin so it is important to let the receptionist know if you have been in the sun or have darker skin prior to scheduling a visit for evaluation.
Botox or Dysport usage after a surgical procedure
Many scars respond positively to 'rest.' This is particularly helpful when a planned surgery, such as a skin cancer or mole removal surgery, occurs on the forehead. Botulinum toxin may be used to prevent or improve the look of a healing scar by limiting motion of the area. It is mainly useful on the forehead because other areas, such as cheeks or chin, aren't good areas for treatment with this method as it would lead to unacceptable facial changes. Botulinum toxins put the area at rest for approximately three months, which is the time necessary for the scar to heal in a better manner.
Microdermabrasion
Microdermabrasion is an exfoliation and skin rejuvenation procedure that involves gently resurfacing the top layer of skin with tiny crystals. The procedure provides the best results for those with shallow depressions but is temporary in nature and unlikely to change any scars on a long-term basis. Microdermabrasion requires no surgery or anesthetics, and skin may be temporarily pink, but it usually recovers in 24 hours
Fraxel laser resurfacing and CO2 laser resurfacing
Fraxel is a semi-ablative procedure that is based upon the skin's own healing process. Microscopic laser wounds are spaced across the skin to initiate new collagen growth and repair. Most patients see a significant improvement in scarring, with continuous improvement over time. The treatment requires a rest period of about seven to 14 days. Though the results are not permanent, they last significantly longer than other procedures. CO2 laser resurfacing is done mainly after a surgery, often within seven weeks of the initial suturing. This is an outstanding option when a planned surgery results in a less favorable result.
Fillers
Well-placed hyaluronic acid fillers such as Restylane ®, Restylane Lyft ® and JUVEDERM® can make a big difference when it comes to diminishing or 'popping out' depressed scars. Similar to how these fillers can help plump the skin and fill in wrinkles, they can also help fill scars. The quick procedure allows you to resume normal activities immediately. Depending on the area being treated, the results can last for up to six months but the best part is that they can often last even longer if used in an expert manner by a skilled surgeon such as Dr. Schlessinger.
Subcision
Subcision releases scar tissue from tethering fibrous bands under the skin, diminishing the appearance of depressed or indented scars. By releasing the bands that are holding the skin down, collagen production is stimulated and there is an improvement in the appearance of the scar.
Peels
Chemical peels improve the appearance of mild scarring by exfoliating and resurfacing the topmost layer of skin. This is usually a temporary effect. Using exfoliating ingredients like glycolic and salicylic acids, peels retexturize skin, revealing a smoother, less irregular complexion. Depending on the strength, these treatments can be done every two to four weeks. Peels are not as effective on deeper scars.
Accutane
Accutane (isotretinoin) is one of the most effective treatments Dr. Schlessinger uses for acne. It is best used when the acne is still active and scars haven't fully healed. It is imperative to use this drug early in the course of the scarring as it is excellent during that time period but ineffective if the scarring has completely healed. Most insurances cover its usage, which is not the case with most of the other treatments for scarring.
Retin-A
Also known as tretinoin, Retin-A is a prescription-only vitamin A cream that helps to increase the rate of cell turnover and stimulate healthy collagen production. It is often prescribed to treat acne and wrinkles, and it can also improve the appearance of acne scarring over time. Superficial acne scarring may benefit the most from Retin-A creams, and side effects may include temporary dryness and peeling.
Dr. Schlessinger Recommends
For mild scarring, especially new scars, your dermatologist may suggest topical treatments. Dr. Schlessinger recommends a variety of scar treatments available here on the website without a prescription. If your scarring is not helped with these products, see Dr. Schlessinger for prescription treatments and procedures available at Skin Specialists.
Shop All Scar Treatment Products
What happens after the procedure?
Post-procedure care is essential to ensure proper healing after your scar removal treatment. It is important to follow all after care instructions given to you by your dermatologist, as well as to keep all follow-up appointments. Dr. Schlessinger will go over any after care instructions with you prior to receiving your treatment.
What are the possible side effects?
The side effects associated with scar treatment and removal depend on the method you choose. Dr. Schlessinger will discuss the possible side effects associated with various treatment options at your initial consultation in his Omaha, Nebraska office.
Am I a good candidate for scar removal or treatment?
Sometimes scarring is unavoidable. If you have been left with scarring and feel that it has had a negative impact on your personal, social or professional life in any way, then you are a great candidate for a treatment consultation, though it may not be possible to improve the scar. Dr. Schlessinger is very honest with his patients and will often counsel to do less rather than more if the options are limited or results are unlikely to be successful. It's best to seek the opinion of a professional before trying topical treatments or other methods on your own. As a board-certified dermatologist and cosmetic surgeon, Dr. Schlessinger is uniquely qualified to recommend the best course of treatment for your specific skin concerns, taking into account the types and locations of the scars.
Make an appointment today
Contact Skin Specialists in Omaha, Nebraska for an evaluation for treatment of your skin condition.