Seborrheic Dermatitis
Scaly patches, red skin and stubborn dandruff are all symptoms of seborrheic dermatitis. Despite its appearance, this common skin disease is not caused by a lack of personal hygiene. This skin condition is not contagious and, although it can be uncomfortable, seborrheic dermatitis does not affect your overall health. The right treatment can help reduce flare-ups and relieve irritating symptoms.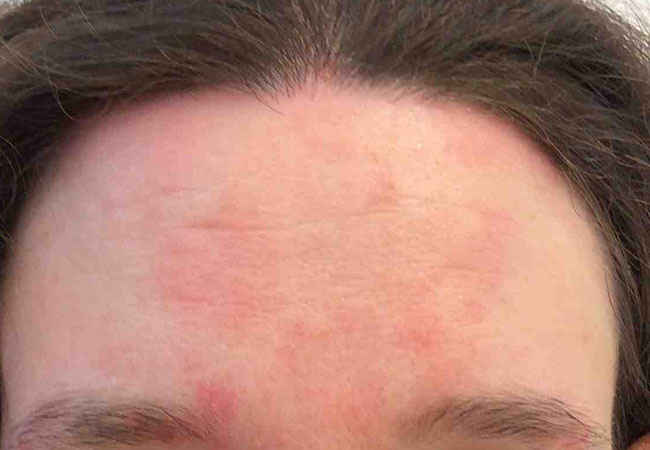 What is seborrheic dermatitis?
Seborrheic dermatitis is an inflammatory skin condition that mainly affects the scalp, face or inside of the ear. It can also spread to oily areas of the body, such as the face, upper chest and back. Characterized by a rash, seborrheic dermatitis is often accompanied by reddish skin, a swollen or greasy appearance and white or yellow scales on the skin's surface. In some cases, the affected skin becomes itchy and irritated.
Cradle cap is a type of seborrheic dermatitis where scaly, greasy patches form on a baby's scalp. These patches become thick and crusty but they are not harmful. Cradle cap is very common in infants and usually disappears on its own after a few months. Seborrheic dermatitis can also form on a baby's bottom, often mistaken for diaper rash. On rare occasions, some babies have red, scaly patches that cover most of their body. Regardless where infant seborrheic dermatitis forms, it tends to permanently disappear after six months to a year.
When an adolescent or adult has seborrheic dermatitis, symptoms can come and go for the rest of their life. Very few cases will clear up without treatment. Flare-ups come without warning, often triggered by cold, dry weather or periods of stress.
What causes seborrheic dermatitis?
Doctors don't know the exact cause of seborrheic dermatitis. It appears that many factors work together to cause this inflammatory skin condition, including genes, yeast that is normally present on our skin, living in a cold, dry climate, stress and a person's overall health.
Seborrheic dermatitis is not contagious. It is not caused by a lack of hygiene and it is not an allergic reaction. Although this condition can be uncomfortable and even embarrassing, it is not harmful to your health.
Before and After Acne Treatment Photos
What treatments are effective for seborrheic dermatitis?
While there is no cure for seborrheic dermatitis, the right treatment can ease symptoms and make flare-ups more manageable. The best type of treatment for each patient will vary based on age and where symptoms occur most often.
Cradle cap can be minimized by gently shampooing the baby's scalp, brushing away the scales once they start to soften and applying a medication to the affected area. There are also infant-safe medications for treatment beyond the scalp.
For adolescents and adults, treatments can include dandruff shampoos, topical medication or a barrier-repair cream. The best results often come from combining two or more treatments, such as medication and a special skin care regimen. Dr. Joel Schlessinger will work with you to determine the best treatment options for your needs.
For mild flare-ups, Dr. Schlessinger recommends FixMySkin Healing Balms with 1% Hydrocortisone. He and his son, Daniel, invented these patented formulas to treat seborrheic dermatitis, eczema and other dry skin conditions. The 1% hydrocortisone goes beyond moisturizing to treat and heal itchy, irritated skin. Plus, the travel-friendly stick applies easily and won't melt in the heat of your pocket.
Make an appointment today
Contact Skin Specialists in Omaha, Nebraska for an evaluation for treatment of your skin condition.