Omaha Skin Cancer Treatment
What are the types of skin cancer? And what is the treatment for skin cancer?
These are not Jeopardy questions but here's the answer. Your skin is the largest organ of your body. Sometimes cells in the skin undergo changes that create spots and bumps that become skin cancer. Moles on your skin can turn into various types of skin cancer too.
Dr. Joel Schlessinger, a board-certified dermatologist at Skin Specialists in Omaha, Nebraska, can assess your concerns about suspicious spots and moles and provide accurate diagnosis and treatment for skin cancer. He has the medical background to look at all aspects of this condition and the surgical skills to perform Moh's microsurgery for cancer removal.
Because skin cancer is the most common of all cancers and accounts for millions of cases each year, early detection is vital for successful treatment. Keep an eye on any moles and schedule regular check-ups for the Skin Specialists professionals to assess your skin, especially if you are at higher risk.
What does skin cancer look like?
Skin cancer tumors on the skin look like moles in various shapes and sizes and colors. Most people don't know the harmful-looking lesions from those that are not harmful.
If you see any change on your skin, whether it's a new mole or colorless growth or an itchy sore that doesn't seem to heal, make an appointment to get it seen by a dermatologist.
A spot that bleeds or changes or becomes tender or painful should be assessed.
Any new mole or old mole that grows larger than the size of a pencil eraser, or has irregular borders, various colors, and jagged borders might become serious.
Happily, most moles and spots turn out to be harmless, but it's important to know your skin and its spots and seek medical care when something seems different. Read more about moles.
Dr. Schlessinger has the medical training and clinical experience to recognize the various types of skin cancer and provide a treatment plan that's right for your situation.
What are the basic types of skin cancer?
Basal Cell Carcinoma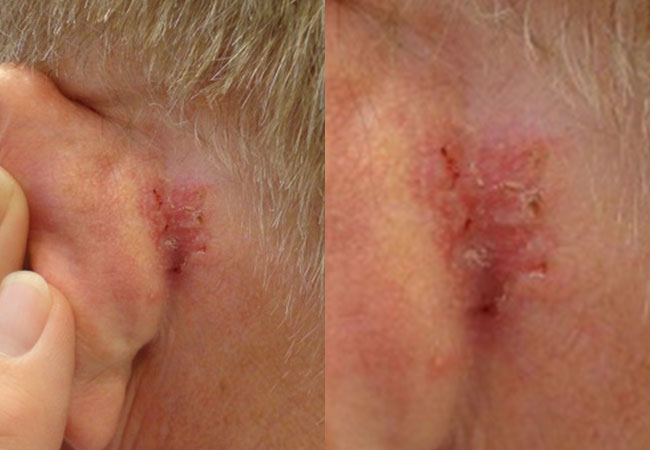 Basal cell carcinoma often appears on the face or other parts of the head and neck but can be anywhere on the body. These tumors look like small, fleshy bumps.
Cells from these tumors can spread below the skin and cause damage. They are easily removed, especially when found early, with little to no scarring.
Squamous Cell Carcinoma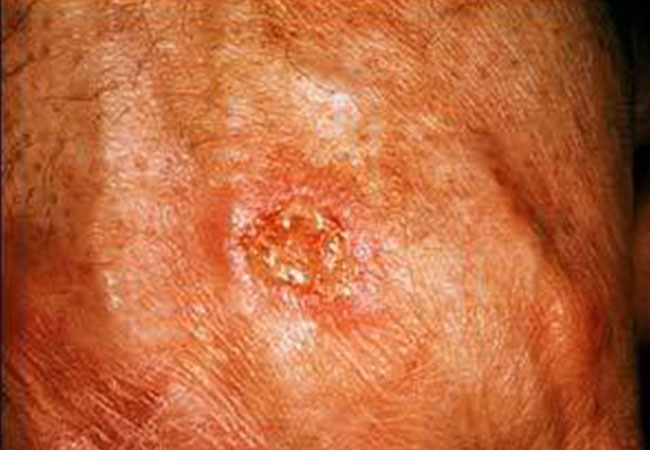 Squamous cell carcinoma may look like red or scaly patches or bumps. Most often dermatologists see these on the outer edge of the ear and on the face, lips, and mouth. These areas can grow larger and spread to other parts of the body. Again, like basal cell carcinoma, when caught early and removed, these areas can be completely cured.
Malignant Melanoma
The third form of common skin cancer is more serious. Malignant melanoma may appear suddenly or alongside another mole. Watch for darker, uneven areas anywhere - even on areas of the skin that don't get exposed to the sun.
Know your mole ABCDEs
What causes skin cancer?
Someone with pale skin who sunburns easily is at higher risk. Fair skin is just more vulnerable. Anyone who has had severe sunburns in the past may be more at risk. Read more about sunburn, the latest news on sunscreen, and how to protect yourself in the sun.
A family history of melanoma heightens the risk. Know your family history.
If you have many moles, you may find them becoming a problem, and Dr. Schlessinger can do a regular skin check to watch for complications and remove any suspicious moles.
With early detection and prompt treatment, however, melanoma and the other types of skin cancer are highly curable.
What is the treatment for skin cancer?
Sometimes the treatment is simple. Dr. Schlessinger removes a suspicious mole and sends it to a lab for analysis. If the skin removed is assessed to be a form of skin cancer, he will make sure he has removed the problem entirely so clear cells surround the skin removed.
If cancerous cells remain, he is skilled in Mohs Micrographic Surgery. This skin cancer treatment allows a 96% to 98% rate of cure. Dr. Schlessinger is one of a select group of dermatologists in the U.S. performing Mohs skin cancer surgery and a member of the American Society for Mohs Surgery. This surgery is especially effective in treating basal cell and squamous cell carcinomas.
You will be treated at a state-of-the-art, state-certified and Medicare-certified ambulatory surgical center within his clinic at Skin Specialists in Omaha, Nebraska. Layers of skin are intricately removed around the lesion and examined under a microscope. Once clear cells are present, the wound is closed with stitches.
Because Dr. Schlessinger is a board certified dermatologist and cosmetic surgeon, scarring is minimal most of the time and depending on where the cancer was removed.
Skin Cancer Treatment Before and After Pictures
The images shown below are of real patients who were diagnosed and treated by Dr. Joel Schlessinger.
Recommended by Dr. Schlessinger
Most skin cancer is caused by too much UV exposure. Protect yourself from harmful sun exposure to prevent moles and skin cancer by wearing sunscreen and protective clothing to shield you skin.
Shop Related Products
Questions & Answers About Skin Cancer
If you have questions about skin cancer, Dr. Schlessinger invites you to email him.
I have blonde hair and used to tan a lot as a teenager. Now I'm developing moles. Are any of these dangerous?
They can be. More blonde and lighter skinned individuals develop skin cancer than people with darker hair and skin color. This doesn't mean that blondes are the only ones, but they are a special concern for many dermatologists given the increased risk they have for moles and other skin spots changing. If a mole changes, bleeds or turns darker, it is a good idea to have it checked by a dermatologist.
Don't we need sunshine for our skin to make vitamin D? How can I get some sun but not risk getting too much?
There really isn't a good way to get enough sun to change your vitamin D levels and not be in danger of skin cancer. We even see people who are tan with low vitamin D levels, so the concept that tanning will increase levels isn't always true.
The truth is that supplements are probably the best and only safe way to get this essential vitamin if you have low vitamin D levels. I recommend that most people have these levels checked at least every two or three years (by a blood test). If your vitamin D level is low, talk with your doctor about taking vitamin D3 supplements.
Where are the places skin cancer shows up on the skin? How do I know if something is wrong?
The most common areas for skin cancer to show up are on the face and hands, but skin cancer can happen anywhere. One unsettling effect we are now seeing is skin cancer and melanoma in unheard of amounts in the undergarment areas (places that aren't normally in the sun at all) in patients who have used tanning booths. This leads to a very high risk of melanoma and is one more way that tanning booths are causing dangerous trends in skin cancer and melanoma.
Make an appointment today
Contact Skin Specialists in Omaha, Nebraska for an evaluation for treatment of your skin condition.