Tinea versicolor
It may be a surprise to know that we all have yeast on our skin. However, when this yeast grows out of control, it can develop into a skin disease known as tinea versicolor. Although tinea versicolor is not contagious or harmful to the body, many people are concerned by its appearance and the changes it can make to the skin.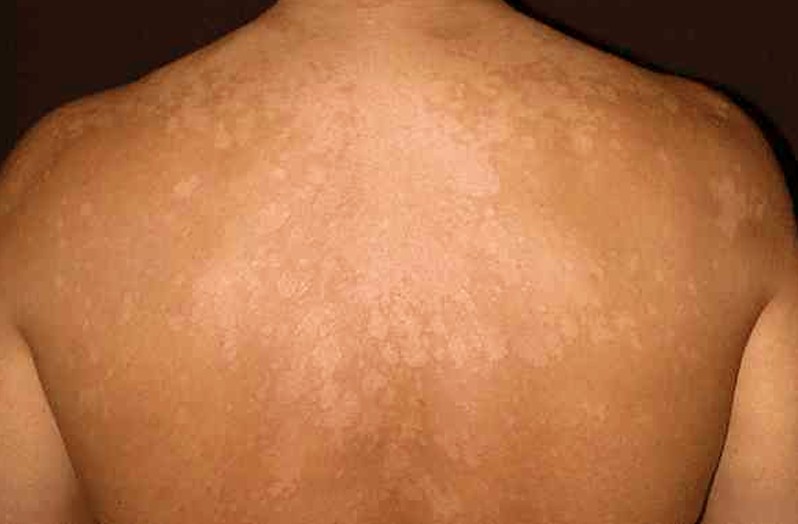 What is tinea versicolor?
Tinea versicolor is a discoloration of the skin which occurs from the overgrowth of a particular form of yeast, Malessezia furfur. This common skin disease is characterized by spots on the skin that either appear darker or lighter than the surrounding skin. These spots can be usually lighter than the surrounding skin, in shades of white, pink, salmon, red, tan or brown. The spots can appear anywhere on the body, and they may be dry, scaly and itchy. As the skin tans, the spots become more noticeable because the yeast prevents the spots from tanning. Many times, the spots from tinea versicolor are so faint that people do not even realize they have it. Dr. Schlessinger feels that it can be passed on from humidity or exposure to sweat that was from others with the condition.
It is one of the most common skin diseases found in tropical and subtropical regions of the world. People of all skin colors can get tinea versicolor. While it is more common in teens and young adults, it can also be found in older adults and children who live in tropical areas. The symptoms of tinea versicolor typically disappear during cooler, drier months.
What causes tinea versicolor?
When the yeast on our skin grows out of control, it can leave discolored areas on the skin. It is believed that yeast overgrows due to exposure to hot, humid climates, excessive sweating, oily skin or a weakened immune system. As noted before, Dr. Schlessinger feels it can be passed on from exposure to other peoples' sweat and dirty environments, such as tanning booths.
Tinea versicolor is not normally contagious unless in close contact with others. Although it is not harmful, many people find this disease to be unsightly.
What treatments are effective for tinea versicolor?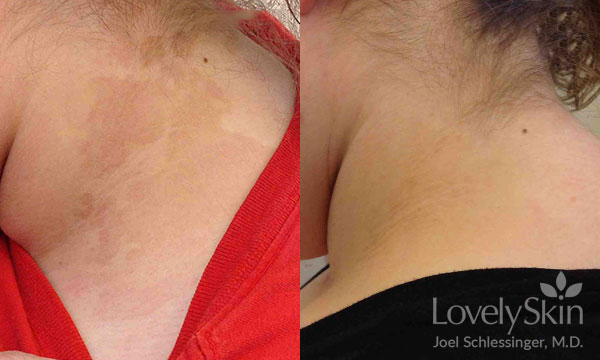 There are many treatment options for tinea versicolor. Dr. Joel Schlessinger may prescribe a topical antifungal that contains active ingredients such as selenium sulfide, ketoconazole or pyrithione zinc. These medications help control the growth of yeast and are often found in shampoos, soaps, creams and lotions. In many cases, oral medications are helpful as well.
Medicated cleansers are also an option to keep overgrowth under control. Using a medicated cleanser once or twice a month, especially during humid months, can help prevent the yeast from overgrowing on the skin.
Another option is antifungal pills. If tinea versicolor covers a large area of the body or if it is thick and returns frequently, Dr. Joel Schlessinger may prescribe antifungal pills to prevent the overgrowth of yeast. These pills are taken for a short period of time because they can cause unwanted side effects and can interfere with other medications. Dr. Joel Schlessinger will closely monitor a patient who takes this medicine.
Make an appointment today
Contact Skin Specialists in Omaha, Nebraska for an evaluation for treatment of your skin condition.