Wart Removal in Omaha
Interested in removing warts? Discover what causes warts and the best option for you to eliminate them.
You don't get warts from touching frogs, but lots of people develop warts, and they can be unsightly. Warts are common skin growths caused by a viral infection in the top layer of the skin.
Warts are usually skin-colored and feel rough to the touch, but they can be dark, flat or smooth. They are not cancerous, but if they are in the genital area (condyloma), they can actually spread a form of wart virus that sometimes causes cancer in females.
Dr. Joel Schlessinger, a board-certified dermatologist at Skin Specialists in Omaha, can assess your skin care concerns and provide treatment options for warts. He has the medical background to look at all aspects of this condition.
The appearance of a wart depends on where it is growing and which type of virus is causing it. Warts can appear anywhere on the body, but the most common places are the hands and feet.
Treatment can help you control warts, but many times warts often return. Skin Specialists has many options for removing warts. Dr. Schlessinger will work with you to find a good solution for your condition.
What are warts?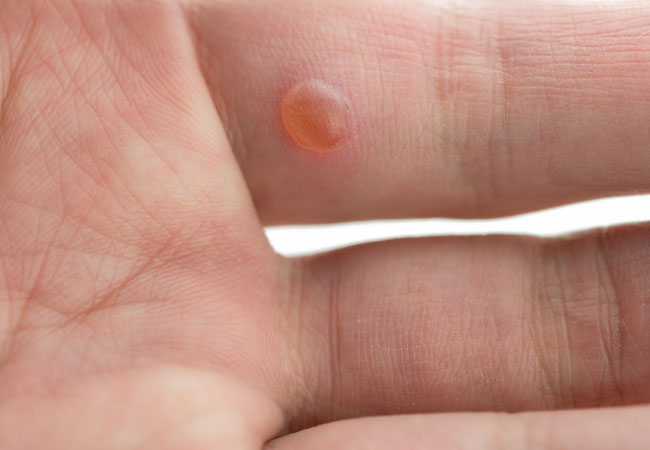 Common warts grow on the fingers, usually around the nails and on the backs of hands. Children with warts on their hands will have warts appear on their face because they touch their faces or bite their nails. This type of wart may have black dots in them that look like seeds. Some people call these seed warts. They are usually rough bumps.
Most adults remember plantar warts from gym class. They appear on the bottom of the feet (the plantar surface, thus the name). Walking on warts on the bottom of the foot can become painful. These too can have black dots in them. Generally, invasive removal methods aren't used for warts on the feet because the scars produced from removal tend to be painful.
Flat warts are smaller and smoother and grow in large numbers. Men may find them in their beards. Women see this type of wart on their legs. Shaving can significantly hasten their spread, so we recommend Nair or some other depilatory instead of shaving if you have flat warts.
Wart Removal Before and After Photos
Before and After Wart Removal session.

Before and After Wart Removal sessions.
View Full Gallery
What is the treatment for warts?
Warts can be treated with several different therapies, including effective removal treatments at Skin Specialists with non-invasive therapies such as a painless chemical removal in the office. Other treatments designed specifically for children are also available.
Dr. Schlessinger at Skin Specialists, voted Omaha's best dermatologist, has the knowledge to tell whether a growth is a wart or something else such as a mole, skin tag or skin cancer.
Sometimes warts simply go away on their own. But warts in adults often do not disappear as easily or as quickly as they do in children.
So even though warts are harmless and won't develop into a more serious skin condition, it's reassuring to see Dr. Schlessinger to find out exactly what a suspicious skin growth is. Often, what people assume is a wart is something else that might be dangerous.
When your warts won't go away, or if you have a lot of them or they may be painful, especially on the bottom of the foot, Dr. Schlessinger uses various treatments to remove warts.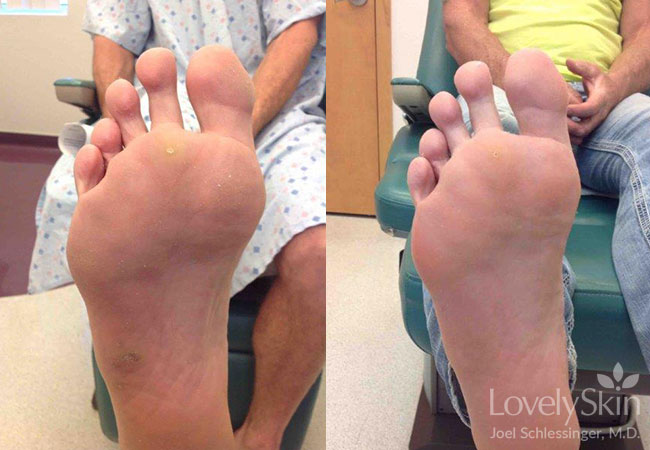 One treatment is to apply a poison to the wart to kill it. He applies this dilute poison, called DNCB in the office, and the wart goes away after multiple applications.
Depending on where the wart is and what type of wart it is, or if there are many, Dr. Schlessinger may use a laser to zap the warts, cryotherapy (freezing) with liquid nitrogen, or burning or skillful cutting with a scalpel. Interestingly, laser isn't a very good method of wart removal as many times the warts will come back and the laser invariably leaves a scar.
Despite the best treatment, about 20 to 30% of warts tend to come back in the same spot or in a new area.
Recommended by Dr. Schlessinger
In some cases, wart removal may cause scarring to occur. If you are concerned about scarring, there are a number of products available here on the website without a prescription.
LovelySkin offers several scar remedies including:
Shop All Scar Treatment Products
These all have the common feature of providing a healing membrane during and after the initial procedure.
Questions & Answers About Warts
Dr. Schlessinger invites you to email him if you have questions about warts.
Can I treat my warts with over-the-counter products?
Sometimes these products are successful. However, my fear is that you may be trying to treat a more serious skin problem such as a mole that is changing and think it is a wart. So make sure you have a wart or warts before trying this at home.
I like to see patients who have problem warts, and it's best to let me treat warts on your face or genitals. If you have diabetes, please don't try to remove a wart on your foot. You may create more problems with nerve damage and slow healing.
Some wart-removing medications you can buy at the drug store include the ingredient salicylic acid. These remedies are available without a prescription. You can buy a gel or liquid or even a pad containing salicylic acid. Generally, you apply these to the wart each day for many days. Most products recommend you soak the wart in warm water first. This type of home treatment may take weeks to work, if it works at all.
I'm definitely not a fan of the freezing treatments over the counter because they are usually too weak to improve the wart, but strong enough that the wart gets "upset" and grows even larger after treatment. I have seen way too many patients with warts that are out of control after these treatments.
I caution you about buying unproven remedies on the Internet.
I heard that duct tape makes warts go away.
As unlikely as it seems, covering a wart with duct tape just might work. Change the piece of tape every day. At each change of duct tape, gently file down the wart with a nail file (but do not ever use this file for filing nails after that). Some of my patients have had some success with this method, and it's something to try first with kids.
How can I prevent warts from developing? I don't want to be a germophobe about it.
First, you can prevent your current warts from spreading by getting them treated. But please don't pick them. I always wear water shoes in public showers and pools. If you know someone has warts, don't use their towels or clothing or wear their shoes. Furthermore, if you have babies or kids with warts, don't bathe them together. There is a form of wart called molluscum contagiosum that is highly contagious and can even be spread during a bath.
Make an appointment today
Contact Skin Specialists in Omaha, Nebraska for an evaluation for treatment of your skin condition.