PelleFirm™ Cellulite Treatment
What is PelleFirm™?
PelleFirm™ is an FDA-approved, non-invasive treatment for the body that helps reduce the appearance of cellulite in stubborn areas. The procedure uses pain-free radiofrequency technology to help create a smoother, firmer appearance.
Use PelleFirm to reduce the appearance of cellulite with no downtime.
How does PelleFirm™ work?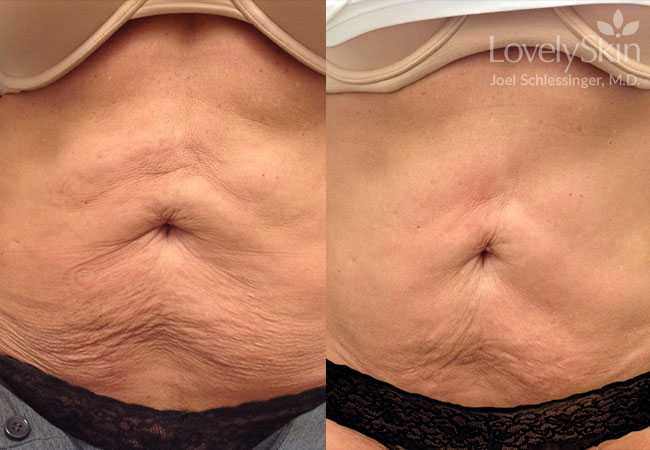 Similar to the Pellevé treatment, PelleFirm™ uses a handheld device to help elevate tissue temperature up to around 113 degrees Fahrenheit. The heat, when coupled with mechanical massage heads, helps to improve the lymphatic drainage that causes cellulite. The heating and massaging actions also help to repair existing collagen and stimulate new, healthy collagen production. Each treatment session takes approximately 30 minutes. PelleFirm™ is virtually pain-free and it requires no special preparation, after-care or downtime. Patients achieve optimal results over a series of four to six sessions with additional periodic sessions to help maintain results.
PelleFirm™ is FDA-approved to temporarily improve the dimpled appearance of cellulite as well as skin firmness, tone and contour. It can help smooth and tighten skin on nearly any area of the body, and it is ideal for targeting stubborn problem areas such as the abdomen, arms, thighs and glutes. It can also help improve loose, sagging skin in hard-to-target areas such as the neck.
How long do the results from PelleFirm™ last?
PelleFirm™ is designed to temporarily improve the look of cellulite and firm loose skin, but the effects are long-lasting. Most patients see noticeable results after just one session and visible improvements with each subsequent session. After your initial four to six sessions, you can expect to enjoy your PelleFirm™ results for about six months with the occasional additional session to help maintain these results.
It can also help improve loose, sagging skin in hard-to-target areas such as the neck.
PelleFirm™ Before and After Photos
Before and after 4 PelleFirm sessions.

Before and after 4 PelleFirm sessions.

Before and after PelleFirm treatment.
View Full Gallery
Monthly Special Offers
Check out our cosmetic specials for instant savings on your next treatment!
Know you are in the best hands with a world-renowned, board certified dermatologist and cosmetic surgeon - and at an affordable price! Save on wrinkle reduction treatments like Botox, Dysport and Juvederm as well as laser hair removal, dark spot treatments, fat reduction and more by visiting our Special Offers page today.
Who is a good candidate for PelleFirm™
PelleFirm™ is safe and effective for those men and women who wish to address cellulite and enjoy tighter skin. However, the treatment is especially ideal for those patients between the ages of 30 and 65 who have mild to moderate skin laxity and cellulite. It's a great option for those who would simply like to look their best, whether the treatment is in preparation for a special event or a part of post-pregnancy rejuvenation. PelleFirm™ may also benefit those patients who have received liposuction in the past and would like to address the loose, crepey skin that may have been left behind.
Make an appointment today
Contact Skin Specialists in Omaha, Nebraska for an evaluation for treatment of your skin condition.