Poison Ivy
Overview
That hike in the woods or gardening clean-up can hold hidden dangers in the underbrush. Poison ivy and other toxic plants can rub against your skin or tag along on your clothing and cause a red, itchy rash if you touch the oils left behind.
Some people are more sensitive than others to the itch-causing urushiol - the toxic oil these plants produce. The resulting itchy rash and blisters can be uncomfortable. Scratching the areas may lead to infection or worsening of the condition if the poison ivy is under your fingernails or still on your body.
It's important you seek care if you've been exposed and are feeling uncomfortable symptoms not helped by home care.
Dr. Joel Schlessinger, a board-certified dermatologist at Skin Specialists in Omaha, can assess your skin care concerns and provide treatment options for all types of poison ivy and other irritants from plants. He has the medical background to look at all aspects of this condition and work for solutions that will result in improvement.
What is poison ivy?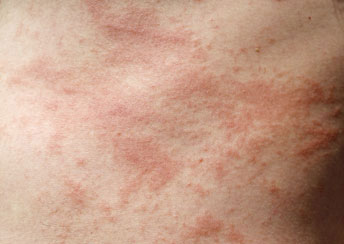 If you've had a brush with the poisonous saps produced by Mother Nature in poison ivy and other toxic plants, you may see a red blistery rash within 12 to 48 hours. These rashes can last weeks depending on how severe they are.
Most people are allergic to the toxic oil these plants produce. The oil called urushiol also lingers on shoes, garden gloves, and clothing, so it's important to carefully wash these items so you don't infect others or reinfect yourself.
Use of over-the-counter barriers before you venture into the woods or into the yard may provide a small measure of prevention, but these products are inconvenient and usually not a good option unless you know you are going into areas of danger.
Pictures of Poison Ivy and Poison Oak
A poison ivy plant

New poison ivy leaves

A poison ivy plant turning red and yellow in the fall.

Poison oak leaves

Poison oak leaves can be green, yellow-green or reddish depending on the season
What treatments are effective for poison ivy?
Try home treatments for minor rashes, such as cold compresses or calamine lotion.
Treatment can help you control your poison ivy rash, and Skin Specialists has many options. Dr. Schlessinger will suggest the best medications for your condition. Sometimes prescription steroids are used to lessen the inflammation and itching. Antibiotics are sometimes prescribed for infection resulting from excessive scratching, but this is usually days or weeks into the episode.
Various other products on LovelySkin.com including Dr. Schlessinger's exclusive formulation of FixMySkin for treatment of this condition can be used in conjunction with the medications he may prescribe at the time of your visit.
Shop Related Products
Questions & Answers About Poison Ivy
If you have questions about poison ivy, Dr. Schlessinger invites you to email him.
What home treatments should I try?
If you think you've run into poison ivy on a hike or in your garden, immediately shower to remove some of the irritant. This may often lessen the rash but may not prevent it from developing.
For mild cases or small areas with rash, try applying a cold compress. A wash cloth or bag of vegetables wrapped in a towel can work well. Oral antihistamines such as Benadryl or Claritin can help relieve some of the itch, but they aren't always effective in significant cases.
Some doctors recommend a topical numbing or anesthetic spray containing ingredients such as procaine, benzocaine or pramoxine, but I often find that these cause allergic reactions of their own and can end up worsening, rather than improving, your condition. You can buy these at the drug store, but beware if they cause more problems.
Topical creams such as FixMySkin or others that contain hydrocortisone may help stop the itching. I recommend our product FixMySkin because it is the strongest over-the-counter treatment available for this condition and not only heals but soothes the areas.
To help dry up oozing blisters, apply calamine lotion, milk of magnesia, or a baking soda paste. You might get some relief in an oatmeal bath (the product can be purchased at a drug store). Whatever the case, avoid Caladryl or any topical Benadryl lotion as these can cause allergic reactions frequently that may make it seem as if the poison ivy is getting worse, when it is the treatment that is causing the reaction.
Can I infect others who might touch the blisters?
The blisters are not a problem, except for you. Someone would have to touch urushiol to become infected. And this can happen if you still have the toxic oil (you can't see it) under your fingernails or on shoes or coats or clothing. So make sure you wash these items in hot water.
Another danger is a dog who might have brushed through some poison ivy patches. Talk with your veterinarian about what to do for your dog, and wear gloves if you give the dog a bath.
Most people know about leaves of three, leave them be, but the real problem with poison ivy, poison oak, and poison sumac occurs after the leaves fall off. The vines left behind are still actively able to produce itchy allergic rashes when touched.
If you feel inclined to burn the area of your yard or a brush pile that might contain toxic plants, stay clear of the smoke. It too can cause harmful reactions if you breathe the smoke.
How long does the rash last?
Depending on how severe your exposure, the rash could begin quickly, within hours of touching the plants, and the rash and itching might last for weeks.
Take measures to keep yourself comfortable. See a doctor if you have a fever or infection or if the rash is on your face, near your eyes, or on your genitals.
Will the rash leave a scar?
Generally, if you leave it alone, the rash won't cause a scar, but if you itch uncontrollably and cause deep gouges, you can certainly cause scarring. So be careful when itching any rash to avoid deep areas of skin damage.
Make an appointment today
Contact Skin Specialists in Omaha, Nebraska for an evaluation for treatment of your skin condition.