Omaha Rosacea Treatment
Get the optimal rosacea treatment for your skin type.
Rosacea need not be a problem in your daily life. We can help you to find a unique solution and a regimen of skin care products that will work hand-in-hand with medications for visible improvements in your skin health.
Although rosacea can be difficult to diagnose and manage without proper treatment, Dr. Joel Schlessinger, a board-certified dermatologist at Skin Specialists PC in Omaha, Nebraska, can assess your skin care concerns and provide treatment options for rosacea. He has the medical background to look at all aspects of this condition and work for innovative solutions that will result in improvement.
Rosacea is an inflammatory, long-lasting skin condition that affects an estimated 16 million Americans. Symptoms might include red, flushed skin, broken blood vessels, inflammation and red bumps that look like a breakout of acne (and sometimes rosacea is called or confused with adult acne).
Dr. Schlessinger is an expert in the treatment for rosacea and uses medicines, lasers and dietary adjustments to decrease signs of rosacea. Also, he offers unique products at LovelySkin.com for this condition that can improve the redness dramatically or lead to improvements.
What is rosacea?
With rosacea (pronounced rose-AY-sha), small blood capillaries come to the surface of the skin, where they remain and appear red or "blushed." This can cause redness and enlarge your pores.
Someone with rosacea may notice that they have a tendency to flush or blush easily, and sometimes this is an early sign of the skin condition. Rosacea affects both men and women generally after age 30. Sometimes this condition can appear very quickly. Often it seems to come and go until it reaches a steady pattern of redness.
As rosacea progresses, the redness that starts often in the center of the face may gradually involve the cheeks, forehead, chin and nose. It also may spread to the ears, chest, back and even the eyes.
There are several forms of rosacea, including papulo-pustular rosacea, blushing rosacea, telangiectatic (blood vessel) rosacea, dietary/alcohol rosacea, rhinophymatous rosacea (the type that causes a bulbous nose somewhat like comedian W.C. Fields) and mite-infestation-related rosacea. Sometimes, these are seen in combination or alone, and occasionally they change over time from one type to another.
Some of Dr. Schlessinger's patients experience burning, stinging and itching associated with their rosacea. Others may have dry flaky skin, but Dr. Schlessinger is an expert in all types as he has studied this condition extensively through his work in clinical studies. He has the expertise to diagnose whether this is truly rosacea or another condition that might cause a similar breakout.
Are you eligible to participate in a clinical trial to test new rosacea treatment options?
At the Advanced Skin Research Center located with Skin Specialists in Omaha, Nebraska, Dr. Schlessinger and his clinical staff conduct research studies to test new medications for skin conditions.
He has conducted clinical research involving medications and treatments for rosacea, and clinical studies are ongoing in the clinic on rosacea. These innovative treatments are only available in a select group of clinics in the U.S. and available at no cost to study participants.
If you are eligible to participate in a clinical trial of new medications, Dr. Schlessinger can advise you when he sees you during an appointment. Contact us today to learn more!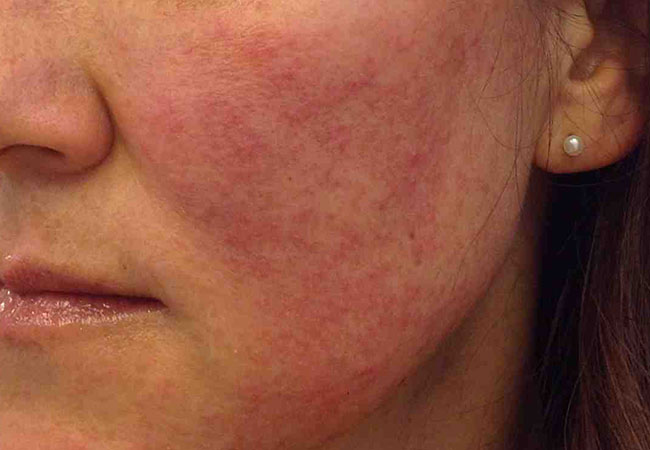 What causes rosacea?
Some of Dr. Schlessinger's patients discover that certain foods or environmental factors might trigger a flare of their rosacea. For example, spicy foods, hot drinks especially those containing caffeine, and possibly red wine might cause an uncomfortable outbreak of rosacea. Even wind and sun can bring back the redness and itchy skin.
It's sometimes useful to keep a journal of what you are doing and eating or drinking when a flare-up occurs and bring it to your appointment with Dr. Schlessinger. This would help in the diagnosis and, of course, help you avoid these triggers entirely. Different people with rosacea have different triggers.
Because of his specialized knowledge in working with rosacea patients to not only treat the condition but also to identify and recommend a unique skin care plan (skills not commonly found among dermatologists), he can assist with a complete skin care system that's less irritating and more soothing to sensitive skin. Patients appreciate his ability to understand their distinct needs for skin care products and how they often struggle to find helpful products in the department store or drug store.
Rosacea may not go away entirely, but it can be controlled.
Sometimes the treatment for rosacea is simple. In some patients, rosacea is caused by a bacteria called H. pylori (the same bacteria that cause ulcers in your stomach) or skin mites. Dr. Schlessinger has also studied rosacea triggered by dust mites that live naturally in our environment. Some patients are more sensitive to the mites known as Demodex. So once your particular condition and its causes have been diagnosed, this sensitivity can be treated.
What are some common rosacea treatment options?
This condition rarely reverses itself and may come and go for years. With early treatment for rosacea, though, you can control this condition successfully.
Dr. Schlessinger at Skin Specialists, voted Omaha's best dermatologist year after year, is an expert in the treatment of rosacea. He offers laser treatments, skin care regimens, and medications to minimize the signs of rosacea and reduce redness and flushing.
He can perform IPL (Intense Pulsed Light) Rejuvenation laser treatments in his Omaha clinic at Skin Specialists. IPL treatment for rosacea gently delivers precise amounts of intense pulsed light through the skin's surface to treat rosacea on the face, neck and chest.
LovelySkin.com also offers a broad range of rosacea skin care lines and makeup for rosacea to soothe inflamed skin, manage flare-ups and cover redness.
In addition, Dr. Schlessinger has been on the forefront of research through his clinical research activities. His research clinic has studied and been able to offer the newest forms of treatments to his Omaha patients - sometimes many years before they become generally available to the public. Often, his research facility has ongoing trials for new medications for rosacea.
Various other products on LovelySkin.com for treatment of this condition can be used in conjunction with the procedures and medications Dr. Schlessinger may prescribe at the time of your visit.
Shop Redness & Rosacea Acne Products
Rosacea Treatment Before and After Photos
Questions & Answers About Rosacea
Dr. Schlessinger invites you to email him for answers to your questions about rosacea.
How can I prevent rosacea?
There isn't any way to prevent rosacea, but the most important thing is to diagnose it and treat it as quickly because early treatment can keep rosacea from appearing. We have many new treatments for rosacea - such as the ones we use for dust mite sensitivities - that can make a significant difference in the outcome of rosacea.
Did I inherit rosacea?
While rosacea isn't always inherited, it does tend to run in families. What likely is running in many families is the dust mite version and the tendency to blush. Keep in mind that there are many forms of rosacea, and because it is not always an exact diagnosis, it is important to rule out other conditions that can be treated before knowing that you may have a less effectively treated type of rosacea.
What is the most common form of rosacea that is treatable?
Generally, in our clinic at Skin Specialists, we see many patients with sensitivities to products that contribute to rosacea redness. You may be sensitive to certain makeups or cleansers you have purchased. You may also be sensitive to certain foods. These triggers can be avoided, once they are identified.
Many of the common skin care products such as cleansers and foundations are simply too irritating for my patients with sensitive skin caused by rosacea. We specialize in finding skin care options for these individuals and usually can work to craft a helpful group of skin care products that won't cause a flare of redness, allergies or sensitivities.
Make an appointment today
Contact Skin Specialists in Omaha, Nebraska for an evaluation for treatment of your skin condition.