Omaha Skin Rash Treatment
What is this rash? What are these red spots on my skin? What is causing these red bumps all over my legs?
Sometimes a red rash or red skin could mean a more serious condition or sometimes it's just a simple rash from an allergic reaction that will go away as quickly as it appeared. You don't want to guess about what your rash may be or how serious it is.
Dr. Joel Schlessinger, a board-certified dermatologist, cosmetic surgeon and board-certified pediatrician at Skin Specialists in Omaha, Nebraska can assess your rash, whether it's just on one part of your body such as your face or hands, or all over and is red, dry, itchy, scaly or bumpy.
He has the medical background to consider every possibility, make the correct diagnosis, and work for solutions that will result in improvement in your red rash, your baby's rash or an allergic rash.
What causes rashes on skin? A look at different types of skin rashes.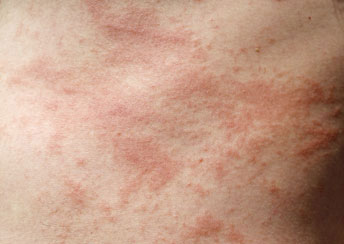 Your skin is the barrier between you and your environment. It's your first line of defense. So it's important to pay attention to what your skin is telling you in the form of rashes and other skin conditions. The rash is a sign that something is going on.
The obvious common skin rashes you can think of are diaper rash that babies get. Hikers and campers and gardeners come in contact with poison ivy. Bedbugs can bite and cause itchy red bumps. You could break out in an allergic reaction from medications, clothing washed in new laundry soap, or even from stress - among many other causes of skin irritation.
Some skin conditions create a rash or red skin, such as eczema, psoriasis, and rosacea. Click on the links here to read much more about each of these skin conditions in particular, and look at pictures of skin rashes posted on this page.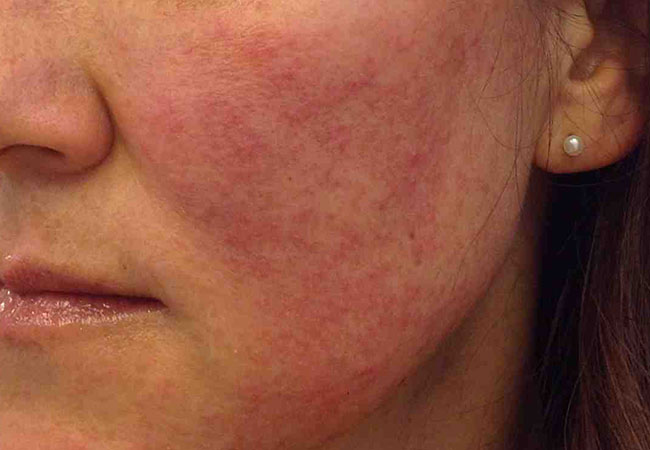 Skin cancer can often be red. Some moles are reddish. Sunburn, of course, creates red skin and some sun overexposure can cause a red rash. Shingles starts with painful red bumps. Ingrown hairs can create a patch of red rash-like bumps.
Those new earrings can cause a red rash on your ears from your skin's allergic reaction to the metals in the posts and may be a form of atopic dermatitis or eczema.
Some infections such as cellulitis look like a spreading red rash. This is a very serious infectious condition that requires immediate medical care.
Food allergies can cause you to develop hives that look like mosquito bites. Insect bites such as bee stings can make your skin red.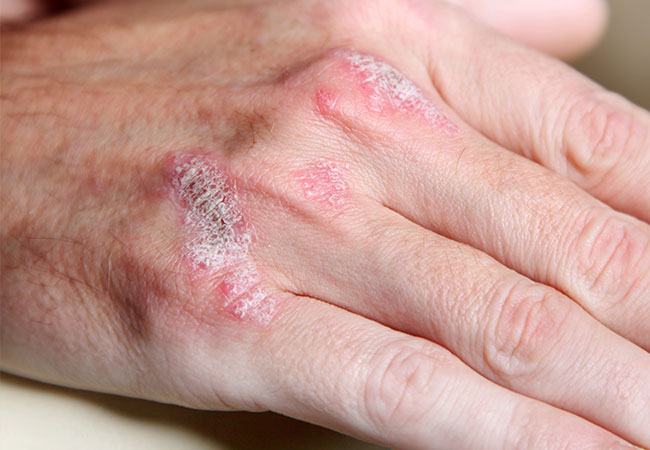 These are all concerns that Dr. Schlessinger will consider, among thousands of other causes for different types of skin rashes. Years of training are necessary to determine what might be responsible for causing a rash on your body.
You can spend a lot of time looking at scary pictures of skin rashes on the Internet. But unless you know exactly what's causing your red skin or red rash - and whether you have itching, dryness or other symptoms - you will want to get it checked by Dr. Schlessinger.
Are you eligible to participate in a clinical trial to test new skin rash treatment options?
At the Advanced Skin Research Center located with Skin Specialists in Omaha, Nebraksa, Dr. Schlessinger and his clinical staff conduct research studies to test new medications for skin conditions.
He has conducted clinical research involving medications and treatments for different types of skin rashes, and clinical studies are ongoing in the clinic on rashes. These innovative treatments (and often expensive medications) are only available in a select group of clinics in the U.S. and available at no cost to study participants.
If you are eligible to participate in a clinical trial of new medications, Dr. Schlessinger can advise you when he sees you during an appointment. Contact us today to learn more!
What is the treatment for rashes on skin?
Dr. Schlessinger at Skin Specialists, voted Omaha's best dermatologist year after year, sees patients in his clinic every day with mystery rashes. He can make the diagnosis often by just looking at the rash and asking questions. He'll ask about medicines you take, foods you may have eaten or where you have been or whether there is something new in your environment such as new skin care products or makeup.
Common skin rashes are often not serious, but depending on the reason for your rash, Dr. Schlessinger can prescribe medications and suggest products for your specific condition.
Treatment can help you control your skin rash and any accompanying redness, itching or dryness. Skin Specialists has many options because what works for one person may not help another. Dr. Schlessinger will work with you to find a good solution for your condition.
Various specialty products on LovelySkin.com can be used in conjunction with the medications Dr. Schlessinger may prescribe at the time of your visit. He can recommend the best products for your skin's sensitivity.
Make an appointment today
Contact Skin Specialists in Omaha, Nebraska for an evaluation for treatment of your skin condition.