Tumescent Liposuction Omaha
Discover why tumescent liposuction is a safer, better alternative.
For many women and men, tumescent liposuction is a dream come true. Skin Specialists in Omaha, Nebraska, under the guidance of Dr. Joel Schlessinger, board-certified dermatologist and cosmetic surgeon, stands alone as the most experienced clinic and surgeon in the region for tumescent liposuction and the SmartLipo procedures.
Here are the basics you need to know:
Liposuction surgery is performed to actually remove unwanted localized deposits of fat cells from the body.
The procedure is meant for body contouring. It is not a treatment for obesity.
There is a difference between "traditional liposuction" performed by plastic surgeons and tumescent/SmartLipo performed by Dr. Schlessinger.
Significant safety concerns with traditional liposuction are reduced with this kind of liposuction.
There is a difference between who performs your liposuction - experience and method counts!
Earn $250 off your package treatment when you purchase 4 cycles of CoolSculpting or more.
Purchase a package of 4 CoolSculpting cycles and instantly receive $250 off!
Offer valid until April 30, 2021.
Who is a candidate for tumescent liposuction?
If you've tried exercise and dieting and still have areas on your body that won't respond, you should consider the newest method of liposuction, SmartLipo, which is performed by Dr. Schlessinger along with tumescent liposuction, which was invented by a dermatologist. Before you select a physician and undergo the procedure, it's important for you to know that all liposuction - even tumescent liposuction - is not alike.
During the tumescent part of the procedure, a tiny suction tube about the size of a sippy straw is inserted through a small incision placed in an inconspicuous location on the skin. With a high pressure vacuum, fat cells are extracted through this tube. The result is a resculpting of bulging areas into more attractive contours.
Liposuction is not a treatment for cellulite, although many patients do notice a change in the appearance of cellulite after fat cells are removed and when used in conjunction with another technique provided at Skin Specialists: VelaShape.
What is tumescent liposuction?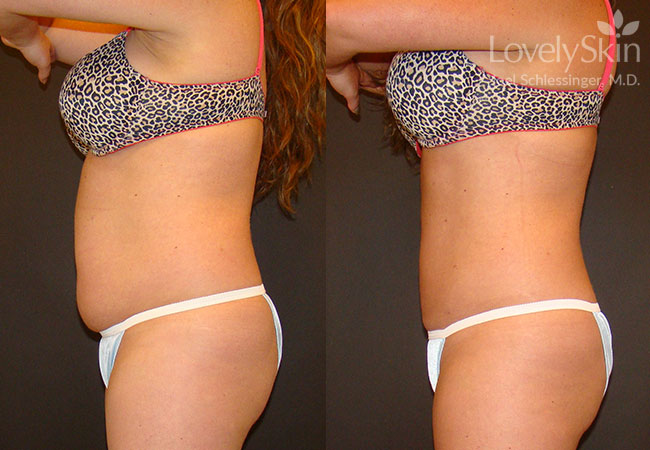 With the tumescent technique, large volumes of saline (sterile salt water) solution, local anesthesia, and dilute epinephrine are infused into the fatty area being treated to cause swelling and anesthesia. This enables Dr. Schlessinger to maneuver a small instrument called a cannula, connected to a vacuum machine, to the unwanted fat areas.
Excess fat is removed through tiny openings with a very small stainless steel cannula. The cannula is connected to a powerful suction pump and inserted through these openings. Because the cannulas are so small, there is virtually no discomfort, recovery time is lessened, and a better cosmetic result can be achieved. Additionally, Dr. Schlessinger has the finesse to get out just the right amount of fat so your results look good.
Why should you consider tumescent liposuction at Skin Specialists?
Dr. Joel Schlessinger studied this special liposuction with the dermatologist who developed it more than 10 years ago and has performed thousands of procedures - making him one of the most experienced tumescent liposuction surgeons in the country.
The new SmartLipo tumescent technique, as practiced at Skin Specialists in Omaha, Nebraska, offers these significant improvements over earlier methods.
It is considered the safest method. Only a local anesthetic is necessary. This allows for a comfortable and relaxed atmosphere during the entire procedure and a quicker recovery.
It allows for the removal of larger amounts of fat with smoother, more natural results.
There is virtually no blood loss or bruising. No other method can claim this.
It has proven to be less painful, with minimized post-operative recovery time. Most patients are back to work within one or two days.
Recovery garments are comfortable and only need to be worn one month, as opposed to the 6 weeks or more required by other methods of liposuction.
Many times this type of liposuction can be done instead of a "tummy tuck." Fortunately the cost is much less and recovery time is much quicker than the tummy tuck.
Does everyone need SmartLipo?
While many of our patients perform SmartLipo in conjunction with the tumescent liposuction that has been Dr. Schlessinger's hallmark treatment for more than 15 years, there are many patients who choose to undergo simple tumescent liposuction. This offers cost savings over the SmartLipo method, but there is also a bit less fat obtained when the SmartLipo isn't performed alongside the tumescent method.
...there are many patients who choose to undergo simple tumescent liposuction. This offers cost savings over the SmartLipo method...
SmartLipo typically leads to less bruising and more retraction of the skin after surgery. All these questions and concerns will be addressed at the time of your consultation with Dr. Schlessinger, and he will give you his advice as to which method may be the best for you.
Which areas can be improved with liposuction?
The most frequently treated areas in women are the abdomen, hips, thighs, knees, back area, chin, and neck. In men, it's the area just above the waist, the abdomen, chest, flanks, and the neck and chin area.
Dr. Schlessinger uses a laser liposuction technique called SmartLipo or the standard tumescent method for certain areas. At the time of the consult, Dr. Schlessinger will make a decision as to which is best for you.
Tumescent Liposuction Before and After Photos
Before and after combined SmartLipo and Tumescent Lipo treatments on the abdomen.

Before and after combined SmartLipo and Tumescent Lipo treatments on the flanks.

Before and after combined SmartLipo and Tumescent Lipo treatments on the flanks and hips.
Make an appointment today
Contact Skin Specialists in Omaha, Nebraska for an evaluation for treatment of your skin condition.
What you need to know before the procedure
Wherever you have your procedure done, you need to discuss these items with your surgeon and insist on expertise and experience:
The surgeon's training. Dr. Schlessinger is a board-certified dermatologist and cosmetic surgeon in Omaha, Nebraska who is well trained in the procedure by the dermatologist who invented this special type of liposuction and has performed thousands of these cases with expertise. His laser credentials are sterling as well, having introduced laser resurfacing to Omaha and the United States in 1994, while introducing laser hair removal to Omaha and the United States in 1997, having performed the FDA qualifying trials for this now universal procedure. Additionally, he was the only investigator in the U.S. who was invited to participate in 3 new Botox competitor product trials.
The type of operating room and whether it is state accredited. Liposuction is performed in the safety and comfort of the Skin Specialists state-accredited ambulatory surgical center in Omaha, Nebraska.
Sedation - is it necessary? There is no need for general anesthesia. Patients are comfortably cared for during the procedure. If you have to have anesthesia with your liposuction, you are NOT having the true tumescent method performed.
The anesthetic that will be used. Local anesthesia is used and patients experience the procedure virtually pain free. Again, if you have any more than local anesthetic, it usually isn't necessary with the true tumescent or SmartLipo method that Dr. Schlessinger uses.
The size of the cannulas used to extract excess fat. Dr. Schlessinger uses cannulas that are quite small with great success. Larger cannulas mean larger scars and less finesse/worse results than the smaller ones that Dr. Schlessinger uses. While it takes a little more time to do this, Dr. Schlessinger prefers this as it gets him the best results, and he is very willing to take the extra time for the outstanding results he can deliver in this manner. Typically, Dr. Schlessinger performs only one liposuction procedure in a day - that's because he wants to devote the time and attention to just YOU! Compare that to the "hospital" experience with rows of people lined up for procedures and you can start to realize the difference in Dr. Schlessinger's technique and set up.
The length of time needed to recover. Because of Dr. Schlessinger's expertise, his patients are back to work and daily activities with minimal recovery time, usually within a day or so. If your surgeon states you won't be back to work and play within a day or so, you aren't getting the best method there is.
Complication rates. Dr. Schlessinger has performed this type of liposuction for more than 15 years because this is the method that results in the least amount of complications. In fact, there are much fewer complications with this method than the regular/traditional method that plastic surgeons usually perform.
What happens during the procedure?
During this procedure, Dr. Schlessinger will first mark the areas to be suctioned. At that time, you will then be taken to the state-certified ambulatory surgical center and a trained nurse will numb the areas to be treated. This will take about an hour or two, but during this time you will be able to watch TV or listen to music at your leisure. After this time, you will have a short time to relax and let the numbing take effect.
Dr. Schlessinger will then do the SmartLipo part if you are doing that procedure in addition to the tumescent liposuction. This part takes about 30 minutes, and then Dr. Schlessinger will proceed to perform the tumescent liposuction part, which involves suctioning the additional fat. This part takes about 45 minutes. Then you will be taken to the recovery room to relax and eat the lunch of your choice prior to being discharged to a friend or family member, who will take you home to rest for the remainder of the day.
What happens after the procedure?
You will go home after the procedure and rest for a few hours, after which you may gradually increase your activity as tolerated. After 1 to 5 days you may resume normal activities. Typically, patients go back to work after the second day post operative.
You will need to wear a snug elastic dressing, girdle, or body stocking over the treated area to aid healing. These are provided free of charge for patients at Skin Specialists. Dr. Schlessinger purchases these garments from the inventor of the tumescent technique, Dr. Jeffry Klein, because they are the best garments possible. Some patients prefer to have a second pair on hand, and this extra pair may be purchased for a small extra charge if so desired at the time of surgery.
You have had a surgical procedure. So bring someone with you to drive you home after the procedure. Even though you may feel up to it, do not drive yourself.
What are possible side effects?
Typically, the most common side effects are swelling, but this is normal. Bruising rarely occurs or allergy to medications. Extremely rare cases of puncture of areas under the fat have been reported as well as other complications (fat embolus, infection, fluid collection), but these will be discussed at the time of the consultation in depth.
Questions & Answers About tumescent liposuction
Dr. Schlessinger will answer your questions on tumescent liposuction. If you have a question, please email him.
Is the fat removal permanent?
Yes! It seems that after puberty, we do not create new fat cells. When you gain weight, you expand the fat cells that you have. Tumescent liposuction permanently removes fat cells to improve your body's contour. Should you gain weight after liposuction, it goes to the fat cells that remain in your body. The localized fatty deposits that existed prior to liposuction can no longer balloon up out of proportion to the surrounding areas.
What will my skin look like?
Liposuction will improve your ability to wear and look good in clothes, but dimples, ripples, and stretch marks will not improve and sometimes are even accentuated following liposuction.
Your new figure will be similar to what you would expect if you could lose an equal amount of localized fat through diet and exercise alone. The use of smaller cannulas allows the fibrous connections between your skin and body to remain. These connections will contract over time. As a result, excessive skin folds are so rare that many patients avoid the necessity for surgical skin excision such as the tummy tuck by having excellent results with liposuction alone. Sometimes a small tuck can be done to improve skin after liposuction.
How many dress sizes will I lose after tumescent liposuction?
There is no way to know, and Dr. Schlessinger suggests patients not go into the procedure hoping for dress size changes. Tumescent liposuction isn't something that can definitively deliver dress size changes. More often, patients see a change in shape. You generally do not lose pounds in this procedure (if so, it may only be a pound or so).
For patients who seek weight loss, the best approach is to use diet and exercise.
Which is better between tumescent liposuction and SmartLipo?
Both techniques are good if performed by the right medical professional. Dr. Schlessinger performs both tumescent liposuction and SmartLipo using the laser. The issue is to choose a skilled surgeon to perform your procedure. It all comes down to experience. If your surgeon isn't skillful enough or doesn't have good judgment, you can end up having poor results whichever method is used.
Most plastic surgeons do not offer tumescent liposuction; whereas, most dermatologists do as it was invented by a dermatologist and offers the quickest recovery possible with the least risk. For example, if you are put under general anesthesia and are asleep or have to go to a hospital for your surgery, you are not getting true tumescent liposuction. Additionally, if you have significant bruising or are told you will have prolonged recovery periods that are more than about 24 hours, you aren't getting tumescent liposuction.
The beauty of tumescent along with SmartLipo is that you get the best of both worlds.
Is tumescent liposuction FDA approved for skin tightening?
Dr. Schlessinger does not recommend tumescent liposuction for skin tightening. Tumescent liposuction is useful for removing fat, but it does not help improve the appearance of loose skin. If you are truly looking for only skin tightening, it won't be that impressive. Many other options for skin tightening work better, are less expensive and have shorter recovery times, such as laser procedures.
Why won't tumescent liposuction work for visceral fat (fat under the muscle)?
Visceral fat develops in the abdomen below the muscle layer. Tumescent liposuction works on the subcutaneous fat, or the fat directly under skin. This procedure does not go below the muscle where visceral fat is located. Tumescent liposuction (as with all liposuction procedures) is good for only the fat that is above the muscle and easily reachable. The safety of this procedure is that it doesn't go below the muscle to areas where large blood vessels and organs are located. For now, the only way to reduce this area is diet and exercise!
What is the difference between tumescent liposuction and traditional liposuction?
Tumescent liposuction is a dermatologist-developed fat removal procedure that is regarded as the safest and most successful method of liposuction. Unlike traditional liposuction, tumescent liposuction is a safer, less invasive procedure that allows for the permanent removal of unwanted fat. During the procedure, large volumes of sterile salt water, local anesthesia and dilute epinephrine are introduced to the area being treated. Once the anesthesia has taken effect, temporary swelling occurs, and fat can easily be removed through tiny cannulas no bigger than a sippy straw.
Small pockets of fat can be removed from the abdomen, hips, thighs, knees, flanks, chest, chin and neck. The best candidates for tumescent liposuction include those patients who maintain a healthy diet and exercise routine, but who still struggle with stubborn fat in common problem areas. Tumescent liposuction is not designed to remove large volumes of fat and should not be used to jumpstart a weight loss regimen. It is also not approved for removing or reducing the appearance of cellulite.
Can I have liposuction even if I intend to get pregnant and have more children?
While liposuction can be done at any time of life, typically it is best to wait until after all childbirths in order to have liposuction. This doesn't mean that it can't be done before, but if you gain significant amounts of weight or even reasonable amounts, more fat may redistribute to the areas that have already been treated.
Many patients wish to address tummy fat they just can't seem to lose after having their babies. A tummy tuck (abdominoplasty) leaves most women with a terrible scar, while SmartLipo done by the tumescent method is nearly scarless. It pays to consult a dermatologist or cosmetic surgeon to discuss this procedure and your needs.
While plastic surgeons will always encourage a tummy tuck, the dirty little secret is that oftentimes a well-done tumescent liposuction with or without SmartLipo can avoid the horrible scar, the long recovery time and the pain involved in a tummy tuck.
Tummy tucks have a cute name, but the reality is that they are quite expensive and often aren't even necessary.
How long will the results for tumescent liposuction last?
Results can vary. Tumescent liposuction, just the same as regular liposuction, involves suctioning of fat from areas where excess accumulation has occurred. Whether this procedure will have short-term results or long-term results depends entirely on how you diet afterward. Dr. Schlessinger has seen many patients who never again need any help in the areas treated, while others who had poor habits after the surgery needed extra procedures within a year or so. Whatever the case, it is unlikely that the same amount of fat will re-accumulate in the exact same areas.
What is more concerning is that the areas where the liposuction was performed will not gain fat, but other areas will, creating the appearance of an apple core. Dr. Schlessinger always encourages his patients to prepare for a healthy life after liposuction and make sure they are fully committed before undergoing this expensive and important procedure.
Can tumescent liposuction be used if you are overweight?
Tumescent liposuction isn't a method of weight loss and if you are doing it for that, you're wasting your money. Liposuction typically won't result in any weight loss. Do not consider this procedure to even "jump-start" a weight loss program. You will be disappointed.
The problem is that if you aren't motivated prior to surgery, you probably won't be after surgery. Dr. Schlessinger recommends to these patients that they go back to diet and exercise and make sure they can lose weight on their own. If they can get within 10 percent of their goal weight and still have areas that need improvement, then tumescent liposuction is an option.
Do the bumps from tumescent liposuction go away?
Yes, it should if the bump is just swelling from fluid. During the healing process, you may develop an infection. If so, see a doctor immediately. Sometimes you may develop a collection of fluid called a seroma. Seromas typically can grow and are not very hard, but if this doesn't go away, that may be a possibility that needs to be reviewed by your surgeon.
When can a patient return to work?
Recovery from SmartLipo depends on type of anesthetic used. While many physicians try to tell patients it is all about the SmartLipo, here is the secret: It's about the anesthetic that is used prior to doing the procedure. Tumescent liposuction, invented by a dermatologist, is the reason that dermatologists typically have patients up and about the day of the procedure and the reason that many of Dr. Schlessinger's patients go to work the next day or two after surgery.
If your physician tells you the recovery will take more than a day, the surgeon is likely not doing the tumescent method, and you are going to have extra bruising and much more risk from your procedure. Additionally, you are probably going to have a bit more lumpiness after the procedure as well.
It pays to ask questions prior to your surgery or you will be bruised, tender and out of work for longer than necessary if you don't do the right method.
Make an appointment today
Contact Skin Specialists in Omaha, Nebraska for an evaluation for treatment of your skin condition.