Dysport™ vs. BOTOX®
Longer lasting, quicker to take effect, and less expensive than BOTOX® - that's Dysport™ - an in-office treatment for unwanted wrinkles.
Board-certified dermatologist, Joel Schlessinger, M.D., of Skin Specialists and LovelySkin.com was privileged to conduct the largest ongoing clinical trial of this new product in his clinical research center in Omaha, Nebraska. Having the most experience with Dysport™ of any cosmetic surgeon in the nation, Dr. Schlessinger is the natural choice to go to for this new wrinkle relaxer.
New Patient Special - Save up to $300!
Receive $200 off fillers and $100 off Botox.
This offer cannot be used in conjunction with other offers. Cosmetic specials are only valid if the treatment is performed on the same day as the consultation.
What is Dysport™?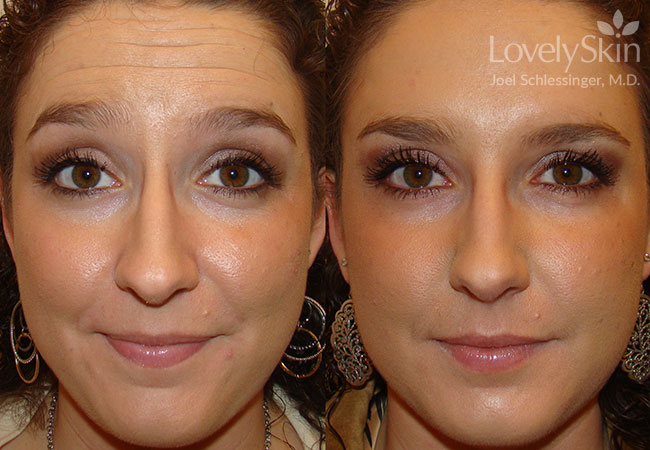 Dysport™ is a newly FDA-approved wrinkle relaxer. From frown lines to crow's feet, it can lift your spirits and improve your wrinkles at the same time. With a few tiny injections Dysport™ will take effect over a period of days to banish frown lines and many other telltale signs of aging.
Dysport™ (pronounced DIS-port) is a new form of botulinum toxin A, similar to Botox, but slightly different in several ways. It takes effect quicker and lasts longer and, for the time being, is priced at a very attractive cost to the consumer.
What is Dysport™ used for?
Dysport™ is used to smooth frown lines and wrinkles between the eyebrows and on the forehead, known as glabellar lines. Dysport™ can also smooth crow's feet around the eyes.
Dysport™ is available only at your doctor's office and is new, so few dermatologists and cosmetic surgeons have any significant experience with it, although Dr. Schlessinger is unique in that regard. Given Dr. Schlessinger's extensive experience with Dysport™, it isn't surprising that he is one of the largest users of it in his clinic in the country, sometimes with amazing results
From frown lines to crow's feet, it can lift your spirits and improve your wrinkles at the same time.
How does Dysport™ work?
Frown lines or wrinkles form because the muscles that control your facial expressions are used often, sometimes resulting in a habit. When you frown or smile or laugh, those facial muscles tighten over and over. When Dysport™ is injected, the nerves that control facial expression are inactivated, which allows the muscles to relax for up to 4 months.
What results can I expect?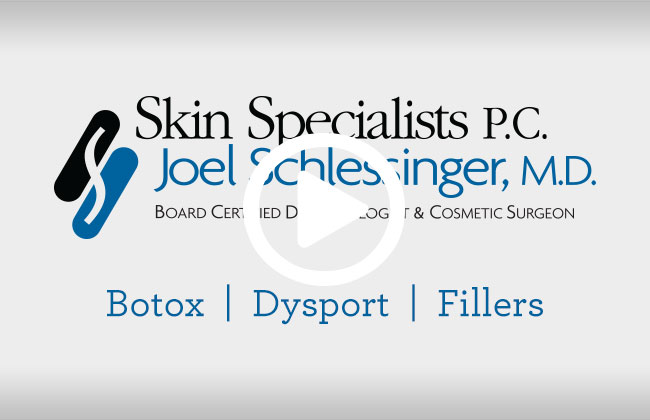 Talk with Dr. Schlessinger prior to your procedure about your goals for using Dysport™ and feel free to ask any other questions regarding cosmetic procedures. Dr. Schlessinger and his patient coordinator are very willing to answer questions and want to hear from you if you have any.
If you want to reduce the appearance of wrinkles around your eyes and on your forehead, Dypsort may be an outstanding choice. Your results will depend on your overall goal and suitability. Dr. Schlessinger is very good about letting patients know if they are good candidates for treatments.
After the treatment, you will see a relaxing of the frown lines and wrinkles between your eyebrows (the "11" mark as some people refer to it) and on your forehead in anywhere from 3 to 4 days. Sometimes it can take up to a week for the full treatment to take effect.
In Dr. Schlessinger's patients, and during clinical trials, he saw results as quickly as 2 to 3 days in most of his patients. The national study that he participated in showed Dysport™ lasts longer (up to 4 months) than its competitor Botox (which generally lasts about 3 months).
Dysport™ Before and After Photos
Before and after Dysport.

Before and after Dysport.

Before and after Dysport, Perlane, Restylane.
View Full Gallery
New Patient Special - Save up to $300!
Receive $200 off fillers and $100 off Botox.
This offer cannot be used in conjunction with other offers. Cosmetic specials are only valid if the treatment is performed on the same day as the consultation.
A Dysport™ procedure
The patient coordinator will show you around the office to acquaint you with the facility and where you will have your treatment.
You will have a consultation in the comfortable and high-tech office of the patient coordinator, meeting with Dr. Schlessinger to answer any questions you might have.
The doctor's office staff will take photographs to show you where your wrinkles may be improved and relate options to you. These will be used to compare with the results 2 weeks later at your no-charge follow-up appointment.
Your facial area and planned site for the injections will be cleaned and a topical numbing solution will be applied.
Dr. Schlessinger will perform the injections. In Dr. Schlessinger's Midwest office, the only individual who works on you is the doctor - no nurses or other staff members administer Botox, Dysport™, or fillers as is the practice in many other offices. Dr. Schlessinger is very proud of the results he obtains, and this is one of the reasons he has been voted Best Cosmetic Surgeon in Omaha, Nebraska for 9 years in a row.
The actual injections are quick and nearly painless with the use of numbing topically and Dr. Schlessinger's excellent technique.
What other cosmetic treatments are similar?
Botox, a registered brand name for botulinum toxin A produced by the company Allergan, has been alone in the market for this type of product until the introduction of Dysport™. Medicis is the company that makes Dysport™. Only Dysport™ and Botox have been approved by the FDA.
Having treated over 1,500 patients with Dysport™ during clinical trials in his private practice, Dr. Schlessinger says Dysport™ lasts longer than Botox, in general. "Where Dysport™ is going to perform particularly well is the upper forehead area," according to Dr. Schlessinger. "I think it will take care of those pesky wrinkles on the upper forehead that sometimes didn't get treated well with Botox. On the other hand, I am still using quite a bit of Botox, and many patients will continue to enjoy Botox for many years. It all comes down to having new and exciting choices and competition. This drives prices down and allows more patients to access these great treatments!"
The main new forms of botulinum toxin currently in Phase III clinical trials are PurTox (Mentor Corporation) and NT201 (Merz Pharmaceuticals). Also, there are other forms of toxins from China, Brazil, and South Korea that are being tested in countries other than the United States.
Other products can reduce wrinkles in additional areas of your face. See the discussion on this Web site on Restylane®, JUVEDERM® and BOTOX®.
Dr. Joel Schlessinger is a board-certified dermatologist and cosmetic surgeon in private practice in Omaha, Nebraska. He is President Emeritus of the American Society of Cosmetic Dermatology and Aesthetic Surgery.
Are there side effects?
The most common side effects are these (you may have none of these side effects):
Nose and throat irritation
Headache
Skin reaction at the injection site
Upper respiratory tract infection (like a cold)
Eyelid swelling
Eyelid drooping
Sinus inflammation
Nausea
The Medical Director of LovelySkin.com and Skin Specialists, PC, Dr. Joel Schlessinger says, "The one drawback of Dysport™ is that it acts a little more finicky than Botox, and, for that reason, it may cause problems in untrained hands. This means that it is probably best to go to someone who has good experience (not a Medispa or someone who is just learning to do these procedures)."
Dysport™ shouldn't be used if you are pregnant or breast feeding and should be avoided if you have a history of myasthenia gravis or other muscular disorders. While it contains lactose, it isn't absorbed by the GI tract so it is okay to use even if you are lactose intolerant.
Who can have this procedure? Who cannot?
Dysport™ is approved by the FDA for adults younger than 65, but that doesn't mean that patients older than 65 can't use it. Talk with Dr. Schlessinger during your consultation or your doctor about whether this procedure is right for you.
If you have been treated for muscle spasms or have underlying medical conditions that would make some of the side effects more likely, notify your doctor. This treatment may not be right for you.
Dysport™ contains both lactose and albumin, but according to Dr. Joel Schlessinger, "It is unlikely that the lactose in the Dysport™ will result in any problems for individuals who are lactose intolerant due to the fact that lactose intolerance is specific for gastrointestinal enzymes and isn't an allergy per se."
Where can I have this procedure performed?
Dr. Joel Schlessinger participated in the clinical trials of Dysport™ and has the largest clinical experience with this treatment of any dermatologist or cosmetic surgeon in the United States. Period. In his research practice, he had the highest number of patients on Dysport™ prior to its approval than any other clinic in the U.S., having injected over 1,500 patients with Dysport™ over the past 5 years.
If you live in the Nebraska area, Dr. Schlessinger would welcome your call at 402-334-7546 for an appointment to discuss treatment with Dysport™. If you live elsewhere, consult with a dermatologist who specializes in cosmetic dermatology and does his or her own treatments rather than handing them off to a nurse or non-MD.
Congratulations on considering this exciting procedure!
You are in good hands when you come to Dr. Schlessinger's Midwest office and you will feel welcomed and comfortable. We look forward to meeting you!
Save $50 to $100 on Jeuveau, Botox and Dysport!
Receive $50 off when you purchase 30 units or less of Jeuveau, Botox or Dysport. Purchase 40 units or more and receive $100 off instead!
Offer valid until May 31, 2021.