Sunburn Treatment in Omaha
Discover more about simple sunburn relief, severe sunburn treatment and the long term effects of sunburn.
Sometimes a day at the beach can turn painful if you find yourself with a sunburn.
In addition to the short-term pain of red skin and possible peeling, the longer term effects can become serious. Severe sunburn and prolonged exposure to the sun's ultraviolet rays may cause skin cancer, but these harmful effects may take up to 20 years to be evident.
Not only sunshine but tanning beds and booths can overexpose your skin to dangerous types of ultraviolet light. Sunburn is the result of overdoing your exposure.
Dr. Joel Schlessinger, a board-certified dermatologist at Skin Specialists in Omaha, can assess your skin care concerns and provide sunburn treatment options for severe cases. He has the medical background to look at all aspects of this condition and work for solutions that will result in sunburn relief.
He is also skilled in assessing all types of skin cancers and suspicious moles and other danger signs that sunburn may have turned into more serious skin issues.
What is sunburn?
Consider that your skin, the largest organ in the body, is just 8 minutes away from the sun. Damaging ultraviolet rays travel the 93 million miles in 8 minutes to inflict their harm directly on your skin.
Everyone has some skin pigment called melanin that is protective. Melanin grows darker to create a "tan" (and think of tan, as in tanned leather) when exposed to the sun. Sunburn is a burn. Your skin is not able to fend off the harmful rays of the sun. You are burning the outside layers of skin.
Lighter skinned people have less melanin and are more vulnerable to harmful sun rays and sunburn more quickly (in as little as 10 to 15 minutes) than someone with naturally darker skin.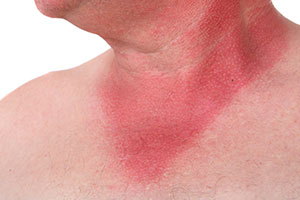 Signs of sunburn
You may not feel the full effects of sunburn immediately. Slight sunburn may be seen as red skin that feels warm and tender. More severe symptoms can be blisters that develop and skin peeling over the next day or two.
Severe sunburn can give you a fever or chills and a rash called sun poisoning.
Sunburns are painful, and skin damage can be permanent.
If you are feeling the pain of sunburn while you're still in the sun, the damage is already done. There's no reversing it, but you can minimize the results by taking an aspirin or Advil (ibuprofen) as soon as possible and applying aloe vera early in the process of healing. Anyone with any skin type or pigment can burn, so make sure you protect yourself.
Children are especially at risk because they are more sensitive to the sun's burning rays.
Certain medications such as antibiotics (such as tetracycline, minocycline, doxycycline and sulfa drugs) can make you more sun sensitive to sunburn too.
New sunscreen labels
Preventing sunburn is as simple as covering up, staying out of the sun's harmful rays, and using sunscreen.
The job of sunscreen is to protect your skin when you choose to be outdoors in every season, not just summer. Using sunscreen also protects you from the harmful effects of sun rays that can lead to wrinkles and other signs of aging. Don't forget clothing, however, and make sure your clothing has UPF (ultraviolet protection factor) if you are going into significant sun.
Dr. Schlessinger has been following the revised FDA regulations about sunscreen. Here are some of the highlights to look for on sunscreen labels
Sunscreen. Sun protection products are called sunscreen, not sunblock (a term no longer used). Nothing can block the sun's harmful rays except staying out of the sun entirely.
Water resistant. No sunscreens are waterproof, so that word has been changed to water resistant. If the sunscreen is water resistant, you'll also see the designation 40 or 80 minutes, which is the amount of time it protects before you need to reapply. No sunscreens were ever waterproof or sweat proof anyway. And not all new sunscreens are water resistant. In times of extreme water exposure, don't trust in any sunscreen for more than 20 minutes. Reapply frequently!
Broad spectrum. Look for broad spectrum to be protected against UVA and UVB sun rays. The UVB (ultraviolet B) rays cause burning. The UVA rays can cause skin cancer and aging. Broad spectrum sunscreens protect against both types.
SPF. The sun protection factor is a measure of the strength of the sunscreen. Buy SPF 30 or higher, advises Dr. Schlessinger. The ratings range from SPF 15 to 50. Any formula over 50 is now called 50+. SPF 30 blocks 97% of the sun's rays. The higher SPFs block more of the sun's rays. No sunscreen can block 100%.
Expiration. Sunscreen formulas can expire and lose their effectiveness. Toss out any old lotions and creams.
What is the treatment for simple sunburn?
Simple home treatment for sunburn may be aloe vera and the FixMySkin 1% hydrocortisone healing balm. Take an aspirin or Advil (ibuprofen) because these will lessen the inflammation caused by sunburn (do not give aspirin to children).
What are some severe sunburn treatment options?
You may want to be seen in the emergency room or by Dr. Schlessinger for severe sunburn treatment if you have a fever or chills, rapid breathing, no thirst or extreme thirst, are not urinating, if pain is severe, if your eyes are sensitive to light, or if your blisters are painful and possibly infected.
Sunburns are painful, and skin damage can be permanent.
Although there are no great ways to reverse the long term effects of sunburn damage, Dr. Schlessinger may need to see you in his clinic in Omaha, Nebraska to treat the burn if your sunburn is severe.
Various products on LovelySkin.com for sunburn treatment can be used in conjunction with the medications Dr. Schlessinger may prescribe at the time of your visit.
Questions & Answers About Sunburn
Dr. Schlessinger will answer your questions on sunburn. If you have a question, he invites you to email him.
How can I get that tanning glow?
You may wish to rethink whether a tan is worth the risk. Maybe we all need to realize that looking tan isn't beautiful at all.
Please remember there is no safe way to tan. Not in the sun. Not in a tanning booth or bed as they are truly unsafe and lead to melanoma and skin cancer, despite what the tanning bed companies say.
If you really want some color to your skin, use a moisturizer with a toning color or use sunless tanning products such as Jan Marini Tantasia.
How can I enjoy being outdoors if I have to worry about sunburn and skin cancer?
You can enjoy swimming and other summer activities outdoors (and skiing in the winter) if you use sunscreen at least 20 to 30 minutes before going outside. This gives the product time to take effect.
A pill-form product called Heliocare is a natural supplement derived from a fern in Central America. Heliocare offers protection from excessive sunlight, but it must be used along with sunscreen for maximal effect.
Reapply sunscreen every hour or two. The new FDA regulations recognize that sunscreen loses its effectiveness with water and sweating. Be sure to apply enough (at least an ounce, which is more than you can really hold in your hand).
Wear broad-brimmed hats (preferably with UPF in them), wrap-around sunglasses, and avoid the most damaging hours of sun exposure between 10 a.m. and 3 p.m.
When I'm hiking, I like to wear sun-protective clothing too. Look for labels in outdoor wear that indicate a sun protection factor called UPF.
Won't my makeup act like a sunscreen?
Unless indicated on the label, makeup does not contain a sunscreen. You need to apply a layer of sunscreen along with your makeup. Use moisturizer first, followed by sunscreen, and you may then apply makeup.
I like to remind my patients that even driving in the car exposes your skin to the sun, especially on the left side of your face if you're driving. I see more skin cancers on the left side of the face for that very reason. If you spend your day in an office near a window, you can also get sun exposure and not realize it.
That's why I recommend you apply sunscreen to exposed areas even if you're driving or working near windows.
Just a comment here about powders, towelettes, and sprays that claim to contain sunscreen. So far the FDA has not rated these products for SPF factors. That could mean their protective factor is below 15 (the lower number of SPF protection) or the products just haven't been tested.
Can I put sunscreen on my baby?
Keep your baby in the shade and covered up. It's hard to keep a hat and sunglasses on babies and little kids. I depart from the recommendations of the FDA and the American Academy of Pediatrics that you should not put sunscreen on babies. Their concern is that there are chemicals in the products.
I'm a board-certified pediatrician too, and I understand my colleagues' concern. Yet I recommend sunscreens that contain no chemicals or fragrance but do contain the ingredient zinc oxide, which is the same ingredient in Desitin that's used for diaper rash. These sunscreen products are, of course, a white cream. I am comfortable recommending them for use in babies.
Pregnant women too can benefit from the sunscreen products that contain zinc oxide.
What is polymorphous light eruption (PMLE) or sun allergy?
Many individuals are sun allergic. This condition can appear in teens or earlier or may happen in your twenties or later. Generally, PMLE is more common in American Indians, but it can happen to all nationalities.
The often itchy red rash usually appears on the arms or face, but can happen over all parts of the body because clothing doesn't always protect well. In fact, the average SPF of a white T-shirt is only SPF 2!
Heliocare can be used to prevent sun allergy, but it is important to use sunscreens such as EltaMD along with sun-protective clothing. Additionally, it is important to stay out of the sun when possible.
Make an appointment today
Contact Skin Specialists in Omaha, Nebraska for an evaluation for treatment of your skin condition.